Mad Painter talks about their start with music, upcoming plans and much more.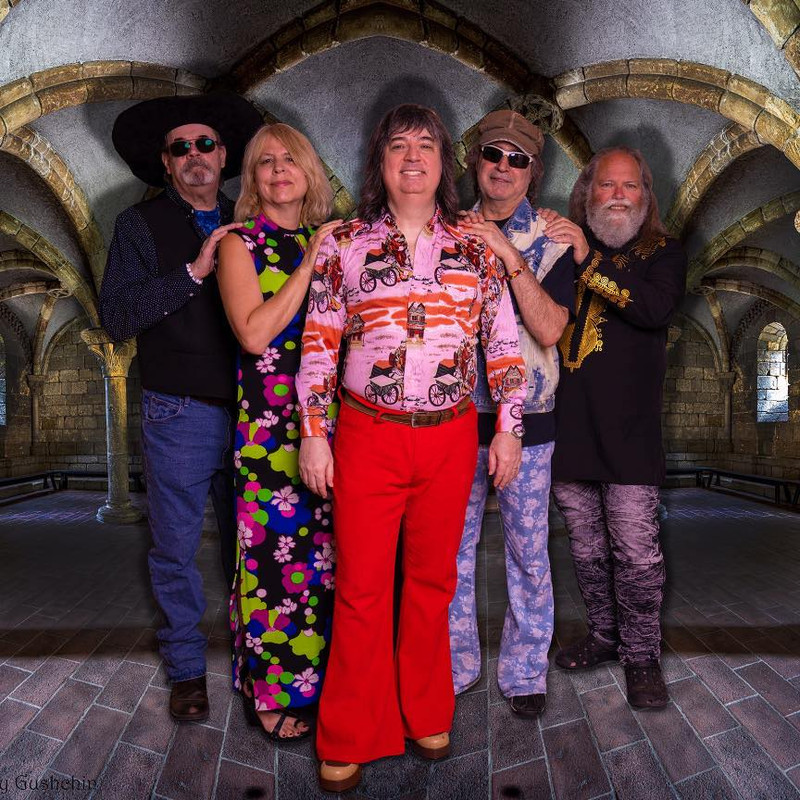 www.facebook.com/madpainter1
From: Massachusetts
Sounds like: Rock
1. How did you get started with music and how did you develop your sound? Who thought of the name "Mad Painter" and is there any meaning behind it?
I quit classical piano at the tender age of 8, so I'd be inclined to think that I'm self-taught, although I'm sure all those gammas and music theory from those early years did pay off. My earliest musical influences would have to be the Finnish band Hurriganes (their hit, "Get On", was literally my first rock'n'roll) and The Sweet. When I was 11, I got bitten by the "Ballroom Blitz" bug! Also, at 11, I heard Uriah Heep for the first time, the album was "Look At Yourself". As a teen, I got into Nazareth, Queen, Paul McCartney and Wings, and Rod Stewart. As a Hammond player of course my strongest influences are Ken Hensley (Uriah Heep) and Jon Lord (Deep Purple) – both unfortunately no longer with us. I like the more classically trained and influenced players like Rick Van Der Linden (Ekseption), Keith Emerson (ELP) and Jurgen Fritz (Triumvirat). On the jazz side, my biggest Hammond influences are the "three kings": Jimmy Smith, Jimmy McGriff and Brother Jack McDuff.
I had the dream of putting together my own band when I was 20 and call it Mad Painter. Even at the time I thought it'd be rooted in the British rock and blues tradition of the 1970s, as I was especially influenced by the likes of Uriah Heep, Status Quo, Rory Gallagher and Deep Purple. It didn't materialize at the time, but I've learned to play the organ proficiently by attending the regular weekly Blues Jam at the Middle East. Throughout the 90s, I've spent time in various bands from glam rock (Silver Star) and funk (Uprise) to heavy metal (Mantis) and blues (Shaky Deal). After a long break, I resumed and tried fitting in into two tribute bands, Stormbringer (Deep Purple) and Lights Out (UFO) but it didn't feel right. I wanted to perform and record my own original compositions. Finally the day came when the first lineup of Mad Painter got together for a jam in late 2015. By then, I'd already written most of the songs that became part of our first album (you can find it on YouTube), such as Gone Gone Gone, Barely Alive and Smile. The lineup kept changing with endless auditions and practices, and even occasional gigs, until one day all pieces of the puzzle fell into place and this current lineup got solidified. Everyone in the band is a pleasure to work with, we have a lot of influences in common, which makes for fun jams and rehearsals, as we all tend to think alike, musically.
Mad Painter is an audio-visual concept, really. We do what artists do, only instead of colors we use sonic palettes, we paint aurally with rhythms, notes, hooks, licks, melodies, etc. It can get conceptual, abstract, and just plain weird sometimes, but other times it's pretty straightforward – portraits and landscapes, a little bit of everything for every mood. There's a certain drama associated with certain paintings. Seeing certain ones can cause serious heartache. Others can make you blue. Or happy. It's the same with music.
2. What do you want people to take away from your music?
Sheer joy and exhilaration. This euphoric feeling of being happy to be alive, a sort of utopia and a temporary escape (or solace) for the soul in today's grim world. Our music's pretty diverse, so fans of different genres will find something to like no matter what they're into, as long as they're prepared for the 70s (and, truth be told, late 60s) nostalgia. It's not psychedelia or hard rock in their purest forms, it's a mixture. With some catchy pop hooks and melodies thrown in for good measure. If it isn't melodic, it's not worth bothering with, in my view. Some people may listen to a certain MP number and go, "hmm, this sounds like Vanilla Fudge… or the Small Faces". Fine. We do that a lot during our rehearsals. But it's actually whatever comes to our minds, in terms of songwriting and arrangements. We know we have our own patented Painter sound, our unique brand. It's now unmistakable.
3. How would you describe your sound to the average listener?
It is an authentic trip back to the era when music mattered. When it was genuine and a way of life, whether we're referring to a musician, a fan or a devoted follower and collector. It's almost like a ritual, a religious experience. Those authentic values of musicianship are definitely lost in today's world, and we're here to revive them. I suppose we're also here to bridge this gap – fans of the newer genres from this millennium may not understand us (but we're still hoping to sway some of them with our brand of rock'n'roll!), and older fans who remember all the good bands and times may be stuck on the perpetual tribute circuit. We're unique in that we're bringing them something fresh, new and original, yet it sounds like it was done 50 years ago.
4. Who are three bands you'd like to tour with?
Touring is not on the cards at the moment due to various members' personal circumstances. But, looking at the rosters of bands that visit these locales once in a while, we'd love to open for Andy Powell's Wishbone Ash, Michael Schenker Group or the Zombies. Colin Blunstone and Rod Argent are heroes of ours.
5. How has Covid affected what you do?
We didn't do much from the start of the lockdown (following a stormer of a show at the Jungle, March 8, 2020) for the next six months. Then coyly got together for an impromptu jam just to see if the old chemistry was still there. Albeit, with a new drummer. And we clicked instantly. We kept working on our numbers, old and new, and eventually wound up in the studio in Peabody in December 2020. This was a time when you had to be very careful not to gather in a group of more than three in a closed space. For the next year, we were working with our new producer, Tom Hamilton, on what eventually became our Splashed album. So most of 2021 was spent in his studio, again, a couple of folks at a time. First, pandemic precautions, and secondly, he didn't need all of us in the room at the same time. But June 2021 marked our return to the live stage, at the Union Tavern in Somerville. Everyone was wearing masks. And there were lots of people in attendance, and the reception was hot. You could tell there were a lot of folks hungry for live music that night, after a long break.
6. What's your take on the current state of Rock?
I honestly don't know, as I don't follow it. Neither do my bandmates. It's a choice. What's happening now doesn't matter. Who's still alive that I would like to follow? Let's face it. Maybe Uriah Heep. Jethro Tull. Alice Cooper, Hawkwind. Not even Deep Purple, since Ritchie Blackmore's departure in 1993. I was keeping tabs on Motorhead and Dio, but Lemmy and Ronnie James are no longer with us.
I hear bits and pieces about certain musicians complaining about the lack of revenues due to the proliferation of streaming services. I'm not too bothered by all that, personally. I know there's not a lot of money in CD sales. A CD has become a promotional tool for your live concerts. And you get a fraction of a penny from every Spotify stream. All that is noise. What matters is not what's happening now, but what's happening in the Mad Painter camp. In our minds, we're "competing" with the greats back in 1968-75. Which is why the rehearsals are so much fun. There's Mountain, MC5, Grand Funk, Bloodrock, Uriah Heep, Procol Harum, Deep Purple and Spooky Tooth in our sound. It's like soup. If you use the right ingredients and seasonings and in the right proportions, it's tasty.
7. What's the current music scene like there in New York?
We've just lost a friend, Justine Covault, head of the local Red on Red Records, and leader of her own band, Justine & The Unclean. This is a sad loss. Through various indie charts we hear of our "competition", Muck & The Mires, Key Of Caustic, Girl with a Hawk, Chelsea Curve. These are all Boston area bands. Some we're in contact with and reach out to once in a while to potentially share a bill with. Which we've done with the Tsunami of Sound, The Stigmatics and The Thigh Scrapers. But beyond that, I'm not too knowledgeable. I vaguely know there's a lot of post-punk pop and just plain post-punk on the scene now. It's like time has stood still since the late 80s in Boston. Which is actually advantageous for us, cause we stick out like a store thumb! Nobody looks or sounds like us now. Which wouldn't have been the case 5 decades ago.
8. What's your take on the royalties that streaming services pay out to artists?
It doesn't matter. It's not even an icing on the cake. You're in it for fun these days, and if you can financially back your own venture with the advent of a full-time job, all the better, you'll stay afloat that much longer. Before the deal with Epictronic, we've released our "Splashed" album on CD via CD Baby. It's also streaming on all major platforms. OK, so CD Baby is showing they owe us $17 at the moment. Wow. That's a fortune, isn't it. Their "cut off" amount for payment is $25. We've not reached it yet. It's infinitely more important to bring joy to your audiences live and on record and to draw inspiration from the energy you get from them while on stage than to sweat the small stuff.
9. What's next for Mad Painter?
The recording sessions have already begun for the follow-up to "Splashed". Lots of new songs, courtesy of my songwriting partner and friend Dmitry Epstein. As before, he writes the lyrics and I put them to music. Then we get together as a band and start arranging everything – solos, intros, middle parts, etc. This is what we are working on at the moment. Then we're venturing out to New York for a gig in East Village, Sept. 2nd. And hopefully more gigs on the horizon, but with the rehearsals and upcoming recording sessions, the schedule is heating up. Not to forget, Kenne, Al and Alan are in other bands, too. Kenne Highland's Airforce is touring Upstate NY and Pennsylvania in October.
10. Any shoutouts?
A big shout out to Tom Hamilton, our producer, a trooper, an ardent Painter ally, and the ONLY person we trust our music with.