Break Your Neck talks about their wild signature sound, the current state of Nu Metal and much more.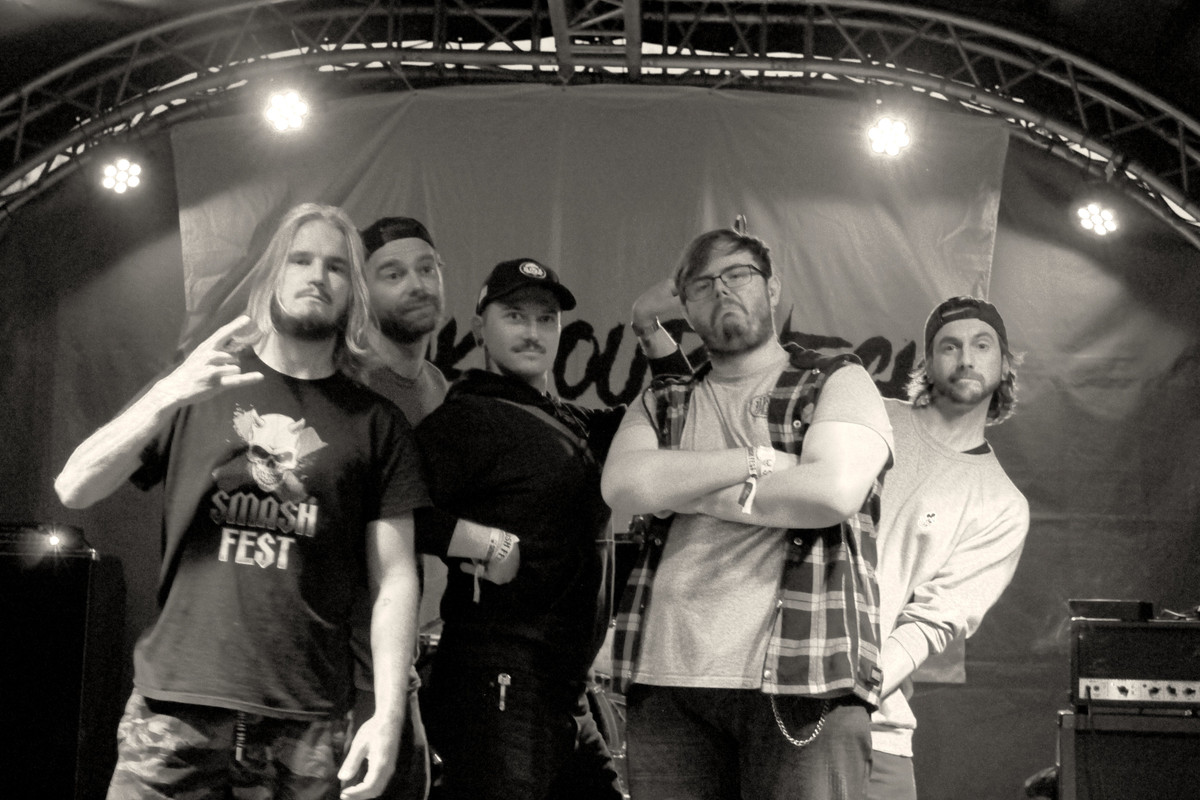 www.facebook.com/profile.php?id=100091967663613
From: Belgium
Sounds like: Nu Metal
1. How did you get started with music and how did you develop your sound? Who thought of the name "Break Your Neck" and is there any meaning behind it?
Well, each member of the band began to play music at least ten years ago, for their own pleasure, and because we all love playing music from the Bottom of our hearts. Concerning the creation of the band, every member of the band has been contacted by me, because I wanted to create a band that has a solid basis, excellent musicians, and overall, people that I know I can trust. Because I had big plans for this project, and I needed to know that my mates would follow me no matter what. And that's what happened, that's not my project anymore, Break Your Neck has become our project, everyone is really involved in the band, everyone loves it, loves playing Under Break Your Neck's name, and everyone's ready to go as far as we'll be able to go. That's why I'm very proud and happy with the people I chose ! Maybe I can introduce them, by the way : So we have Mickey and Logan for the guitars and the chorus, Adrien for the bass guitar, Pierre for the drums, and finally, me, Nico, for the lead singing. Concerning the name of the band, « Break Your Neck » came on the table because we want people in front of us to headbang the hardest they can on our songs, so simple is that haha.
2. What do you want people to take away from your music?
The most important thing for us is that people have a great time headbanging and jumping and running in a moshpit, or whatever, on our songs. So yeah, if there's one thing that we would like people to say at the end of a show, that's « Woaw, that was wild, I had a really good time at these guy's show, and I'll definitely come to the next one around ». That's the most important for us, that people can disconnect from « Everyday » and have a real great time with us.
3. How would you describe your sound to the average listener?
We'd describe our sound as Something kind of feral, you know, kind of wild, but in the same time, affordable. Our music is easy to follow and to understand, we wanted it to be made in a way that each and every person in the world can follow us. So yeah, if I had to summerize our music to the average listener, I'd say « You'll see, that's wild, that's savage, but you won't be lost, and you can't help but headbang on this.
4. Who are three bands you'd like to tour with?
Tough one here, we must admit, but if we had to choose three bands to follow on tour, between all the bands in the world, without being restrained by anything, we'd say without hesitation Slipknot, Korn, and Papa Roach, for example. These are the real big names of Nu-metal, and we play Nu-metal. And we love them, so that would be absolutely the goal of a lifetime.
5. How has Covid affected what you do?
Well, to be honest, the Covid didn't really affect us as Break Your Neck because everything was already « finished » when we created the band. But we hope that there won't be another period like this, because this nightmare has affected all of us on a personal level and even on our previous projects, being stuck without being able to do anything was truly horrible.
6. What's your take on the current state of Nu Metal?
Here in Belgium, Nu-metal begins to come back in front of the stage. We see more and more bands that play Nu-metal and they become popular. And we see everywhere on social medias, for example, that nu-metal is returning to its glory in the USA, so obviously that's gonna do the same here in Europe and the rest of the world, 'cause we Always follow what's happening in the USA. We have no doubt that there would be no better time to begin a nu-metal band, and that makes us really happy, 'cause we love it.
7. What's the current music scene like there in Belgium?
Here in Belgium, as I said in the previous question, Nu-metal begins to come back. There also are a lot of hardcore and metalcore bands, and that's really awesome 'cause we feel like these music genres are going very well together. We feel like this is gonna be a great era for metal in Belgium, and this is only a matter of time before some of us explode 'cause we have really great bands here.
8. What's your take on the royalties that streaming services pay out to artists?
I think that this is gonna be the 10000th time it's gonna be said, but of course, that's not normal that streaming platforms pay the artists so low. We don't know all the secrets of how this works, of course, and that's normal that people are paid for running these platforms, there's no problem about it, this is a lot of money just to make it work. But the thing is that without artists, these platforms wouldn't exist, so maybe a bit more consideration for the people who produce what these platforms sell, finally, would be necessary. But this is an obligatory step, you know, being an artist today without being on the streaming platforms would be suicidal for a band, this is probably the biggest way to get yourself known and listened to, 'cause nobody listens to cds anymore, and even if people did listen to cds, this would be much more complicated to be known worldwide. For example, we are listened in Something like 10 different countries for the moment, and that would be absolutely impossible without streaming platforms. So, of course this is far from perfect, but that offers us some opportunities that wouldn't be there without these platforms.
9. What's next for Break Your Neck?
First of all, we are releasing our first EP here in September, so, for all our Belgian fellows (or even for all the people who would be brave enough to go on a trip to see us,who knows haha), don't miss the release party on September 1st, at the Belvédère in Namur, this is gonna be great, and we'll have some cool bands with us. By the way, our next song comes on all the streaming platforms on August 10th. And then, we'll be on stage as much as we can to defend this EP, and very soon, we'll work on new stuff, because we are impatient to Always give more to our fans !
10. Any shoutouts?
Of course, Shoutout to Gerald Jans, from the Noise Factory, who recorded us and made an incredible work on our songs ! Shoutout to our families too, because they support us from the beginning and they already helped us a lot. And shoutout to each and everyone of you, who listen and love us, 'cause that journey wouldn't be possible without you. And of course, shoutout to you, From the depths Entertainment, for having us with you, that's an honor guys.