Kitsa talks about their style of Metal, their new single "Journey Man" and much more.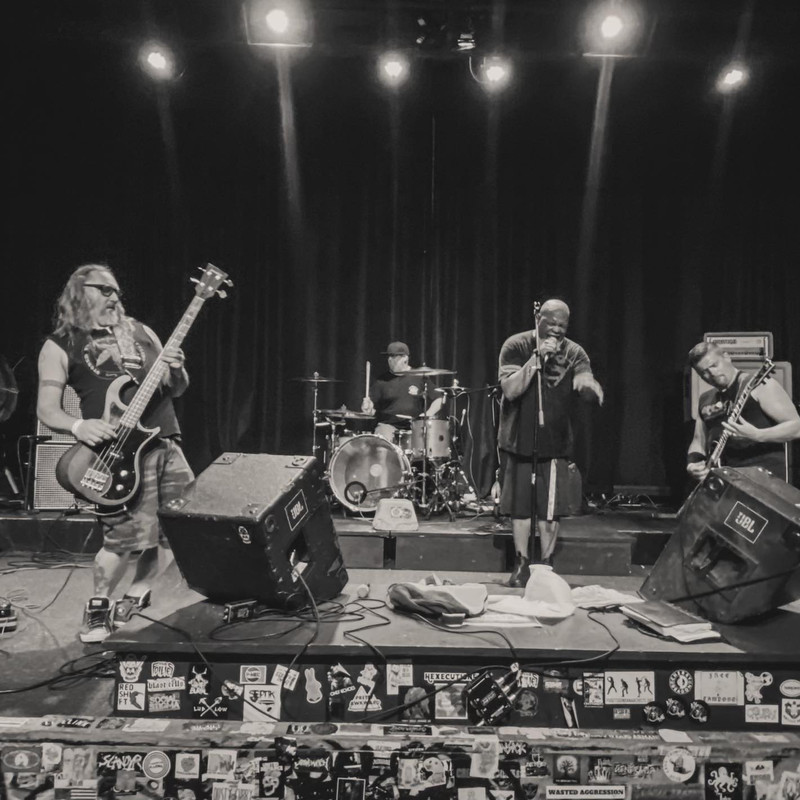 www.facebook.com/profile.php?id=100091081026202
From: Washington
Sounds like: Metal
1. How did you get started with music and how did you develop your sound? Who thought of the name "Kitsa" and is there any meaning behind it?
Jeremy Deede: I grew up around music and rock and roll.
Chris Pound: At a young age I heard EVH and that was all for me. That inspired to pick up guitar and the rest was history after that. Early on, that helped shaped my sound. I knew that was the direction I wanted to go.
Skot Davis: My dad was an original member of parliament and my mother was a doo-wop singer. It was only a matter of time before I found something.
Randy Fort: Started in about second grade. I tried to start off with something extracurricular but my band teacher told me I sucked, basically. I couldn't play hot crossed buns. Then I saw another kid playing snare, came back the next day and the teacher thought it was way better. As I grew up, MTV came out and all the badass rock start stuff sucked me in.
Jeremy: We live in Kitsap County, WA and it was a typo in a text message by Rando (A.K.A Randy Fort) and Jbo (A.K.A. Jeremy Deede) ran with it after that. Then we actually looked up the meaning to find that it meant "of the lord" or "just". Then our buddy Rob at Rob Lorenz creation made a logo look metal as fuck!
2. What do you want people to take away from your music?
Skot: That they are not alone. That's what Journey Man is about.
Chris: We try to make music that everyone can relate to and easily identify the similarities in their life with the feel of our songs.
3. How would you describe your sound to the average listener?
Jeremy: Heavy melodic riffs, and Power!
Skot: Aggressive dirge, like viking marching shit. Slow, heavy and melodic.
4. Who are three bands you'd like to tour with?
Randy: Mos Generator.
Chris: Black Label Society.
Jeremy: Motorpsycho.
Skot: Nonpoint.
5. How has Covid affected what you do?
Jeremy: It just stopped shows so there was no live performances. None of us really quit playing music.
6. What's your take on the current state of Metal?
Chris: I think the state of metal needs to get back to being loud with lots of head banging. I feel there aren't a lot of metal bands currently and the ones that keep their head above water end up over produced and sometimes sounds cookie cutter.
7. What's the current music scene like there in Washington?
Randy: We have some of the best musicians in right here in Kitsap County. The scene all around is very strong and very diverse.
Skot: It has been that way since I got here in 1980.
8. What's your take on the royalties that streaming services pay out to artists?
Jeremy: Could be better. They constantly up their cost but never goes to the artists.
Skot: That is the sad state of the music industry these days.
9. What's next for Kitsa?
Jeremy: We are going to record an album and shoot a video for our single Journey Man. Which is already available everywhere for streaming. Continue to write and play shows.
10. Any shoutouts?
Heavy Head Recording Co., Tony Read for his support over many years. Thanks to APL Studios, Chris Apple for opening the doors and letting us put down tracks. All our friends and family at Hogue & Moore Band out in Yelm, WA A.K.A The Ranch. Rob at Rob Lorenz Creations for all the kick ass art work. All of our significant others, family, and loved ones for allowing us to still act like kids while still showing up to shows! Powered by Coors light and box wine.