O'Craven talks about their new music, the Celtic Pirate Rock genre and much more.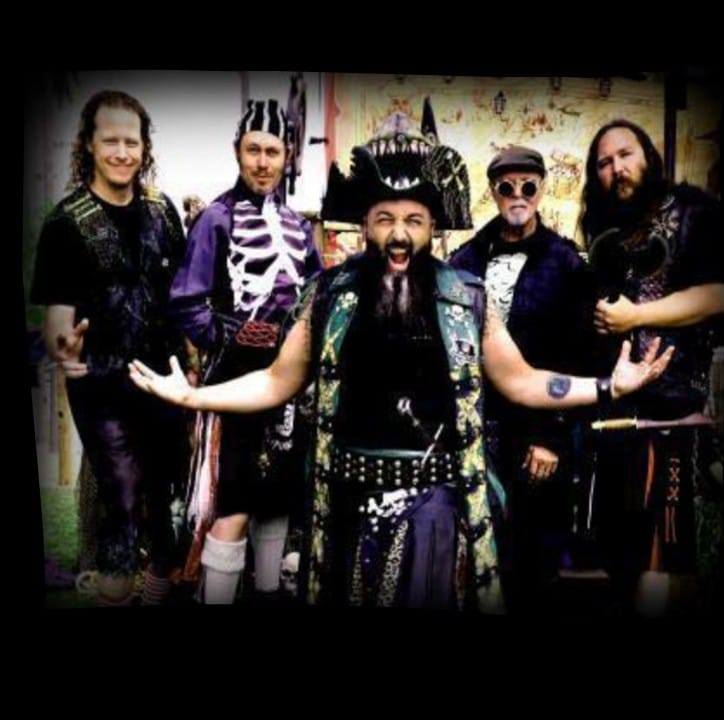 www.facebook.com/ocraventheband
From: California
Sounds like: Celtic Pirate Rock
1. How did you get started with music and how did you develop your sound? Who thought of the name "O'Craven" and is there any meaning behind it?
Well, me personally, my dad used to teach me and my brother how to play different parts to different old Rock and Roll songs growing up but it wasn't until I was 18 that I wanted to learn how to play a Green Day song, and ask my dad to show me how to play it and once I learned those basic power cords I was hooked. We used to play Progressive Punk/Metal, technical music that took months and months to work up, then when we would play a show, we would get a couple of claps here and there. Most of it would go over peoples heads, until I wrote an Irish drinking song, "Whiskey", and the audience went crazy. So I wrote an albums worth of similar songs. One of those was a Pirate song, "Devil's Drink", then people in our local scene started calling us that Irish Pirate band, and that was it. We started going that direction and the further we went the more people liked it and the bigger audiences we played for.
We were trying to come up with something Irish sounding, to no avail. So I was thinking about my dad's family name. My Dad used to play drums for us but switched to bass a number of years ago. He is mainly Irish. His family name was Cravens. So I did some research and found out that in Ireland before my ancestors migrated to America, the name was O'Craven, but the "O" was dropped, due to racism towards Irish people in the late 1700's and 1800's. Over time, due to dialect, the "s" was added. So I figured this was a great opportunity to take our ancestor's name back.
2. What do you want people to take away from your music?
I hope people get sucked into our world for a short bit. We want to suspend reality for them. Hopefully, our music and our show will take them away from there problems in the world.
3. How would you describe your sound to the average listener?
Dropkick Murphys meets Thrash Metal meets Black Beard.
4. Who are three bands you'd like to tour with?
Alestorm, Wind Rose and Dropkick Murphys.
5. How has Covid affected what you do?
Actually, Covid helped to launch us. We did not stop working during the pandemic. We doubled down and worked harder. When the dust cleared and the rest of the bands started playing again, we had a reputation established as a band that doesn't quit. We will adapt and overcome no matter what.
6. What's your take on the current state of Celtic Pirate Rock?
Well, there are a few other bands in the genre, but most of them just play Rock music and throw Irish or pirate lyrics over them just to get a fast pay day at a festival. We are one of the only bands around who actually put traditional sounding Celtic and sea shanty melodies and merry them with the Rock and with each other. Plus almost every thing we do is 100% original, we don't just cover some old traditional songs and act like we wrote it. I hope to inspire people to be your own person/band; If you're going to play Celtic Pirate Rock, or whatever, tap into your creativity and be original. If this happens, the genre will grow!
7. What's the current music scene like there in California?
In California there are a ton of great bands! Not too many good venues to play at but a lot of good bands. This in part is probably why we came up with our creative niche genre. You have to get creative when there are so many other great bands out there!
8. What's your take on the royalties that streaming services pay out to artists?
For us, we recognize that being on streaming services is very important to grow our band and our brand. However, we treated it like gambling, as far as we put the time and work into it and let it ride, and hopefully it pays out someday but we're not counting on it, as there is a good chance that any money we will see from streaming will be little to none.
9. What's next for O'Craven?
We have a new EP coming out in March of 2024, "Myths of the Deep". It will be followed by "Fables from the Pub" EP after that. Also, we hope to tour out to Texas, New Orleans and possibly Florida in 2024.
10. Any shoutouts?
Jack Ganzo of Scoundrels Inn Radio, on the Pirate Nation Broadcasting Company for being the first Radio show to play our music. Without him, we could not have made it as far as we have. Also, to all of our Scallywags, Friends and Family! Honorable mentions: Mark Martinez, Bill Brennan, JullieAnn Kelly, Matt Garrison, Patrick Bitcon, Paul Mestice, Steven ButtonHead Rushton of ButtedHeadTTV on Twitch, Ronnie Olgas and everyone at the Morning Get Together, The San Jose Drunks, Cherri Lakey and Brian Eder of Anno Domini/ SubZero, Bruce Ellis, of Pirates of the Pacific, Anna and Steve of the NorCal Pirate Festival, Natalie Cloud, Rachel Warner and the Caravan, everyone at DarkHeart Brewing, S27 Alehouse, and everyone at DefCon Convention.