Oikoumen talks about wanting listeners to feel raw emotion and energy from their music, upcoming plans and much more.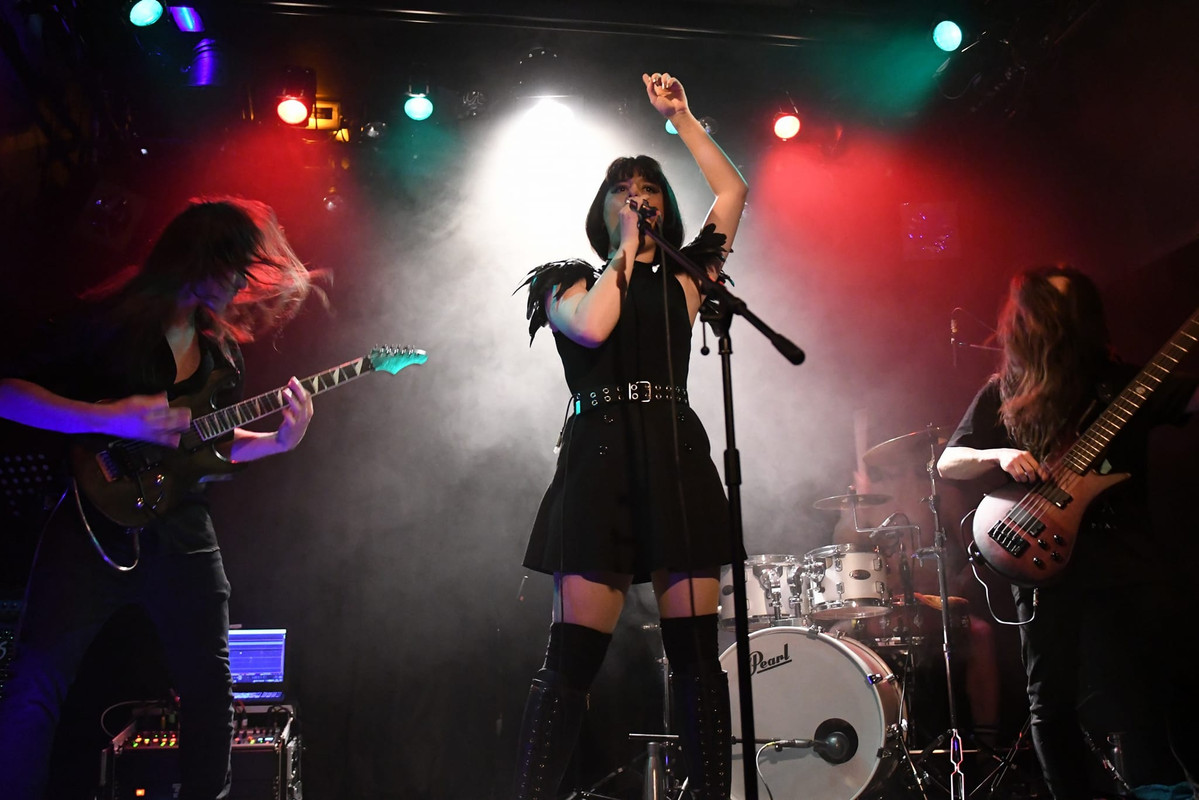 www.facebook.com/oikoumen
From: France
Sounds like: Metal
1. How did you get started with music and how did you develop your sound? Who thought of the name "Oikoumen" and is there any meaning behind it?
We all started music in different ways. The 3 guys started as children and I started as an adult through Oïkoumen. This project was founded in 2017 when Elie and I met in university of art & history in Paris. So at the beginning the project was more rooted in the symphonic genre and addressed historical themes. Then, Elie met Yael in the music school he was studying at then. So in 2019, Yael joined the band as the bass player and we progressively experimented a new sound which was more progressive. So I changed the subjects of our songs into more engaged and contemporary ones. With the first album, we've decided to experiment more and try to focus on how music could express emotions we could feel regarding what's happening in the world today and we clearly went to a more prog metal with symphonic roots than a pure symphonic metal band. And, in 2023, Amaury Didon joined us as the drums player and we are currently writing a new album maturing our new sound!
About the name of the band, Oïkoumen comes from a Greek word that refers to the known and the habitable world. It is also a notion related to mankind and its relationship with its environment. It hints at what we're all part of but also points all that we still have to discover. The ouroboros was chosen to evoke the eternal renewal of humanity's actions and the division of time into cycles. Radiate behind him sunrays, hint of optimism in a dark reality.
2. What do you want people to take away from your music?
We hope they could take some raw emotions and energy ! We are often addressing sad or revolting subjects so we hope that people can identify to the emotions we try to make them feel. But we also add some hope in our songs so people can be motivated to do something or believe that life worth to be lived. And Elie is composing music in a really emotional way so we really hope people can feel that. We want to touch their hearts!
3. How would you describe your sound to the average listener?
We have an aggressive, emotional and tensed sound. Our music melts groovy and tensed riffs to epic and enveloping symphonic orchestras, elaborated melodies to raw emotions.
4. Who are three bands you'd like to tour with?
We would love to tour with Nightwish of course because it's a huge source of inspiration for our music but also Within Temptation because their shows are amazing and Gojira because, in addition to the fact that their music is great, they are a rare proof of French metal success ! Well… We know we set the bar high but dreams are a great source of motivation!
5. How has Covid affected what you do?
It was hard to emerge as a French metal band before covid and it's even harder after ! We had the chance that it was possible for us to postpone the release of our first album after covid so we can avoid this moment but we must admit that it wasn't so easy anyway when you are self-produced to find your way. The music industry was shaken by this crisis so it's even harder to find people to help you grow, make shows or to be recommended. Also people have been hit by the crisis and it's not easy to rely on them to make your project. But at the same time professionals close their doors so, well…
6. What's your take on the current state of Symphonic Metal?
For us it stagnates. We didn't discover too many bands that renovated the genre. But to tell you the truth, we don't listen too much to symphonic metal. I think I am the only one which is listening to more than two symphonic metal bands (and our bass player hate that) ! But we really like symphonic music and the assimilation with metal. So we can't have a substantiated opinion on this question.
7. What's the current music scene like there in France?
If you don't do pop, rap, electro or « chanson française » it's quiet hard to find a place ! Most of the stages, competitions or assistance programs we have are excluding metal. But there is still a small metal scene but with too many talented band so it's hard to make your voice heard! It's also hard to exist as a "band" in France where we have more "solo artists". But anyway, the public is great and when you can find your way to them it's super cool!
8. What's your take on the royalties that streaming services pay out to artists?
It's almost nothing! Even when you have thousands streams you earn nothing. I don't precisely know how it works so my opinion is self-centred but I really have the impression that the hours and the money you put in your music worth nothing for these platforms that are making money off you. And when you are a small artist it's like they do everything to prevent you from growing because you really need to be a rock star to earn something from your royalties. In general, I think people don't understand how much making music cost and how much financial sacrifices a musician must do. We could say "but it's for the passion of art". Partly yes, but we also need to live and we shouldn't be the slave of our passion.
9. What's next for Oikoumen?
Lots of things! First, we will release a single for November and another one for next year. We are also writing the second album and other stuffs for 2024 or 2025. We are preparing shows in France (and of course we are dreaming of bigger tours), new merch and trying to find new people to help us and collaborate! So our goals are : creating and meeting people !
10. Any shoutouts?
Thank you for having us in your roster, thanks to the people who are supporting our project and thank too people who are listening to our music and attending our shows! We hope to give you lots of good reasons to like us!