Altamadum (Rock) - Thunder Bay, Canada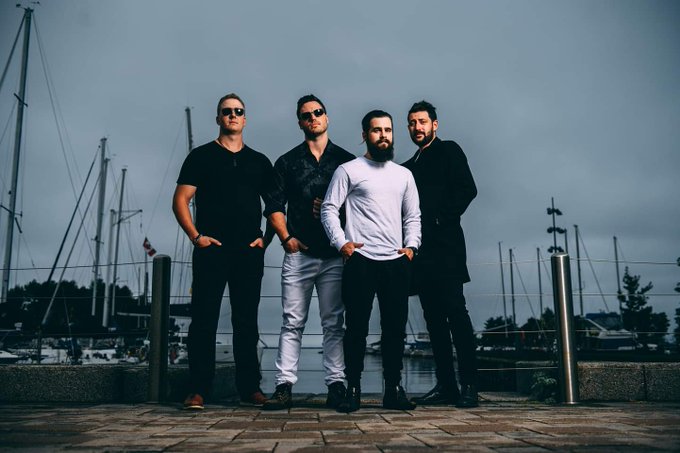 Altamadum was born in Thunder Bay, ON in the fall of 2007. Lead guitarist Cam Thomas & drummer Brendan Byers approached classmate James Cole, with the hopes of him filling in on bass guitar. The trio carried on writing mostly instrumental pieces for the next few months. Cole suggested that Sam Mucha come-on to sing for the group. Cole received a demo of Mucha singing & was impressed by the singer's diversity & range. Cole presented the demo to the band & they agreed to have Mucha come tryout on the condition he be able to play rhythm guitar, Mucha accepted. It was at this time that the band decided to adopt the name 'Altamadum' as the new title. The group's first show took place at their High school for a Christmas Concert in 2007. Two months later, Altamadum would win a preliminary round in a band competition during their second show ever. The four carried on for the next two years playing mostly covers of classic & new rock, mostly in local bars, clubs & parties.
In the fall of 2010, the band entered the local "Last Band Standing" competition. The band won its genre, reaching the finals & ultimately finishing second overall, losing out by two votes. Following the success of the "Last Band Standing" competition the band received interest from Cole's uncle, Russ Elder on doing recordings for the group. The band continued writing & performing, highlighted by winning Last Band Standing in 2011. This was followed immediately with the band moving into Elder's Thunder Sound Studio to begin production on their debut album "We Are…". The band reduced the amount of shows they had been playing in 2012 to put all focus into the development of the C.D.
In early 2013 Richard Lawrence was hired to join the team as online development as well as a role in promotions & video productions. The band would release their debut CD "We Are..." on July 20th, 2013. Shortly after the band's CD Release Show, featuring the local rep. for the AFM (American/Canadian Federation of Musicians) in attendance, Altamadum was offered a position within the union.
Entering 2014, the band has begun work on a 2nd album titled 'Levels' due out in the Spring. They embarked on a summer tour of Ontario playing a total of 7 dates. Upon arriving back home, Altamadum was offered their first magazine appearance in L.A. Shortly after this the band was approached to work with a few international media outlets. Among them was our record label "From the Depth Entertainment".
Altamadum would go on to release "Anybody Out There (EP) – (2017), A Monument to Time (2017), Through Motion Chronicles (2019), Born in The Afterglow (2020)" and their upcoming album "In My Blood" set for release in 2022. The band would also achieve international success and interest from many radio stations, magazines, and media outlets before and during the Covid-19 pandemic. There latest singles can be found on all streaming platforms.
"Run From You" Single Review
The track starts with their signature whirlwind riffage to get the party started. The vocals join in as the instrumentation kicks up the tempo even further as the track goes full speed ahead into the first verse. The first verse keeps its heavier edge as it shows more restraint with its pacing and melody. The track then shifts and picks up steam and a high energy sound takes over. The chorus is easy to sing along to and has shades of Rush to it. The overall depth is extraordinary on the track as the listener will be hitting repeat for days.
Verdict:
Altamadum have already established themselves as one of the premier Canadian rockers and their newest single keeps them shinging bright.
"Born in the Afterglow" Album Reiew
The opener "Lost in the Stars" builds atmosphere and slowly works up to its true Rock roots. The track is packed full of classic Altamadum that any fan will enjoy. "Hold You" straps you in the Rock rollercoaster journey and doesn't hold back. The track features twists, turns and will be a fan favorite in no time. "All Night" is a laid back track. The track has that chill factor to it and would be perfect for Alternative Rock radio. "Love" is epic in its delivery. There's so many layers and so much depth that the track is a must for repeat listens. "Afterglow" slows down the pace. The track takes more of an emotional route and combined with its out of this world guitar work, hels make it a true gem. "Start Over" is short, sweet and to the point. The passion overtakes the track and doesn't let go. "Deal with the Devil" is a ballad like track as it has a build that takes it to a more amped up chorus. Once it starts up and unleashes that fury, it's incredible. "Fire in Your Eyes" hits the Rock ground running. The upbeat sound is perfect with its instrumentation and shows quite the vocal range. "So Cold" takes its time and builds quite the magical sound. The track is a stunner and could be a live set closer as it showcases their synamic sound perfectly as it features tremendous depth. The closer "Rocketship" lets loose. The track doesn't pull any punches and it's Hard Rock Altamadum at its finest. Awesome track and even more awesome album!
Verdict:
Altamadum fine tune their Rock sound even further with their new full length album.
"Growth. Through. Motion Vol. 4" EP Review
"Walk On" has an opening that doesn't let up until around the two minute mark. The subtle build is there but could be sped up a bit. Clocking in around six minutes is a tad too long for the overly long verses. While the track could be a solid closer for a live set, as an opener for an EP, it drags on a bit. "Wake the Giant" starts off a bit somber but slowly builds into ballad like tendencies. Around the minute mark is when things crank right into their Hard Rock trademark sound. The riffs naturally swirl around while the grooves are as tight as ever. The haunting vocals keep things on track but later on, the instrumentation takes over and really sets things off.
Verdict:
Altamadum set their sights on the next step of their musical evolution with their newest EP.
"Time. Through. Motion. Vol. 3" EP Review
"I Sing, Therefore I Am" digs right in with some hard and heavy riffs from the get go. The high tempo is contagious and will get some toes tapping along. The driving melody is awesome and builds to a whirlwind type chorus that knocks it out of the park. The guitar work on the track is out of this world. "Box of Hearts" is a ballad and pours its emotion out in the lyrics. The track is pure passion and solidifies more great music from the band.
Verdict:
Altamadum continue to pave their own way in the Rock scene with their newest EP.
"Strength. Through. Motion. Vol. 2" EP Review
"Freakshow" is a six minute long track that opens with a pretty solid Rock breakdown and features quite a bit of heaviness. The track has some incredible depth with its vocals and guitar work as it veers into a Hard Rock vibe with its intensity. The guitar solo later in the track is off the charts good. "What's Wrong" has a more emotional opening before erupting around the 45 second mark into a more Rock ballad feel. The track is a roller coaster of passion and lets loose while it wears its heart on its sleeve. The guitar work on the track is stellar and helps take it to an even higher level.
Verdict:
Altamadum ascend to new heights with their newest EP.
"Life. Through. Motion." Vol. 1 EP Review
"Through The Night" starts with a slow, emotional pace before cranking into a Hard Rock heaviness to unleash the full gauntlet of passion. The track blazes ahead with tons of melody and riffs that take things to even greater heights. "Heart So Cold" is more of an acoustic track that takes things down to a purely intimate level. The track pulls at the heartstrings and opens the door to anticipation for even more new music from the band.
Verdict:
Altamadum kick off their "Through Motion Chronicles" series with their newest stellar EP.
"A Monument to Time" Album Review
Altamadum have been pumping out high quality music for the last couple years. For those who haven't been paying attention, just to name a few, they've had their "Levels" album, "Anybody Out There?" EP and now their new "A Monument to Time" album. Let;s see how their new material fares in our review. The opening track "Left Behind" kicks things off with guitar riffs before the pounding drums join the fray. It's not long until the signature Altamadum high energy Rock sound is on full display. There's a hard edge to the track that will surely attract listeners of Hard Rock as well. "Changing Of The Guard" is a haunting track that teeters on being on being a Rock anthem. The vocals soar and the instrumentation bobs and weaves through the Rock wilderness. "Live In Your Memory" is fantastic. Everything works perfectly on the track as the riffs, drums, and vocals work in succession to create a high octane rockin' Rock track. This track has Rock radio written all over it. "Who Have I Become" is more subdued but still strikes a chord at the heartstrings of the listener. The track is a true Rock ballad that will certainly bring out the lighters at their live show. "She's Not OK" brings up the pace and features a tremendous guitar riff throughout that helps make the track pop. It's an incredible track that every fan of Rock should easily get into. "Find Your Way" slows things down a tad but it's still groovy. The track features an outstanding amount of depth for being more toned back. "When The Smoke Has Cleared" is the first single and proves every bit why. The track goes full speed ahead with that signature Altamadum sound that churns up memories of their past single "Anybody Out There?", which was also fantastic. This track will be a fan favorite for sure. "Fight To Be Free" is hard, heavy and unapologetic. It's a top notch track that proves that they can crank it up to 11 when they want to. "Life Line" has an old school Rock sound that makes it a stand out track. It's highly explosive and demands to be heard. "Weather The Storm" is a slower track that really digs deep into the moody atmosphere and lyrical content. It works quite well to be honest. "Take Me Away Again" features a different sound than what they usually create. The track is more laid back but features some layers that help make it much more interesting than the usual laid back track. The closing track "The Phoenix" is the strong finisher that you'd expect them to have. The track hits hard with emotion and chugs along with a heaviness that sends the album out on a high note. Altamadum have done it again and if you're a fan of Rock music, do yourself a favor and pick this up right away.
Verdict:
Canadian Rockers Altamadum are back at it once again with their new full length album.
-Interview- (6/10/18)
-Review- "Anybody Out There?" EP
This new four track EP from Altamadum is a follow up to their "Levels" album and it shows a ton of growth in their sound. Let's dive right in and see what they're all about. "Anybody Out There?" starts off the EP with a tremendous Hard Rock type track. The riffs and melody will easily draw in Rock fans in droves with its infectious chorus and high accessibility. "Save Me" is a ballad that'll pull at the heartstrings of the listener. It's a slow passionate track that's easy to sing along to and get lost in. "Drugged Inside" is the radio edit version and it has radio Rock appeal written all over it. The track is a tour de force of sound that drives home the fact that their signature sound is nothing to scoff it. It's a stand out track for sure. "Tasting All The Pain" is the newest track from the band and it closes out the EP. The track shines bright as it gives a glimpse of the direction the band might be going in. It has an almost Folk vibe with a certain twang of Southern Rock. It's a different sound for the band and it's a thrilling conclusion to a very exciting short and sweet EP.
Verdict:
This new EP from Altamadum takes steps in the right direction that'll propel them to the next level in the Rock world.
-Interview- (2/20/17)
"Levels" Album Review
Thunder Bay, Canada hard rock act Altamadum is in the midst of making new music. We're going to revisit their most recent album "Levels" and see what this rockin' band is all about. "An Inexhaustable Voice" is an introduction track that opens with morse code audio which leads into an audio sample of William Faulkner's Noble Prize speech. The song picks up a marching pace alongside the sample as it finishes up. "Fallen Angels (Go Boom)" features some really good instrumentation. It's hard rock through and through as it has that crunch and swagger that will cater to fans of the genre. It's a fantastic opener that sets the bar high for the rest of the album. "Into The Void" is a hand banging good time of a track. The bouncy instrumentation will surely get that head bopping. The chorus is outstanding as it picks up the pace of the track of the track significantly. "Frozen In Stone" is a slow build track. It sounds like a 70's rock throwback track and it's something that really builds diversity on the album. Any fan of rock music should appreciate the track. "Noble Tragedy" picks things back up with that hard rock sound that was heard earlier on the previous tracks. It's an upbeat track that draws comparisons to Buckcherry. "A Curse Called Hope" would be great with a music video. This track has single written all over it. The catchy rock heard on the track is really amazing considering it's more than halfway through the album and the quality is still this high. "Not Alone Tonight" showcases the abilities of the band on a slower scale. The track is a ballad and it really stand out on the album. "Unsung Hero" opens with an audio clip of Pierre Trudeau and then transitions into a track that is as fast paced and similar to the earlier track "Fallen Angels (Go Boom)". "Lost In Space" is another hit in the making. The track is extremely catchy and should be on every rock fans' playlist. "Immortal" is an epic track. The track is over 11 minutes long and has just a crazy amount of qualities. The live show aspects of the track would make it a perfect closer for a show. It's tough to follow up the previous track but "Levels" closes out the album. The track wraps things up nicely with a slower, solid rock sound.
Verdict:
Altamadum has a really good full length album here. New music is on the horizon and we can't wait to hear it. The rock music scene is to be on high alert as Altamadum has just entered your radar.
-Interview- (8/2/15)
1. How did you get started with music and how did you develop your sound? Who thought of the name "Altamadum" and is there any meaning behind it?
Cam Thomas, Brendan Byers & James Cole met in high-school through similar interest in artists. We started out doing covers and instrumental originals, then began playing music live. Shortly following graduation, Sam Mucha was brought into the band as lead singer and we moved into ThunderSound Studio. In the studio, our music really found a new level of development. We were able to take home and evaluate our songs individually and expand on them. This has become a prominent factor in our writing process, especially for our latest album 'Levels'. As for our band name it was our drummer Brendan that first suggested 'ultimatum' to us as a band name. We all agreed it sounded great, but felt that it had likely been taken by another band. We decided to change up the spelling and the 'Alt-' was chosen to represent us as an alternative option to what was going on in our local music scene.
2. What do you want listeners to take away from your music?
Whether it be through the music itself or our lyrics, what we most want listeners to take away is an emotional component. We write our music to hit-home and connect with anyone that can feel what it is we're saying when we pick up our instruments.
3. What can people expect from your live show?
An Altamadum show is raw-energy. Our set-lists always flow so there is rarely ever a lull in what is going on on-stage. People don't come to hear us talk and make jokes between songs, so we keep the interaction with the audience primarily to the music. We put on a show that we would want to see.
4. How has the response been to the "Levels" album? What's your favorite track to play live?
From what we've heard, the response to 'Levels' has been unreal and overwhelming, and has been noted for it's diversity. We tried out a few new things on this last album, such as bringing in a piano and experimenting with various sounds and styles. Each of us vary in our favorite tracks to play live, but as a band we all have a shared energy when playing 'Fallen Angels' together. We are able to feed off of each other, and the song has become a staple as an opener at our shows.
5. Who are three bands you'd like to tour with?
That's definitely not an easy question to narrow down to, but if we had to pick three that we could all agree on to tour with we'd have to go with Avenged Sevenfold, Billy Talent, and Three Days Grace.
6. Any crazy show stories?
The craziest show story we can recall took place in Oshawa, Ontario during our tour last summer. We were getting set to play to what had been a fairly tough crowd, giving all of the other acts a hard time. Shortly into our set, a group of young women had come into the bar, celebrating a birthday, and not expecting to find a 'rock' band on stage inside. The presumable 'birthday-girl' had her eyes set on our bass player and decided it would be fun to get up on stage next to him and grind up next to him. Following this, she picked up his water bottle and began whipping it around, spraying water all over the 'tough crowd'. After that bar loosened up and the rest of the night was a blast. Safe to say that it was an epic night all thanks to those lovely ladies!
7. What's your take on the current state of rock?
There's a lot of depth to the genre of rock currently. You've got a lot of amazing new bands that are all coming in, making a name for themselves, but then you still have classic rock acts filling out 50-60,000 seat arenas. Rock is constantly going through an evolution, all the while keeping everything it represents at it's core, making it appealing to a huge demographic.
8. What's the current music scene like there in Canada both locally and country wide?
Canada has an amazing music scene coast-to-coast. Vancouver and Montreal have become hotbeds in not only Canada but North America as well. Here in Thunder Bay, the music scene is trying to make a comeback after several years of disinterest from the community. This has been a result of our city being so isolated, making it hard for touring bands to make an impact on our listeners. Today there are a lot of great local bands playing a number of different genres which makes it appealing to a lot of people, and the venues have done a great job at finding a happy medium for their customers expectations.
9. What's your take on legal/illegal music downloading?
Downloading music has become a way of life in todays world. Legally, it's an endless door for artists to get their music out to the masses. If a band is willing to release a song to help promote an albums worth of work, that piece should be free to circulate the globe and atract as many people as possible. Ideally, this should lead to more people going out and buying the album (or legally downloading it), but when entire albums begin to get downloaded illegally, it's only hurting the artists.
10. What's next for Altamadum?
Our next step right away is beginning our third album. The last year has been non-stop for us after we put out 'Levels' and we're so excited to begin work on new music. We've been working on a lot of new ideas and sounds and really want to take our time in the recording process to make this our best album yet. We also love making music videos, so we're hoping to get some new one's out there soon for our fans. Being able to work with this label has got us all really pumped for the future, both with our goals and the unknown. it's definitely something we're excited about.
11. Any shoutouts?
A huge shoutout to each and every person that has continually supported us throughout our careers: The Byers', The Cole's, The Forneri's, The Elder's, The Thomas', Onur Altinbilek, Carly Hughes, Taylor Perrault, Enzo Riccio & everyone at Music World Academy, Jimmy Wiggins, Aviary Kings, and Don't You(,) Mean People.