Five Ways To Nowhere talks about their new music, new happenings and much more.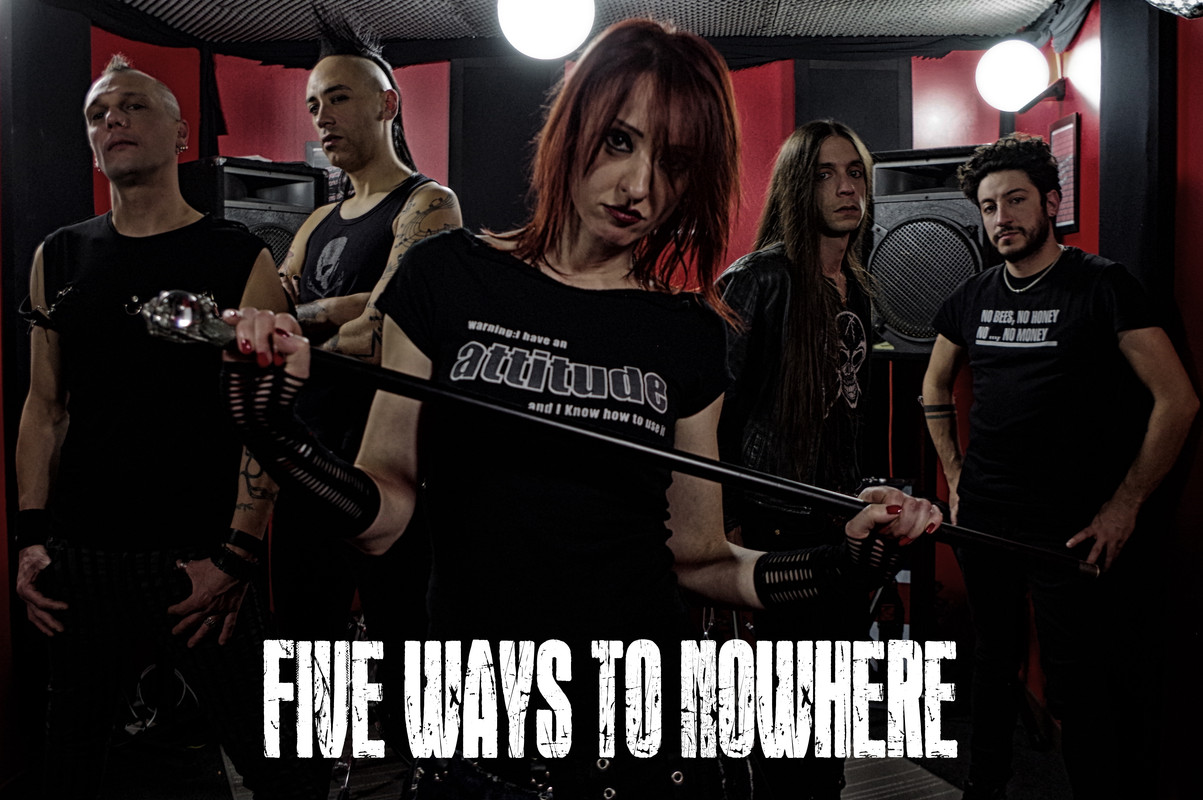 www.facebook.com/fivewaystonowhere
From: Turin, Italy
Sounds like: Hard Rock
1. First off, what's new with the band?
Hi guys, it's so good to be back here! Well, we got a bunch of cool things I'd say. We've been stuck in the studio during last months working on new songs: we're pretty excited and we can't wait to play them live! Lots of shows are coming, so we look forward to see some old (and new, of course) faces ;-) Moreover, our plan is to release our first full length next year: it'll will be released through our German record label FemMeropa, so...stay tuned!
2. What can you tell us about your new music?
I think it's a bit heavier, but of course there are all those scratchy & catchy melodies that typify us! I love the way we write our music: normally everything starts from an idea of a riff and chorus that I write with Charlotte then we work all together on arrangements. We all have different backgrounds, but that's our strength: I really need my bandmates opinion in order to complete a song and make it sounds like a "Five Ways To Nowhere" song.
3. What's your favorite place to play and why?
I personally like small clubs where you can see all faces, touch hands and where our sound has a much better impact on people. Of course it's super cool playing big open air stages, but I'm kinda digging small clubs.
4. What are you currently listening to?
I love listening to new stuff and discovering new bands. These days I'm really appreciating the new Halestorm album: it's heavier then the previous ones and it got a kind of "grunge" approach. Pretty cool! But there's a bunch of underground bands which are amazing! For example, I love the last album from Reverend Backflash called "Too Little, Too Late": this band from Vienna is one of the coolest Rock N Roll act in Europe! I know them since years and they're good friends of mine, as well, so... check them out folks! ;-)
5. How has your new music ("Vodka Queen") differed from your previous material?
"Vodka Queen" is the last double-single we released this year, but the song was written when we were working on "Wildstyle" and "Obsessed" about a year and half ago. We agreed with our record label to release "Vodka Queen" (together with our cover version of the 80s super hit "Bette Davis Eyes") as a second double-single for promotional reasons, so this song sounds pretty similar to "Wildstyle" and "Obsessed". I particularly love the lyrics of this song: Charlotte always writes cool lyrics and she can always find the best way make our songs sound like we want to.
6. What are some things in the near future that you're looking forward to?
Playing a lot of shows! We recently signed a contract with Black Dog Booking: this agency is based in Milan and its staff is so cool! Serious people who really work for the artists they sign with. They are helping us a lot on booking shows in Italy, so...we're getting ready!
7. If there's one thing you could change about the Rock music scene in general what would it be and why?
I'd love to see local bands supporting each others like it was, at least here in Italy, back in the 90s. I think it's crucial because without this, it's difficult to grow up. Supporting each others means go to other bands shows, sharing videos on social media, buying other bands albums and merch. Then, of course, each band has to work to make their own fan base bigger, but it would easier if we support each other.
8. What do you wish to accomplish in the next year with Five Ways To Nowhere?
Like I said, our first full length is our first goal. Then, playing live shows! Small clubs, big clubs, open air festivals...because even if it's cool to work in the studio and recording music, there's nothing like a live show! ;-)