Fortunato talks about their start with music, the NY music scene and much more.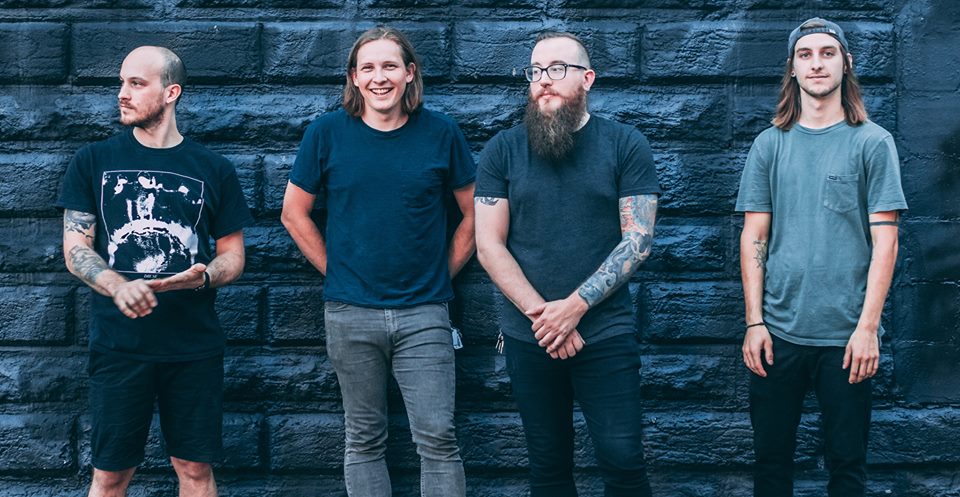 www.facebook.com/wearefortunato
From: Rochester, NY
Sounds like: Instrumental Rock
1. How did you get started with music and how did you develop your sound? Who thought of the name "Fortunato" and is there any meaning behind it?
Each member of Fortunato has had a unique introduction to music. Curt started playing music when he was 4 years old and pursued music to the extent of getting a bachelors degree in it. Most of us played music in church, and later on in bands within our local music scene. We have all played different styles of music over the years, from pop punk to hardcore to shoegaze to surf rock. All of these have combined with our love of post rock and post metal, as well as orchestral music (especially movie soundtracks) to create the distinct storytelling vibe that our music gives off.
The process of naming the band was an excruciating one, to be honest. At the time we were a five piece band with a singer and quite idealistic about making band decisions as democratic as possible, giving every member absolute veto power. Needless to say, eventually we got to the point of having to compromise from time to time, and the naming of the band was our first real test of this process. We had floated somewhere in the ballpark of 25 names to each other over about six months, and none of them were ever met with unanimous enthusiasm. We actually played one show under the name Ephemera, but decided to change it after finding out there was a Nordic synth pop band with the same name. So we went another six months without playing shows and without a name until we at long last arrived at the name Fortunato, which was not the most favored so much as the least disliked. In the short story "The Cask of Amontillado" by Edgar Allen Poe, Fortunato is a character who ironically meets his untimely end in European catacombs at the hand of the narrator of the story. The unnamed narrator despises him and as a result chains him to the wall and builds a brick wall around him, leaving him for dead. The darkness of the tale, the detestability of Fortunato and the irony of his name are all part of why we selected this name, but what really sold all of us was how nice it feels coming out of your mouth. It is itself quite beautiful a word, even when separated from its meaning.
2. What do you want people to take away from your music?
As kitschy, overreaching and wishy washy as it may sound, making the audience feel a feeling (any feeling at all) is what we strive to do. Life is damned hard and it seems as though emotional detachment is in vogue. Why deal with your emotions when you can hide them away? We create music as a rebuttal to this question. Whether our listeners are hearing a compelling story, a vivid soundscape or just sheer emotion translated to music, it is our number one goal for them to come away affected. Ideally they experience a variety of feelings while listening to our music, sometimes multiple conflicting emotions at the same time. Music has that power, and we do our best to introduce our listeners to that power.
3. How would you describe your sound to the average listener?
Our music contains a lot of influence from post rock, post hardcore, shoegaze, indie rock and orchestral music. If you enjoy any of these types of music, then there is a Fortunato song for you!
4. Who are three bands you'd like to tour with?
Curtis: Deafheaven, Every Time I Die, Jimmy Eat World.
Brendan: The Budos Band, Earth, Cloakroom.
Tom: Caspian, Pray for Sound, Anyone Anyway
Jacob: Russian Circles, God is an Astronaut, Underoath
5. What are your three desert island albums that you'd never get tired of listening to?
Curtis: Forget and Not Slow Down (Relient k), Come Now Sleep (As Cities Burn), Ledges (Noah Gundersen).
Brendan: Rubber Soul (the Beatles), Loveless (My Bloody Valentine), Disintegration (the Cure).
Tom: What It Is to Burn (Finch), The Impossible Kid (Aesop Rock), For Emma, Forever Ago (Bon Iver).
Jacob: Guidance (Russian Circles), Forget and Not Slow Down (Relient k), The Very Best of Hall & Oates
6. What's your take on the current state of Instrumental Rock?
We are very optimistic for where instrumental rock and post rock are at now. There is a huge community of people who enjoy it all across the globe and they are always hungry for more, and ready to hear something unique and innovative. It seems as though an excellent post rock band can come out of anywhere at all. Any city, any scene, any lifestyle. This is very encouraging for us because we think we've got a lot to contribute to this community. And while at first glance it may seem that instrumental rock is at best on the fringes of the mainstream, they can get away with being on a bill with just about any type of act. People aren't as quick to write off an instrumental band as something that they're not into (in contrast to metal, punk, country, hip hop etc).
7. What's the current music scene like there in New York both locally and state wide?
New York State (even upstate, where we're from) is a very happening place for music right now. In Rochester, there isn't a night of the week that you can't go out and see a killer local band for less than ten bucks. Buffalo is the same way. The music scene is more inclusive than ever. Acts with drastically different sounds are playing on the same bill consistently, and people from all backgrounds are playing out and recording all the time. It's tough to make it out of the local scene and onto the regional stage, but it doesn't take a lot of effort to find a few kindred spirits who will start a project with you, or to book a show at a local club, or to record a demo on your laptop.
8. What's your take on legal/illegal music downloading?
We would like to think that someday people want to download our music bad enough to break the law to get it. As for right now, we're very intentional about making our music available for streaming for free at least somewhere. It's not much of a stretch to say that making money off of records just isn't in the cards for most bands these days. So we have to come up with new and innovative ways to engage fans and make this project sustainable. We'll make the music we want to wake one way or another, whether untold hordes of fans are listening or a few of our close friends. We make music because we are compelled to, and we do it as high a caliber as we can because we believe in it. If someone needs to download our music illegally in order to gain access to it, that's not necessarily a problem for us right now.
9. What's next for Fortunato?
We are currently working on writing a full length album. Specifically, we are writing songs and trying to flesh out all of the other non-musical things that come part and parcel to releasing an album. Some of those songs have already made their way into our live set, which is exciting. We'll be playing some shows locally and regionally over the next few months, so definitely look out for us on the road soon.
10. Any shoutouts?
Definitely shoutouts to our diehard fans from Rochester, you know who you are. Also to Chris Vandeviver and Josh Pettinger, who have both engineered and produced music for us. To bands who consistently play with us and hook us up and let us hook them up. Our former members Alex and Jay, hopefully they're doing alright these days. To anyone who has ever booked us or asked us to be a part of a show. And of course our parents who think we're the bees knees for some reason.