In The Next Life talks about their start with music, the current state of Rock and much more.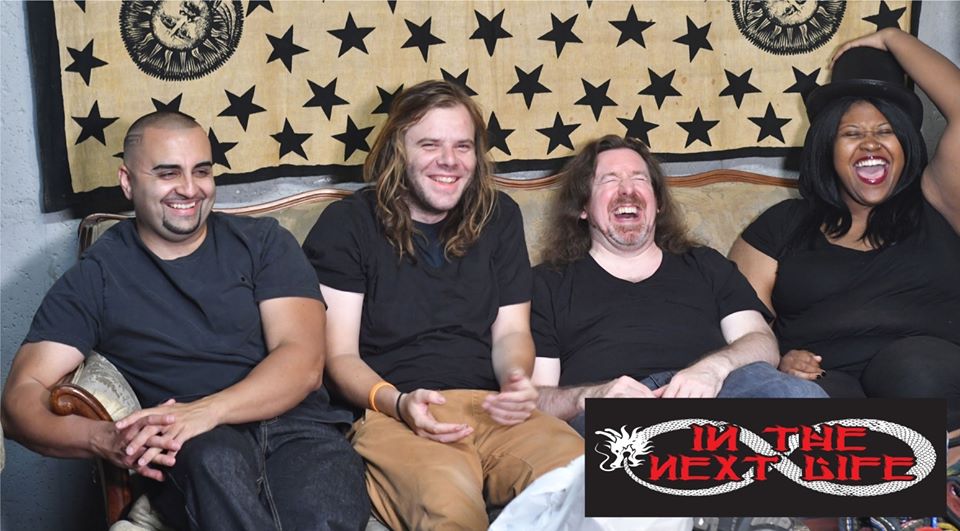 www.facebook.com/inthenextlife1
From: New York, NY
Sounds like: Rock
1. How did you get started with music and how did you develop your sound? Who thought of the name "In The Next Life" and is there any meaning behind it?
Flavius: Well I started music when I was 12 years old. I had influences of Hip Hop and Rock artists in late 90s and I picked percussion when I saw music videos of Rock artists behind the drums.
John: I answered a Craigslist ad.
Charles: I started music when I was 17 so it's about 30 years. I got bored of playing in standard E and then discovered down tuning with other bands like Black Sabbath, Country music, and Jazz. I thought of the name "In The Next Life", and it means that we're so far ahead of you we are in the next life and we will always be ahead of you.
Carol: I started singing since I was 5 years old, but professionally at 21, so nearly 30 years singing in total but professionally for 12. Since I'm the second singer of the band, the guitarist Charles, came up with the name.
2. What do you want people to take away from your music?
Flavius: A memory of our music that keep them happy and moves along with their lives. As well as having fellow musicians coming up they can learn from us.
John: I want them to take away joy and feel the work that I and my peers have put into it.
Charles: A sense of humanity and sense of familiarity and that we all have feelings and we all hurt and we all need encouragement to carry on.
Carol: That there's finally a band that shows sympathy and empathy within its music.
3. How would you describe your sound to the average listener?
Flavius: Progressive and Classic.
John: I honestly didn't know how to. I haven't really heard us stick to one thing.
Charles: Heavy, dark, melodic, multicultural and multi-stylistic.
Carol: Morbidly melodic, music with depth.
4. Who are three bands you'd like to tour with?
Flavius: Ozzy Osbourne, Metallica and Megadeth.
John: Elefantkiller, that'd be sick.
Charles: Three Days Grace, Megadeth, and Paradise Lost.
Carol: Alabama Shakes, Sevendust and Killswitch Engage.
5. What are your three desert island albums that you'd never get tired of listening to?
Flavius: "Peace Sells... But Who's Buying", "Rust in Peace", "Killing is My Business and Business is Good".
John: "2112", "Thick as a Brick", "Machine Head", "Signals", and "A Farewell of Kings."
Charles: Anything from the three groups from before.
Carol: That'll be really difficult since I have a huge music library LOL. But if I really have to choose Korn's latest album "The Nothing", anything from Sade, and "I Don't Want to Grow Up" by The Descendants.
6. What's your take on the current state of Rock?
Flavius: Too much wrong harmony overall riffs.
John: It sure isn't the same as some of the people I grew up listening to.
Charles: It has no talent, no style, no feeling and needs a complete overhaul. They need to take lessons from Euro Metal.
Carol: 2020 is definitely looking promising for Rock music since the standardized mainstream is starting to become bland and repetitive.
7. What's the current music scene like there in New York both locally and state wide?
Flavius: Can't say too much about it now. I remember it was booming in the 90's and early 2000's.
John: Depending on who you play with and your crowd, people are very supportive and you tend to see a lot of the same people around a lot which is great.
Charles: See above answer.
Carol: There's quite a plethora of talented artists in all types of genres in New York, so you definitely will not be disappointed.
8. What's your take on legal/illegal music downloading?
Flavius: I would not encourage illegal music downloading, just as long you do not resell the music or copyright material.
John: I'm all for free downloads. I'd love for people to hear it and if they love it enough to pay for it I wont be disappointed.
Charles: I don't like it. I buy CDs I support the bands I love because I want to do what they do.
Carol: Well obviously illegal downloading is wrong but for legal downloading it's definitely somewhat of a convenience.
9. What's next for In The Next Life?
Flavius: Making more music.
John: Some more shows, hopefully an album or two. I really pushed the guys to recording again because I think it'd be great for us.
Charles: Leaving the state, leaving the country, spreading our wings and flying taking over the world. Two ears at a time.
Carol: Bigger and better things with a lot more material.
10. Any shoutouts?
Flavius: God, family and friends for giving me the will to move on with my music.
John: James from Elephant Killer, Coral Stu'ert, Chols Cood, Flovaius, and Trip entertainment.
Charles: Inter Wolf, Punkin, Cryo Child, Mouth for Rage, Clothesline, and Elefantkiller.
Carol: The show that I currently work on WTF TV, all of the bands I've ever worked with in my musical career, friends, family, loved ones, the first show that I ever helped on *Rew & Who?*.