The Space Wizards talk about their start with music, the Canadian music scene and much more.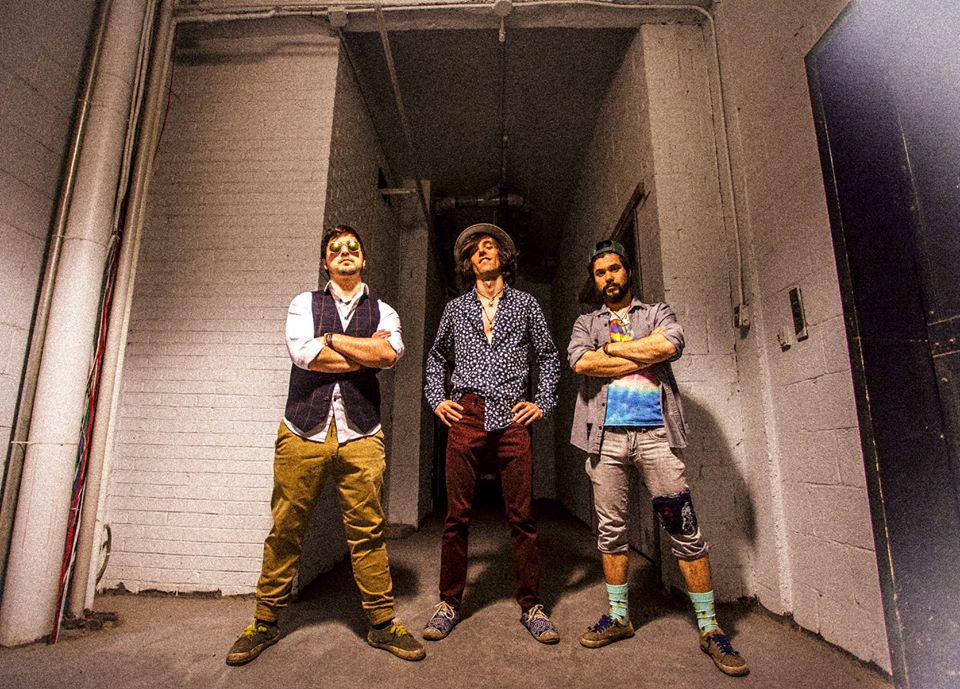 www.facebook.com/thespacewizard
From: Montreal, Canada
Sounds like: Rock
Answered by Will
1. How did you get started with music and how did you develop your sound? Who thought of the name "The Space Wizards" and is there any meaning behind it?
I got started with music when I was really young, around 2-4 years old. I was given a Ukele with missing strings to fumble around on. Then came the elementary school music classes, I seemed to be able to pick it up instruments quickly, I was pretty good at the recorder but we mostly played simplified classical music. Around ten years old I was bought a bass by my really supportive parents and got a few lessons. I wasn't much interested, I learned things from Steppenwolf to Simple Plan to Red Hot Chili Peppers but it didn't catch me in a way. I was more into gaming and playing toy soldiers and rap like DMX and D12. It didn't last too long, when I got to high school I played bass in, you guessed it, music class. It's when I rediscovered Jimi Hendrix in this time, songs like Little Wing, Castles Made of Sand, Manic Depression and Red House (especially Little Wing + Red House) set me on the path of wanting to feel that way for myself. I got deep into the blues and pretty much stopped listening to things like Silverstein and Fall Out Boy. So I made a bargain at 15, I heard of justinguitar.com and asked my mom for a Mexican Standard olympic white Stratocaster with a maple fretboard because I loved the sweet bell like sound of the neck pickup and it looked like one of Jimi's guitars. From there, I learned in a way. I was teaching myself, jamming with whoever would jam with me (mostly my friend Jimmy Le) and spending all of my free time jamming to backing tracks on YouTube. Luckily, I didn't need to study and I was getting good grades despite missing homework assignments. I did this for years, tried to get into a jazz program but never had the discipline to sit down. All I cared about was feeling music, my craft suffered but I enjoyed just making sounds so much. From there it turned into learning at jam sessions. By the summer of 2013 I was in several bands as a guitarist/bassist either full time or for hire and sessioning. I set out to play every night, free, paid, just a jam, whatever. It was seven nights a week playing, plus all the time I was spending just jamming out unplugged by myself and creating. I was never without my guitar. I was exposed to soul music, blues, psychedelic rock, neosoul, funk, pfunk, punk, hard rock, jazz, I was trying to play anything I could because playing more meant more chances to get a night jamming or hired by somebody.
The name The Space Wizards kind of came around because, well, I've been keen on the idea that the world we perceive and the world as it is are quite different. I felt like music was a real transmuting of the energy we've yet to comprehend surrounding and coursing through us. I had so many philosophical beliefs about music, in its shamanistic properties, in a new age spiritual way and a pragmatic kind of way. I felt that there was so much more about life than a job and a place to stay that grows in size and content until you're dead. Couple that with a guy who spent time in class finishing his work as fast as possible to day dream staring out the window and that's what you get. The Space Wizards. Anybody can be one, it's just a question of whether or not you're looking around at what's really happening. It's a quirky thing to be until you get a whole room turned on and dancing to the thunderous vibe.
2. What do you want people to take away from your music?
The world's a trip, even if you're not on anything.
3. How would you describe your sound to the average listener?
Dirty, ripping, dripping in thick sweetness and psychedelic haze wrapped in the power of deep swinging rhythm.
4. Who are three bands you'd like to tour with?
Reignwolf, Fuzz, and The Black Keys.
5. What are your three desert island albums that you'd never get tired of listening to?
"Electric Lady Land", "Blood Sugar Sex Magik", and "The Muddy Waters Plantation Recordings".
6. What's your take on the current state of Rock?
It's a whole lot of different things, I think people get too caught up in making a riff and forgetting to develop it beyond repetition.
7. What's the current music scene like there in Canada both locally and country wide?
There's a lot going on with people like Crownlands, Reignwolf, The Damn Truth getting out there. Of course, we also have some of the biggest stars in the charts from Arcade Fire to Half Moon Run to Drake, Justin Bieber and Shawn Mendes doing wonderful things. We're a big country with a rich music scene but there's no money for smaller artists here unless you're getting into a tribute act.
8. What's your take on legal/illegal music downloading?
Now more people have access to music, meaning people will digest more sounds and music will change and grow exponentially. It does devalue the individual efforts of artists though, as there's no reason to really commit to music. There's so much of it, which is great but with the volume of expression we're all pretty much bound to be background noise until we announce some sort of milestone like a certain amount of streams or views. Then people pay attention.
9. What's next for The Space Wizards?
A new single, a new album, touring, Osheaga 2020 hopefuls with aims at getting into the U.S of A or Europe to play soon!
10. Any shoutouts?
Shoutout to all the friends we've made in this city and others around Canada and the world. We really dig the connections and feeling welcome in more and more places. Shoutout to Tom Shemerr for producing our album, Adding Color and being a stand up friend. Shoutout to Frisco, Erik, Curly and all the Courcelle staff for killing it every Sunday. Shoutouts to my buddy Mathis Xavier chasing the dreams all the way to N.Y.. and shoutout to my buddies Mosquito Mike and Brandon Gear. Much love and peace.