Lomez talks about their eclectic Rock sound, the current Rock music landscape and much more.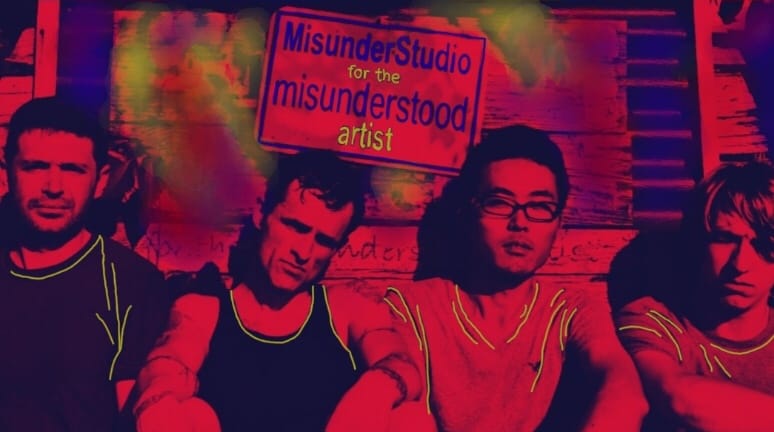 www.facebook.com/lomezband
From: Carbondale, IL
Sounds like: Rock
1. How did you get started with music and how did you develop your sound? Who thought of the name "Lomez" and is there any meaning behind it?
LOMEZ is an American rock band formed in Southern Illinois. Their debut album"Chasing Our Tails" was released in August 2019 and was produced and recorded at MisunderStudio in Murphysboro Illinois. LOMEZ's music is influenced by the sounds of 90s grunge and alternative metal. The bass and drums drive the thundering sonic undertones while the guitar and vocals provide a melodic cutting edge. Their songs offer a nostalgic 90s soundscape with a modern twist.The songs tell thoughtful stories with introspective lyrics that pique listeners' curiosity.
Drummer Masa Kato, originally from Nagoya Japan, was relatively late to learning drums and started playing when he was in college. He was inspired by especially grunge, punk and alternative rock bands like Rage Against the Machine, Nirvana, and Red-Hot Chili Peppers. Masa's beats provide sharp, solid and tight sounds to generate a fundamental groove. His creative drum lines often synchronize listeners' heart beats to our vivid rock sound. His drumming is like a thunder that shakes your heart and boosts LOMEZ's sounds.
Lead guitar player Jacob Crawford is the only member of the band originally from Southern Illinois. As far back as he can remember, Jacob could "feel" music and learned how to play along just by hearing the sounds. Jacob's first instrument was drums, but he eventually felt a calling to guitar where he could express more of his rhythmic style and unleash wonderous melodies. Jacob draws on Jimi Hendrix for inspiration to produce funky grooves, and Slash for a badass playing style.
Bassist Justin D'Agostino is originally from the Washington DC area. Justin first started playing bass with inspiration from 90s rock bands and bassists including one that shares the same first name (Justin Chancellor from Tool).Justin moved to Carbondale in 2015 and the original songs that eventually led to the songs on Chasing Our Tails were first crafted in an outdoor shed in his backyard. Working on this album allowed Justin to take the sounds that initially fueled him to become a musician and provide his unique voice through bass lines and song structure.
Vocalist Adam Steglich is originally from Clearwater, FL. At an early age, Adam was captivated by music and visual arts. He was also drawn to writing as it was an inherent second nature. He published his first book of poetry, "Winds of Perception (scratching the surface)" in 2011. The poems were designed to empower readers to push the envelope beyond self, and the subject matter addresses universal themes of humanity. Poetry combined with his love for music made him a great fit for LOMEZ. After seeing a live performance, it becomes obvious he is a great front man for this eclectic band.
Lomez is one of Cosmo Kramer's friends. He talks about him a lot, but he is never seen or heard. He is an Orthodox Jew and his place of worship was a featured stop on Kramer's Peterman Reality bus tour. He appears to take a lot of time in the bathroom, as shown in "The Betrayal", when he spent a large amount of time in a Portapotty. Justin D'Agostino named his cat LOMEZ that he has had the last 14 years. When coming up with a name for the band this is also the one that stuck.
2. What do you want people to take away from your music?
First and foremost we want people to be able to rock out and/or vibe with the sounds. If a listener is interested and wants to find a deeper meaning behind the music we encourage them to read and sing along to the lyrics. Most of our songs tell stories that go through dark tunnels but always find their way out and into the light.
3. How would you describe your sound to the average listener?
Our take on stoner rock. There are dark yet melodic catchy undertones with cataclysmic sounds of metal, rock, and punk intertwined.
4. Who are three bands you'd like to tour with?
Tool, Rage Against the Machine (if possible), and Korn.
5. What are your three desert island albums that you'd never get tired of listening to?
Tool - "Aenima", Led Zeppelin - "Led Zeppelin IV", and Nirvana - "Nevermind".
6. What's your take on the current state of Rock?
Rock is dead? Possibly in the mainstream but with artists ability to create at home or smaller scale studios, you can find many small scale rock scenes around the country and world. We are currently in one of those small scale scenes and trying to push the limits if there is a wider audience.
7. What's the current music scene like there in Illinois both locally and state wide?
Our local music scene is great and we have had the chance to play with some awesome musicians and bands. The state of Illinois rock scene seems to be thriving but we are looking for a little bit more and can't wait to get out there and become a part of the national or even international rock scene!
8. What's your take on legal/illegal music downloading?
We do our best to follow laws and encourage music fans to do the same. We work hard to create, produce, and distribute our product and we believe like any other mode of supply and demand or business that legal is the only way!
9. What's next for Lomez?
We have some live shows lined up in the next few months, we will be on multiple radio stations, and we are working hard at upgrading our social media sites and producing directing and creating a music video or videos for our fans and listeners. What's next for us? Well hopefully the opportunity to go on a wide tour and build a fan base across the United States and even test International waters!
10. Any shoutouts?
We would like to thank Michael Lescellius of Misunderstudio for producing the album "Chasing our Tails" also for his advice and patience. We would like to thank From the Depths Entertainment, Last Call Music, Sign of a Prophet, and Lauren Stoelzle.