Bona Lisa talks about how they got started in music, their unique Rock sound and much more.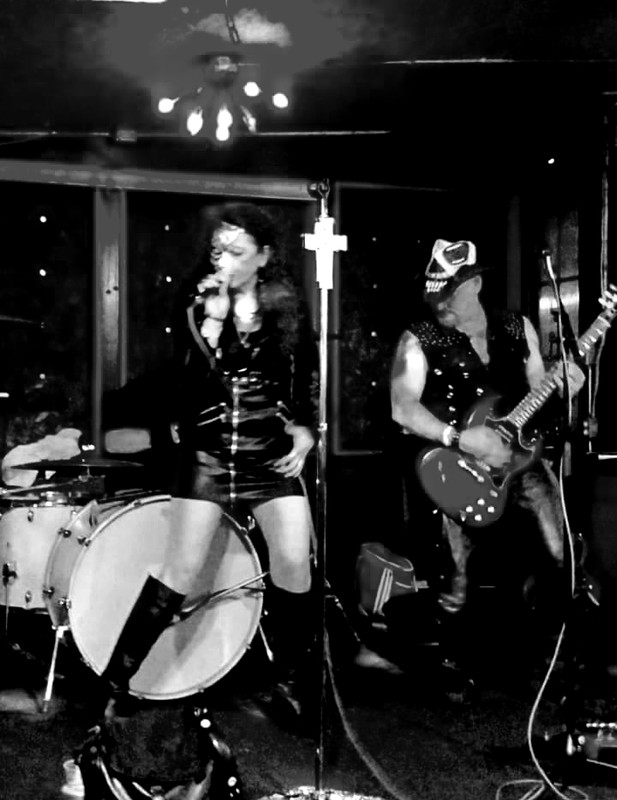 www.facebook.com/bonalisa.rocks
From: South Carolina
Sounds like: Rock
1. How did you get started with music and how did you develop your sound? Who thought of the name "Bona Lisa" and is there any meaning behind it?
Andy: "Won a Black Sabbath Album from a radio station. A Guy at my school played 'Smoke on the Water' om the gym at a senior showcase and the sound of that guitar got me interested in learning to play.' I played along with albums for hours and hours…obsessed! I am a product of all the bands that I really got into."
Donna: "I knew that I was in love with guitar at an early age. My Uncle played very well. He gave me my first 12-String Ibanez guitar and I taught myself to play. I remember putting on family room concerts for my five younger sisters singing into a hairbrush make believe microphone with my cousin Marsha. I have been singing all of my life."
Andy: "Got the name Bona Lisa from a t-shirt I got from a punk rock boutique next to a club I was playing that night. A Skelton Mona Lisa. Jokingly brought it up when we were brainstorming for a band name. Everybody laughed but liked it. I guess it has a double-entendre.
2. What do you want people to take away from your music?
Andy: "Just have a good time!".
Donna: "I want people to feel like we feel when we play our music, from our heart and soul to yours."
3. How would you describe your sound to the average listener?
Andy: "70's-80's influenced Hard Rock/Heavy Metal."
Donna: "Crunchy guitars, edgy vocals, hard and heavy Rock."
4. Who are three bands you'd like to tour with?
"Beasto Blanco, Halestorm, and Alice Cooper."
5. What are your three desert island albums that you'd never get tired of listening to?
Andy: "Michael Schenker Group – Assault Attack, Judas Priest – Sad Wings of Destiny, and AC/DC – Let There Be Rock."
Donna: "Aerosmith – Toys in the Attic, Heart – Little Queen, and Sass Jordan – Ratts."
6. What's your take on the current state of Rock?
"There are good bands, but it is a real challenge to find the ones that you are into. Rock is more popular in Europe and South America than it is in the United States, at this moment."
7. What's the current music scene like there in South Carolina?
"For the most part, people support original bands. There is not a lot of money, but that is not what it is about. Bands support each other and go to each other's shows, and there is a mutual respect for all types of rock."
8. What's your take on legal/illegal music downloading?
"If you keep stealing music and don't financially support bands, they will die off, simple as that."
9. What's next for Bona Lisa?
"SHOWS! We love to play live. Hopefully venues will be freed up to book. Also, we are working on new songs. For us, music is life."
10. Any shoutouts?
"Our brothers and sisters in Rock: lowercase gods, The Haves, Missy and the Meerkats, Winter Solstice, and New York Disco Villains. We'd also like to thank our fans, because without them it would just be perpetual band practice."