King's Petition talks about their formation, upcoming plans and much more.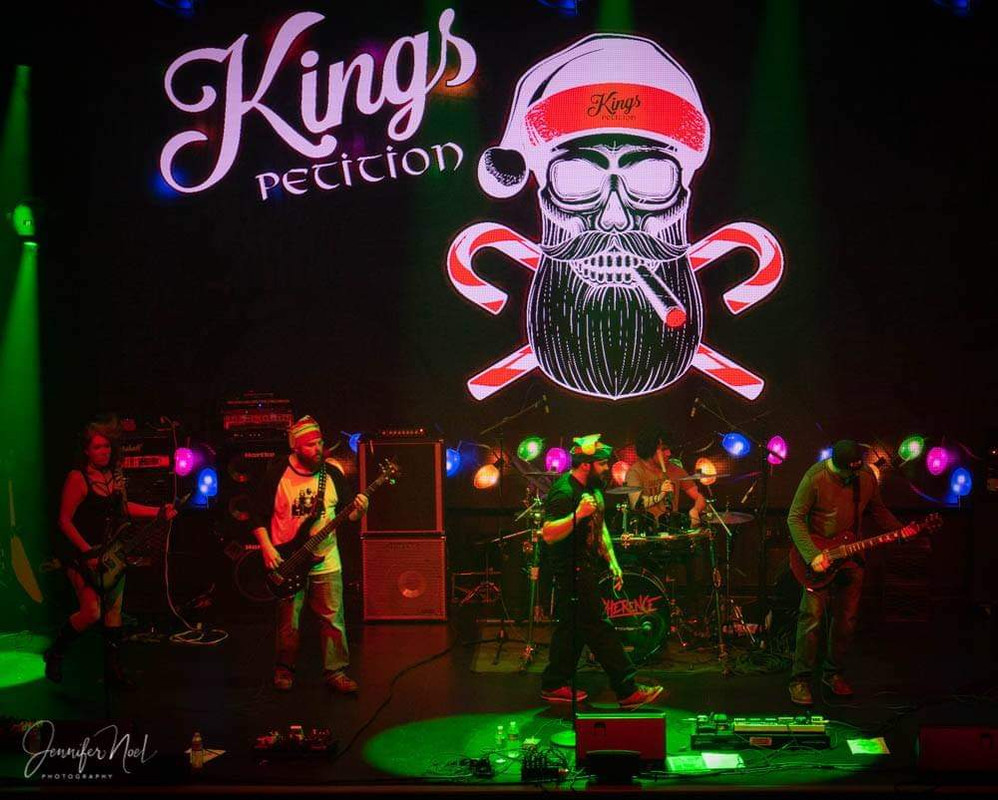 www.facebook.com/kingspetition
From: New Hampshire
Sounds like: Hard Rock
1. How did you get started with music and how did you develop your sound? Who thought of the name "King's Petition" and is there any meaning behind it?
Funny story really, Eric, our original Guitarist and Jay would sit around every night hammering back beers and playing rock band at Eric's apartment. One night Eric's like: "man wouldn't it be cool to actually go out and play shows? Wait, don't you play Drums Jay? And you play guitar Jesse? I always sing and I know I can get Doug on board to play bass!" After that night we secured a jam space at a friend of ours garage He wasn't using. Our friend loved to host parties at his place pretty much every weekend which gave us a great outlet as we started to acquire a fan base. We would have customers going into the pizza joint next to his house and walk over to watch us jam while waiting for there orders. Our sound was really comprised of some of our favorite bands, Eric and Jay came from more of the hardcore scene while the others where into heavy modern rock. We kind of twisted it together to form that grungy Rock sound that it is today. Nothing too fancy just straight up loud amps and a lot of gain!
Originally we where called Chivalrousless Gentlemen, Which you can still find the page someplace in the Facebook word for some fun memories, video and audio. We had a lineup change where Our original guitarist left and we where joined by a female guitarist (well damn we are no longer gentlemen we should rethink this name) Eric and Jay are Masons and at the time our friend was looking to join the masons as well, His last name is King, Jay and Eric at every practice would go "Hey you grab Kings Petition yet?" this went on for a good few weeks before we laughed and said "Hell lets just name it Kings Petition!" seemed short and sweet so we went with it. Not to mention every time we would get introduced on stage no one could pronounce Chivalrousless Gentlemen, Haha!
2. What do you want people to take away from your music?
Pretty much just a good time! Most of our songs are geared around life events that we have been through, some of our more serious stuff like Decisions, Reflections on the Surface. Those are hard hitting when you understand the backstory. Again though we came from a party scene and becoming more of a modern day George Thorogood with songs like Fuck My Liver, DWI and Wasting Time that is all about drinking and having fun.
3. How would you describe your sound to the average listener?
We like to call it sleeze-core, Basically a blend of hardcore with solid grungy rock. Twist together Clutch and Steel Panther if you will. You got that sound but that funny story telling like only Steel panther can do!
4. Who are three bands you'd like to tour with?
Oh man! So many, but totally would love to be on tour with Shinedown, A Day to Remember and or Hellyeah!
5. What are your three desert island albums that you'd never get tired of listening to?
Besides the Gilligan Island theme? Hahhaha All time Favorites I would say: Stabbing Westward; Wither Blister Burn & Peel, I know Kevin couldn't live without Oasis; Definitely Maybe and Mudvayne; The End of All Things to Come.
6. What's your take on the current state of Hard Rock?
I believe it is still alive and thriving, a lot of bands out there local and national acts that are still carrying on the Hard Rock Torch!
7. What's the current music scene like there in New Hampshire?
It's a interesting scene, Being Wedged between some major states with huge musical influences we do get a nice variety in Southern New Hampshire. Having the ability to play in the bigger cities like Manchester, Nashua and Concord to playing on the sea coast right on the beach out in Hampton and even up in the Laconia Lakes region area. I believe this creates a mix of Genre's, you always hear something different or two Genre's mashed together.
8. What's your take on the royalties that streaming services pay out to artists?
Yikes! Rob ya blind! Hahaha, This is the norm now though, Physical media is the thing of the past, Man I bought a new truck and it doesn't even have a CD player anymore. You can either hate it or grasp it and try to make it worth your time and effort. To this day its all about ticket sales and Merch, Its just fun to see what trickles into our account at our current level. To rely on streaming Services with the poor payout just isn't feasible, hell it hardly puts gas in the bus tank.
9. What's next for King's Petition?
We have been taking advantage of the current state of this virus by brainstorming new ideas and compiling a list of new songs. I know we are really trying to up our digital media with more videos and content. Definitely a full length album is on the cusp for Early 2021.
10. Any shoutouts?
Definitely! I know we would all love to Thank our Families and Friends that have supported us through out these years. Casey Rope for being wonderful to work with when it comes to mixing/mastering our tunes. Big thanks to From The Depths Entertainment as well for helping promote our material and give us a voice out in the music world!