Redlizzard talks about their formation, the Portugal music scene scene and much more.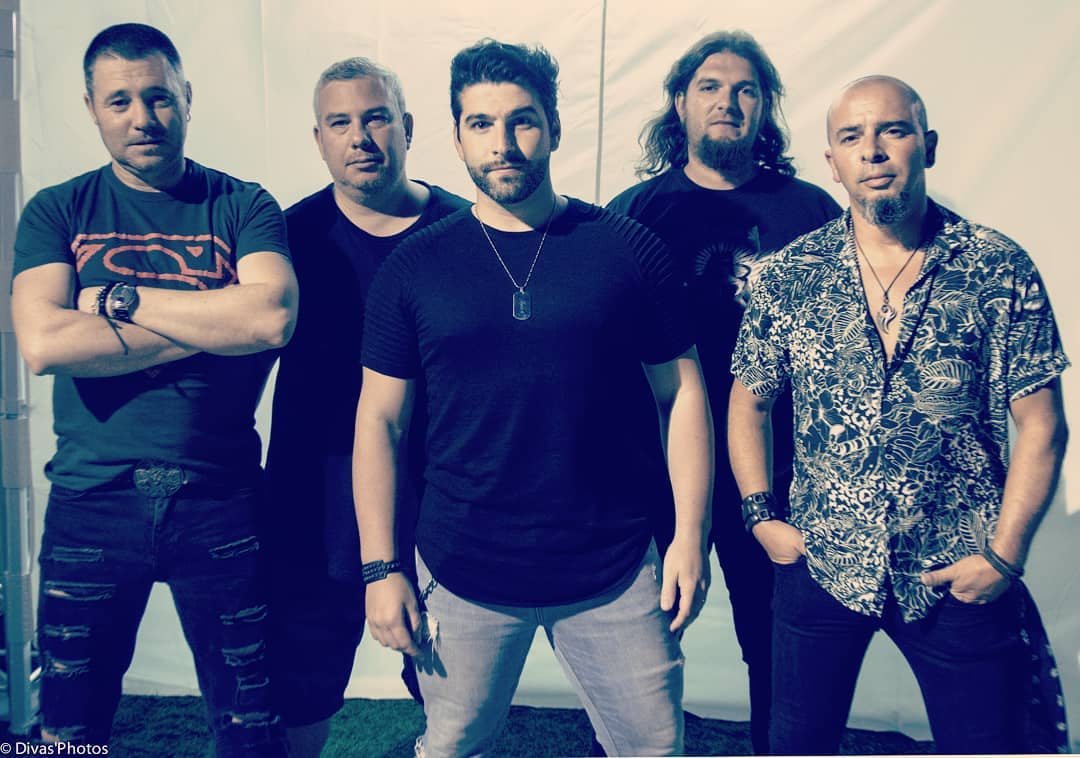 www.facebook.com/redlizzardofficial
From: Portugal
Sounds like: Rock
1. How did you get started with music and how did you develop your sound? Who thought of the name "Redlizzard" and is there any meaning behind it?
Patrick – Music is our life… I think it has to do with having grown up in a multicultural city, Almada, where there are many people connected to music. Almada is knowed by the Liverpool from Portugal… This made us have an early contact with this world. So, it was just a matter of time until some of us start to get involved in the local music scene. Then many years playing in different local bands of different genres, like metal or alternative music… Me and Rick Played together in other bands...
Elvis - A few years ago, I met Patrick Elmer and he was already in a Rock band. Then, they invited me to playing bass because they had lost the bass player. I'm not a bass player, but I did. It lasted less than a year. After that, the band was finished and we decided to start our own band… Until today, I keep on rocking with the guys. It's been a long, crazy and completely fantastic years.
Rick – I met Patrick in the 90's who invited me to join his Metal band and almost twenty-five years later, which a few short breaks, we still play together and it´s been a lot of fun. When Patrick and Elvis told me about thi project, I joined them right away!
Patrick - When we started rehearsing Elvis had a few songs and I also had some. The songs were different with different genres. We started to arranged and making adaptations in the songs, without worrying about sounding like this or like that. We let It flow and I think we begun to create our own sound…
Elvis – From the beginning we are not worried in being different or sound like other artists. That doesn't make sense to us. The only thing we are interested in is to make songs that we love, and of course, that eventually other people will love too. Redlizzard are Redlizzard, you get what you see and listen. Hehehe… About the name.. There are a lot of theory's about that… But probably the one closer to the truth involves rival football teams… That's all we can reveal ;)
Patrick - The name Redlizzard represent what we are… Passion, energy, and excitement… Friendship, benevolence and reason!
Elvis - Redlizzard was the name we wanted for it!
2. What do you want people to take away from your music?
Patrick - What we do are Rock songs and don't always have a deep feeling! But what we do is full of passion! We are what we play! And that is what we want! That people have fun and have a good time listening to us! We certainly have deeper songs with more delicate subject.
Elvis – We are a rock band. Sometimes harder, sometimes softer, but always rockers. We love to get in a stage and play our songs live. And the greatest reward is when we have the audience partying with us. We love it!
3. How would you describe your sound to the average listener?
Patrick - Basically REDLIZZARD sounds like Rock, you'll feel the roots of it among strong guitar riffs, striking rhythms and pleasant solos. A great voice that lead us to strong and catchy chorus all the way through and a very positive attitude.
Elvis - The only thing we are interested in is to make songs that we love, and of course, that eventually other people will love too. Redlizzard are Redlizzard, you get what you see and listen.
Rick - It's powerful and catchy.
4. Who are three bands you'd like to tour with?
Patrick – Only 3? … Ok, I'll try…! Guns'n'Roses, Whitesnake, Def Leppard and many others. Mainly old school rock n roll like AC/DC. From newer bands The Dead Daisies!
5. How has Covid affected what you do as a band?
Elvis – A lot … It cancelled all this year gigs… that were some… we are in the middle of "The Black Album" promotion.
Patrick - In the first months, as we were confined, we tried to make some home videos ... then we started working on some projects we were thinking about! Like a live album or the reissue of the "In Your Face" album that turns 10 years next year!
Rick – We did a gig in a small venue, at Dec 4th for a few people celebrate the band's anniversary!
6. What's your take on the current state of Rock?
Patrick - Rock is not dead just ceased to be in the mainstream ... We continue to see rock bands sold out festivals, stadiums and other venues ... So there is a market! You have to work on it and maybe one day Rock will return to the mainstream!
7. What's the current music scene like there in Portugal?
Patrick - Due to Covid-19, things are very complicated in Portugal. The vast majority of bands and solo artists cannot make money. The concert halls have closed their doors. People who live from putting on shows are going hungry ... it's a very delicate situation!
Elvis - I can say that at this moment there is no music scene in Portugal!
8. What's your take on the royalties that streaming services pay out to artists?
Patrick - The music business is changing since the internet appeared. All agents from the music business have not been able to adapt and many of them still remain with the old rules. Even the "Old School" Artists tried to stay in business like this way. The new generations were born with a computer in their hands, sharing and promoting music, in digital formats, in other ways. The game changed... The streaming platforms appear... New rules... new business! I think that is a generation gap between old "music business" and "today's music business". And the Artists are in the middle... and losing for all...Right now we need to forget how things were in the past and start planning the future with what we have. Maybe we can make them understand that, despite having created a new music business, they depend on artists, otherwise they have no content.
9. What's next for Redlizzard?
Elvis - It's very difficult to say what the future holds. We know that the music business is very difficult, that the competition is huge. Above all, it is important that we believe in what we do. We do not know what the future will bring us, but we definitely know what we have to offer in the future! Rock n' Roll... and there's a lot more from where this came from!
Patrick – Like I said before… Next year maybe a live album… maybe a 10th anniversary deluxe edition of "In Your Face"!!!
10. Any shoutouts?
Patrick - Listen to Music support the artists and bands you like and stay safe!