Blanket Hill talk about the current state of Metal, upcoming plans and much more.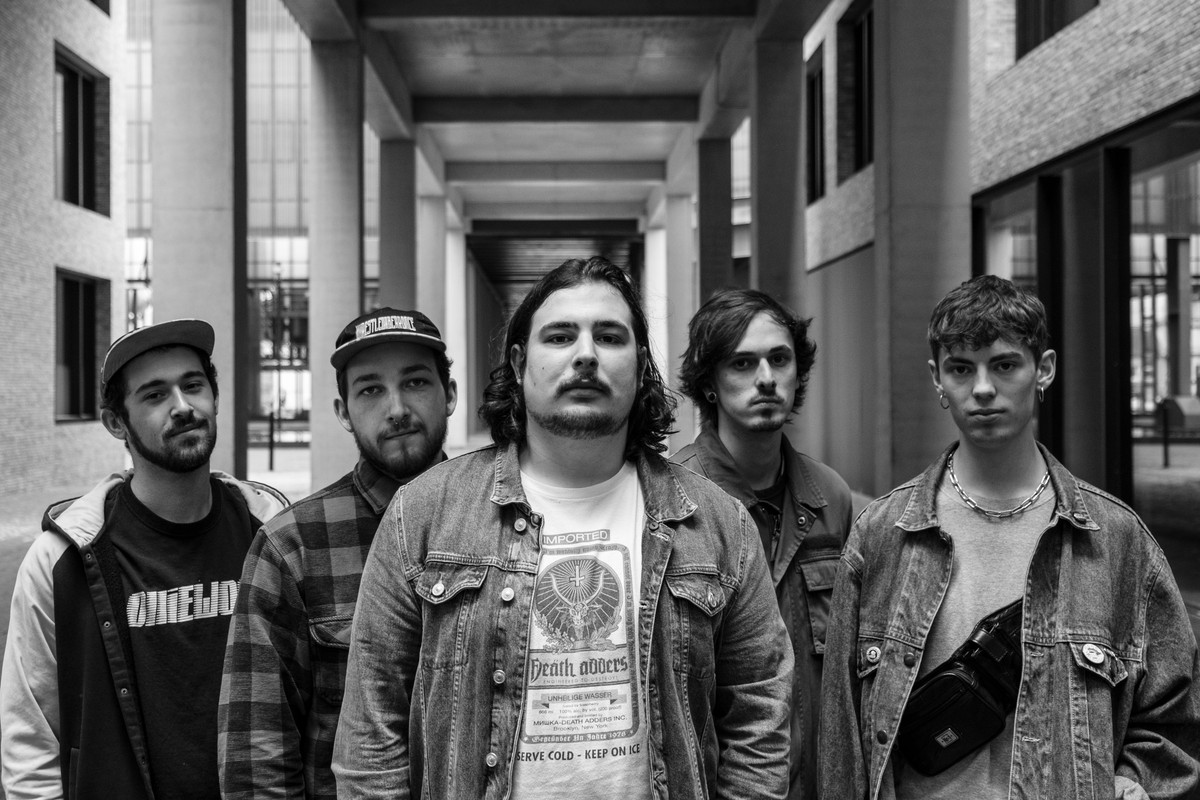 www.facebook.com/blankethill
From: Luxembourg
Sounds like: Metal/Hardcore
1. How did you get started with music and how did you develop your sound? Who thought of the name "Blanket Hill" and is there any meaning behind it?
Hey, this is David, I sing in Blanket Hill. We started around 2015 after a previous band had broken up. After we set out with Blanket Hill, we quickly wrote an EP just to get some music out so we could get shows. In 2017, we released our second EP "Trenches Of Reality" and I think that's when we started finding our sound. Our guitar player Max and I started writing most of the music, with a lot of input by our drummer Guy, and it all started making sense from there. I cannot speak for Max, but, when I write songs, I make an effort to not exclude any influences. I think that's why our music sounds the way it does. Especially now with the singles we released recently ("Granite City Blues", "Defcon One" and "Moon Logic") I think we're where we want to be.
As far as the band name, it's linked to the Kent State riots against the Vietnam War where a couple students lost their lives after the National Guard opened fire. We're definitely on the students' side there.
2. What do you want people to take away from your music?
Obviously we want people to enjoy it. Nothing comes close to the feeling of playing a live show and seeing people go off. However, we try and work topics into the lyrics that are important to us. The world's not the nicest place at the moment and we're vocal about that. There's lots of issues regarding racism, hate towards LGBTQ+ persons and, with the advent of Covid, lots of conspiracy theorists, and we try to be vocal in speaking out against these developments. So our lyrics are very important to us and we'd be happy if someone can take away something from them as well.
3. How would you describe your sound to the average listener?
Somebody once described it to us as "Metallica with breakdowns" which seems accurate hahaha No, but, there's definitely a lot of heavy metal and hardcore coming together. Not necessarily in the way that modern metal(core) does it. We all appreciate all kinds of music, especially classic rock and rap/hiphop and that certainly has an influence. It's the Blanket Hill blend.
4. Who are three bands you'd like to tour with?
Opening up for Metallica has been a massive dream of mine ever since I first heard "Enter Sandman." Another really important band for me was Children of Bodom, both as a fan and a guitar player, even if I only sing in Blanket Hill. I'd always wanted to play with them, but sadly Alexi passed away recently, which broke my heart. In more realistic terms, for me personally, I'd love to tour with The Black Dahlia Murder someday. I think their music is great, it'd make sense from a billing perspective and those guys seem super fun.
5. How has Covid affected what you do as a band?
I think we're in the same position as a ton of bands, not being able to play shows or tour. However, as we're in different countries due to work/school commitments a lot of the time, not that much changed excluding touring. We made a ton of progress on our first album and I think we're really to come out swinging once it's safe to do so.
6. What's your take on the current state of Metal?
Honestly, there's so many good bands. A lot of them are overlooked and don't get the recognition they deserve, but the quality is certainly there. I think Code Orange and Power Trip (RIP Riley!) are two great examples of bands being exposed to greater audiences and gaining massive amounts of fans really quickly once they reach a certain level. That's quality, pure and simple. Of course there are a ton of bands that sound very similar but I don't see why people make that out to be a recent phenomenon. I bet the 80's had a ton of 3rd grade Whitesnake knock-offs that nobody remembers. Just look for the good stuff and it's there.
6. What's the current music scene like there in Luxembourg?
It's small but it's good. Lots of good metal bands too. There's no hardcore scene per se, so we tend to play a lot of metal bills when we play locally, which I think is great. Check out our friends in Fusion Bomb, Sublind, Kraton, Falling Serenade, Inhuman Rampage, Legacy Of Atlas, Parity. Mutiny on the Bounty are another great band from the 'bourg. Outside the metal realm we have a thriving rap scene which is great to see as well.
7. What's your take on the royalties that streaming services pay out to artists?
Artists should get paid more. Obviously, everyone wants a piece of the piece, but without the music, there's no music industry and so those in charge of making the music should get the biggest slice. Hopefully, the recent pressure on streaming services will bring change.
8. What's next for Blanket Hill?
Release an album, tour extensively and get that Metallica opening slot hahaha Seriously though, we're working hard on our record so hopefully we can release that and have a couple nice tours to go along. We'd love to play the US and Japan, so hopefully we can make that happen as part of that. To quote the late, great Pop Smoke: Aim for the stars, shoot for the moon.
10. Any shoutouts?
Absolutely. Firstly, to all the homies in the 'bourg, 542 Crew and all our friends in Germany. Paul Collier and the UK connection, Masha in Czech Republic. All the bands we're down with. And check out Kruelty from Japan, hardest band going at the moment.