Cursed Scvm talks about their formation, the current Metal scene and much more.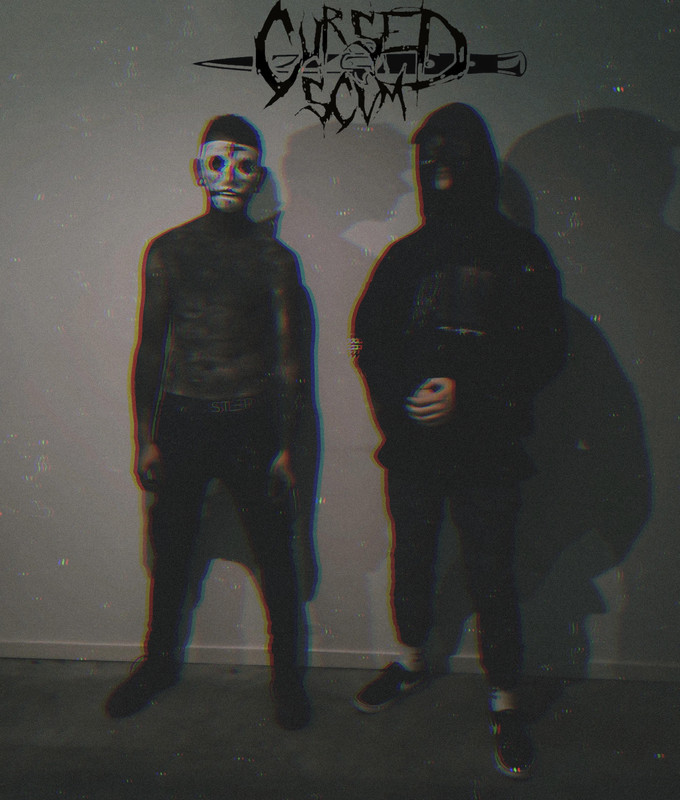 www.facebook.com/cursedscvmaus
From: Australia
Sounds like: Metalcore
1. How did you get started with music and how did you develop your sound? Who thought of the name "Cursed Scvm" and is there any meaning behind it?
So me (Connor - Vocalist) and Skvm (guitarist) went to school together where we formed our first band together and got some experience playing shows and recording demos. Once that band split up we joined an already established band in the are where we honed our gigging skills as well as got more experience recording. I moved away for a few years where I started a solo project and then once I moved back I got Skvm onboard and we got to writing. The name Cursed Scvm kind of came naturally to us, I had a rap project titled CRSXD (Cursed) and Skvm came up with his stage name and we just put them together and the rest is history.
2. What do you want people to take away from your music?
I like to think of our music as a personal catharsis, a way to get out all the bad experiences and emotions and what have you that I may not be able to express just by talking to someone. So I hope that our fans and anyone else who listens to our music can find some kind of relief in our music knowing that someone else is dealing with some horrible stuff as well.
3. How would you describe your sound to the average listener?
I'd describe us as a mix of that heavy Knocked Loose/Varials sounds that's perfect for moshing and the deathcore vibe of Black Tongue.
4. Who are three bands you'd like to tour with?
Personally I would love to tour with Knocked Loose, Justice For The Damned and Bodysnatcher.
5. How has Covid affected what you do as a band?
Honestly as a two-piece we've been pretty lucky, we both live pretty close to eachother so COVID hasn't really affected our writing process at all, as for shows, we're waiting until we have enough material that we consider perfect to start looking for other members to join and then start playing shows.
6. What's your take on the current state of Metal?
From what I've seen in Australia, the local metal scene is popping off, with acts such as Justice For The Damned, Alpha Wolf, Deadlights and Honest Crooks killing the game, the metal scene has gotten a shot of adrenaline that it desperately needed. As for worldwide, there are countless bands adding new flavours and sounds to metal that I wouldn't have thought would sound good a few years ago but here we are, metal is alive and everyone is killing it haha.
7. What's the current music scene like there in Australia?
As I was saying before, there are so many local Australian bands that are on top of the game right now, we've had shows back for a couple of months now and we're just starting to see tours start back up so I look forward to seeing all the bands formed in quarantine start to emerge.
8. What's your take on the royalties that streaming services pay out to artists?
I honestly don't know much about how all that stuff works but from what I've heard you don't really make much from the streaming side of things and it's more so what you make from Merch sales and ticket sales. I think streaming services should pay the artist a bit more but it doesn't really bother me too much.
9. What's next for Cursed Scvm?
We've just put out a two-track EP titled "Prelude" and we are already working on new music. My goal is to be ready to play shows early next year.
10. Any shoutouts?
I would like to shout out Matt Skeen for constantly supporting us and giving me the motivation to push forward with this project.