ShiveringFit talks about their influences, their signature sound and much more.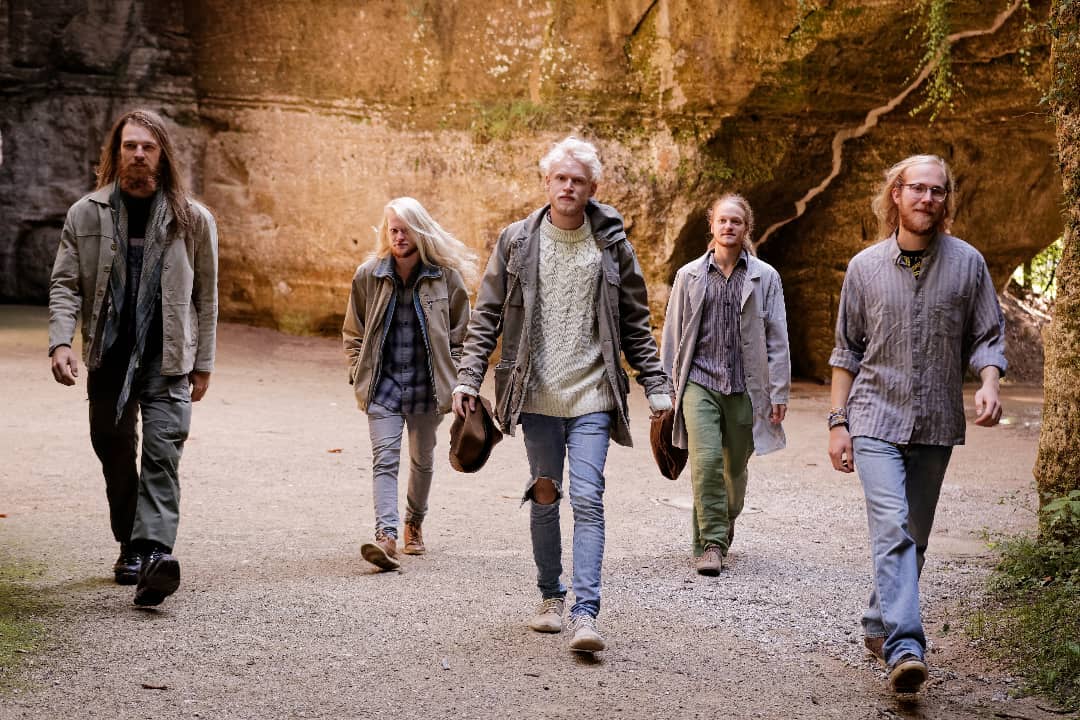 www.facebook.com/shiveringfitband
From: Austria
Sounds like: Progressive Rock
1. How did you get started with music and how did you develop your sound? Who thought of the name "ShiveringFit" and is there any meaning behind it?
We started making music together very early. In the band are two pairs of brothers, who already played music together as children. In 2010 we found together as a foursome and jammed already at that time only own compositions. A year later our pianist joined us. In this line-up we play together until today. Until today many songs are created by jamming together. A very big influence on the five of us has always been bands like The Doors, The Who, Pink Floyd or Jethro Tull. Our style is always evolving and is difficult to categorize due to its diversity. A big role in the development of our sound definitely plays the different influences of the band members. For example, a jazz saxophonist meets a guitarist who feels more at home in the realm of hard rock. Many genres come together to create a sound that can most easily be described as progressive rock. Our name changed very often in the beginning, because we could not agree on one. In the end, we just opened a dictionary and chose the first name that suited us.
2. What do you want people to take away from your music?
We only want people to enjoy listening to our music and be inspired by it like we were by others.
3. How would you describe your sound to the average listener?
We see ourselves as a live band that is dedicated to the spirit of progressive rock and thus to experimentation, merging of old and new and constant development. The musical influences therefore cover an incredibly wide spectrum of rock, jazz, hard and stoner rock, pop music as well as reggae, classical music and much more. We make handmade music use analog recording strategies and also play the instruments live in the studio.
4. Who are three bands you´d like to tour with?
Greta van Fleet, The Whiskey Foundation (Ger, Munich), and Blue Öyster Cult.
5. How has Covid affected what you do as a band?
The last two years have been a very difficult time for us due to the corona pandemic. As with many other bands, almost all of our concert dates were canceled. In addition, we have the problem that two members are from Germany. Because the border between Germany and Austria was closed we couldn't meet and play music for a long time. We had the longest rehearsal break since the band was founded. Above all, this also made the work on our rock opera very difficult and made many of our ideas and plans impossible.
6. What´s your take on the current state of Progressive Rock?
The situation is rather difficult for progressive rock in German-speaking countries, as other genres dominate the scene and promoters and labels show rather little willingness to take risks. We have the feeling that there is more openness towards different styles in the English-speaking world.
7. What´s the current music scene like in Austria?
Unfortunately, most events are either looking for harder music like metal, softer music or electronic music. German-language indie is also very promising in Germany and Austria at the moment. Nevertheless, we have been able to win many fans in Austria and have also been played on alternative radio stations several times. However, since our songs are often rather long and include some solos and improvisations, working with radio stations and labels is not that easy. Therefore our focus is more on live concerts. In Bavaria, Austria and Hungary we have already been on some bigger concert and festival stages, especially in 2018/2019, like the Donauinselfestival in Vienna or also the lt in Hungary. We were also successful at various band contests. At the Planet-Festival-Tour, the biggest competition in Austria we could reach the 2nd place in the final.
8. What´s your take on the royalties that streaming services pay out to artists?
Since the fast development and widespread usage of the internet in recent years, it became increasingly easy to stream music online without any payment. This was a huge blow to many musicians, as recordings often already were loss-makers, but due to latest trends they were even more so. In order to make this fair, multiple platforms offered legal streams, while paying the artists. Unfortunately, as these royalties seem to be an ridiculous small amount of money per streams, listeners or what ever, the financial gap between well-known and not so well-known musicians is further increasing: on the one hand for the average artist, the payment they receive from streams is far from enough to break even, on the other for popular musicians it's easy money, because of the millions of streams they get and absent CD or vinyl production costs. Even though this sounds all really negative, streaming services are nowadays really important, especially to (still) not very successful artists, for the easy way to spread their content to the audience.
9. What´s next for ShiveringFit?
A year ago, during a difficult period, we recorded our first rock opera "Life, Death and the world in between". Due to Corona, the whole thing has been very protracted, but in about a month the album will be released. New recordings are already planned for the end of December, beginning of January. At the moment we are working on the songs for the album and playing a few concerts in october and november.
10. Any shoutouts?
Above all, we would like to thank the organizers, fans and technicians who have accompanied and supported us for years. Our sound technician is now like a sixth band member for us and also instrumental for the sound of the band.