Breaking Serenity talks about their meaningful lyrics, upcoming plans and much more.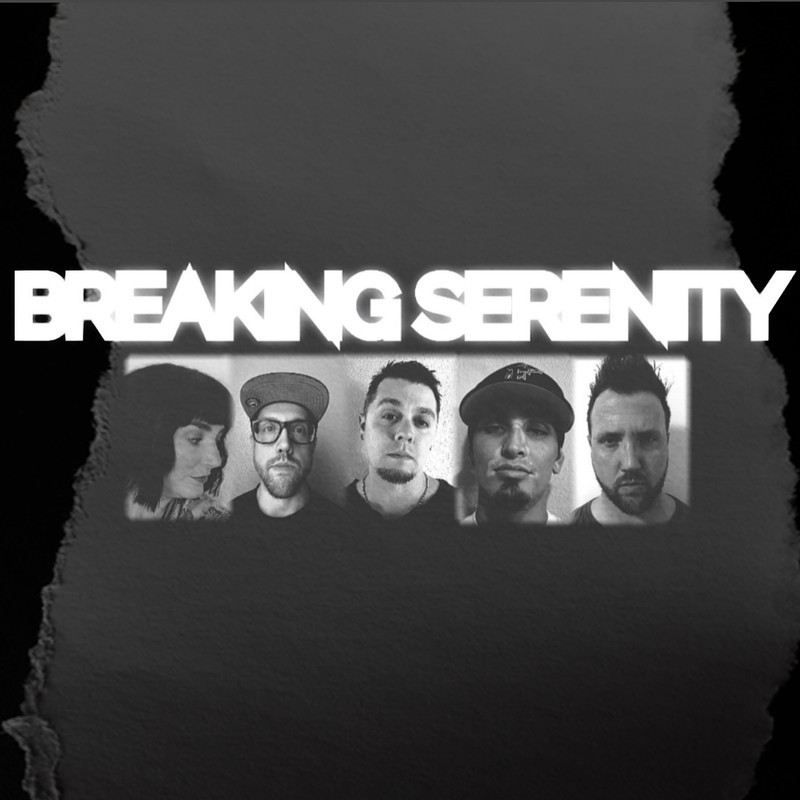 www.facebook.com/breakserenity
From: California
Sounds like: Hard Rock/Metal
1. How did you get started with music and how did you develop your sound? Who thought of the name "Breaking Serenity" and is there any meaning behind it?
Music for us all began in high school with our former group called Cries Of Heaven And Hell in which we plan releasing a full album for that project after our upcoming album with Breaking Serenity. We formed our sound from maturing from Cries Of Heaven And Hell once it was abandoned. I niko garcia thought of the name In which was intended to be a story art concept behind our music In which you can see with our original artwork. The story contained a girl named "Serenity" who struggled with her demons and personal family life problems and escapes into her own imaginary world to solve another worlds problems by coping with her own. So Breaking Serenity was meant as breaking someone's peaceful mental state. I love art and dark story cartoons such as Tim Burton movies so I intended to be very dramatic about this all at first but as all that overthinking has been washed out by now HA!
2. What do you want people to take away from your music?
LYRICS! We don't care if you think we're heavy enough or melodic enough or worry about general critiques if any out there. If you focus on trying to please people your not focusing on what you want to create. Were really inspired by artists such as Smile Empty Soul and Highly Suspect lyrically as their lyrics are so in your face they simply just speak their mind and I love that! Our music is our message we talk about some really personal stuff especially on our Hypocrite EP. And I'm grateful to have people out there who have actually listened to us and our music and understand our message and help get our stories out there as it's been working very quickly!
3. How would you describe your sound to the average listener?
Our overall sound is rock. BUT our roots are metal in which our upcoming album "Letters From A Pandemic" you'll hear a more consistent flow and overall dark tone to our music. Compared to our Hypocrite EP and single Aint Got No Time we wanted to showcase our musical backgrounds as a primary focus.
4. Who are three bands you'd like to tour with?
Pop Evil, Digital Coma, and Highly Suspect.
5. How has Covid affected what you do as a band?
Covid gave us the start and ignited the flame again! We had been out of music for 10 years covid really bored the hell out of us and me going through hell with personal matters in which I began digging up unfinished material that had been sitting around so long. I made a goal to stop talking about the past and get moving.
6. What's your take on the current state of Hard Rock/Metal?
Rock surely is not dead I see and hear a lot of rock thriving out there. My opinion is it just depends on where your sitting like if your not involved with music driving to your 9-5 job listening to KISS FM you might say rocks dead. But if you really look and get involved the state of hard rock and metal are well alive.
7. What's the current music scene like locally there in California?
Alive and well! Getting back into music after so long at a little older age now it's a flashback seeing the younger you everywhere online the excitement and the eagerness to get out there in the world.
8. What's your take on the royalties that streaming services pay out to artists?
There are pros and cons as we all know I'm just thankful I can share my music and I'll leave it there.
9. What's next for Breaking Serenity?
The million dollar question.. Right now the MAIN focus is getting our album out to complete this much needed release for my soul and peace of mind. Next? Rehearsals, line up adjustments possibly shows more material new projects amongst current members! It changes everyday the possibilities are endless at the moment as we're just glad to be back musically and expressing our selves.
10. Any shoutouts?
YES. For our few short months being back we thank the following for reviewing us. From The Depths Entertainment for promoting us and allowing this interview. Next is From The Strait for reviewing our song Alive. And Mariana Berdianu from Blue Rhymez Entertainment for giving us a solid start on reviewing our music and creating some real positive opportunities for us. And everyone who listens and supports us and of course and all my band members reconnecting musically!