The Desperate Mind talks about their sound development, upcoming plans and much more.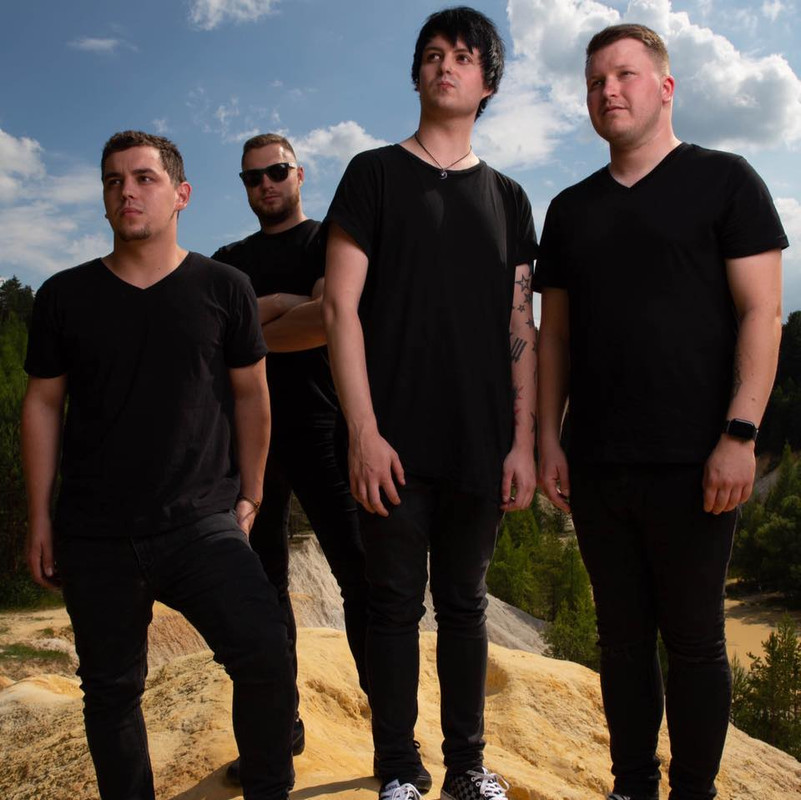 www.facebook.com/thedesperatemind
From: Czech Republic
Sounds like: Punk
1. How did you get started with music and how did you develop your sound? Who thought of the name "The Desperate Mind" and is there any meaning behind it?
I started this band back in 2011 in highschool, with my fellow classmates and longtime friends Tom Ondra (original lead guitarist of the band) and Dominik Kubik (original drummer). We first started as a fun "pastime project" at our all ages community center, covering classic punk rock songs for fun. Then in 2012, we started writing our own songs and started performing at various events and clubs around our hometown. The development of our sound went hand in hand with our progress as a band. Our first studio effort, the 2014 EP "Symptoms of the Ignition" and our 2015 full length debut "Amassed Sickness" sounded like a blend of all these bands we listened to - Anti-Flag, Bad Religion, Black Flag, early Green Day, NOFX, but I think that it was our 2016 EP "False Flag" and our 2020 full length "All Walls Will Fall" where you can hear our current signature sound. Besides, our music is always evolving and our sound our new songs which are still work-in-progress could be described as post-hardcore / melodic hardcore with emo and punk rock flavor.
As for the name, we were first called "Dangers!" up until 2014, when a California-based hardcore punk band with the same name contacted us to change our name, because they had it first. We couldn't really come up with any band name idea, until Tom suggested "The Desperate Mind" (quite fitting, given the circumstances) and we settled on that. I don't really like our name (it's kinda long, haha), but hey, too late to change now. As for the band's lineup, our current lineup consists of me, Martin J. Polak (lead vocals, rhythm guitar), Filip Bursik (lead guitar, backing vocals), David Havelka (bass, backing vocals) and Winc Janecek (drums, backing vocals).
2. What do you want people to take away from your music?
Our first two albums and EP's were focused on socio-political issues, and while we'll be focusing on something else on our future records and releases, our message stays the same - our shows and music are the place for all the broken, oppressed, defeated, the voiceless and all those who feel like they don't belong anywhere. No matter what happens, The Desperate Mind will always have your back, brothers and sisters.
3. How would you describe your sound to the average listener?
Like I stated above, until now, our sound was compared to bands such as Anti-Flag, Strike Anywhere, Stray From The Path and Bad Religion. I'd describe our current, work-in-progress sound to post-hardcore / melodic hardcore with a little smidge of emo and punk rock added to the mix, influenced by bands such as Silverstein, Beartooth, My Chemical Romance, Caskets, I Prevail and a few others.
4. Who are three bands you'd like to tour with?
Can we pick five? Anti-Flag, Silverstein, Beartooth, I Prevail and probably the now returning My Chemical Romance.
5. How has Covid affected what you do as a band?
It lit the fuse of our creativity. We've played a few livestreamed shows but mostly we were and we still are working on our next album and our new sound. We already have a few session demos recorded and I have to tell you that it's going to be amazing and we can't wait to share more with our fans and listeners. Now that we can play shows again, we're obviously touring wherever we can - playing music is really our DNA.
6. What's your take on the current state of Punk?
We think that it's in good hands. There are many, many talented up and coming bands - both discovered and undiscovered, and the old guard is stil putting out solid records. This genre is supposed to be the defintion of total freedom and being the voice of the voiceless, and it should never fade away.
7. What's the current music scene like locally there in Czech Republic?
It's amazing. A lot of great bands and festivals - we have these big name festivals like Rock For People (multigenre) Mighty Sounds (punk rock, hc, ska), Brutal Assault (metal and other types of heavy music), which bring big name bands and then we have smaller ones like Fajt Fest which bring extremely talented artists over, down to the DIY arena with festivals like Rock In Brünn (created by our friend), Summer Punk Party Volyne which are emerging as very successful events with a lot of great bands, growing bigger and bigger.
8. What's your take on the royalties that streaming services pay out to artists?
There are two sides - obviously the streaming services are a great platform for smaller bands and artists to get noticed with all those playlist and spotlights, but at the same time the payout should be higher - those kids are putting every ounce of blood, sweat and tears into their art.
9. What's next for The Desperate Mind?
Like we said, playing live shows is in our blood, so we'll continue touring everywhere we can. We're also working on our next record and sound and soon people will get to taste it in small portion - we'll be releasing a new single this year.
10. Any shoutouts?
To anyone reading this, to our fans, to all the people who're giving us the opportunity to promote our music, to our influences and favorite bands, to all the clubs and bands we've played with or we're about to play with - thank you guys, you rock and we wouldn't be here without you. We can't wait to play in a city near you!