My Hollow talks about their eclectic Metal sound, upcoming plans and much more.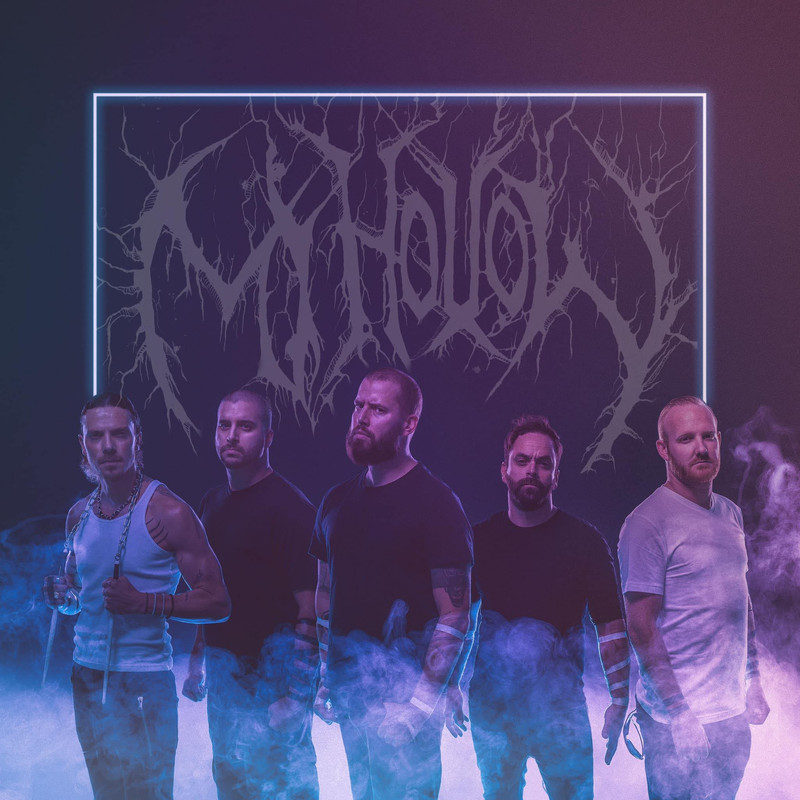 www.facebook.com/myhollowband
From: Canada
Sounds like: Progressive Metal
Answered by: Greg Gallagher (guitarist)
1. How did you get started with music and how did you develop your sound? Who thought of the name "My Hollow" and is there any meaning behind it?
Music has been around me my whole life. I got into metal at a young age. I always loved the diversity that it had to offer. We had shows booked and needed a name and even though it didn't mean anything at the time, it's grown into something that I'm proud to be a part of.
2. What do you want people to take away from your music?
I'm sure as any musician would, I hope that people can enjoy the music and have it mean something to them. Music has a definite impact on all of our lives. Whether someone enjoys working out to your music because it pumps them up or listening to it when they're sad because it cheers them up. Music has impacted me throughout my life in so many ways and I would only hope that through my work, I could impact others in the same aspect.
3. How would you describe your sound to the average listener?
Over the years we have been described as progressive groove to Metalcore to melodic death metal. We have a wide variety of genres that we listen to and take influence from. I don't typically like putting barriers between genres when I write. One of the reasons why I enjoy metal in general is the diversity that it allows. It would be hard for me to label us as one specific genre but we have recently been described in various articles for listeners who enjoy bands like Chimaira, Gojira, Lamb of god, and Fit for an Autopsy.
4. Who are three bands you'd like to tour with?
I've said this many times before and I will say it again. I would love to be able to go on tour with The Agonist. They have so much experience that we can learn from and they are just all-around great people. We've played many shows with them in the past and even did some weekend warrior tours with them around southern Ontario. We always had so much fun hanging out with them and the level of talent from that band it's definitely inspiring.
Tortured Saint from London Ontario. Also a great band with tons of talent. These guys are definitely an up-and-coming band that you want to keep your eye on. Their music speaks for itself with crushing heavy Riffs and killer vocals. We are actually very fortunate that we will be touring with this band at the end of July as we make our way out to Loud as Hell fest in Drumheller Alberta.
With this last band, I am going to look to the clouds because this would be a dream come true for me. Chimaira has always been one of my favourite bands and one that has most impacted my sound over the years. Unfortunately they are not together as a band anymore but one can only dream.
5. How has Covid affected what you do as a band?
It was definitely tough to stay motivated and continue pushing forward without being able to properly connect as a band. We were in the middle of writing the EP when the pandemic first started and not being able to have band rehearsal's definitely slowed the process down. However, we are very fortunate that Sean and I have home studios which gave us the capabilities to finish the writing process for the "Fighting the Monsters" and keep the ball rolling.
6. What's your take on the current state of Metal?
I think that metal is not only alive and well, but that it is growing stronger every day. From all these young bands that are coming up in the scene, showing us older guys new ways of doing things to all the legendary bands that are still alive producing new music today. It is inspiring all around.
7. What's the current music scene like locally there in Canada?
Canada seems to have a great music scene in general. Toronto has a lot of really good venues Like The Opera House, The Phoenix, The Rockpile, and The El Mocambo to name a few. We also love going down to Windsor to play The Dominion House which is a smaller venue but always feels like home when we play there. We are currently in the workings of setting up a tour for the end of summer out to play the Loud As Hell Festival in Alberta. We look forward to checking out some more venues and bands that this beautiful country has to offer.
8. What's your take on the royalties that streaming services pay out to artists?
My opinion, it is a double edged sword. On one hand, as a listener I enjoy being able to discover bands that I would've never had the opportunity to check out before streaming existed. Being able to put our music out and have it reach parts of the world that we would've never imagined before is not only a wonderful tool but an amazing advantage the bands of today have over the music of the past. With that being said, I also feel like our brand of music (Metal) has always had to take a backseat in the eye of main stream music. So much talent is required to not only play this music but to excel as a metal band yet there is no money to be made in metal music. At any level in comparison to the amount of success that is being made for artist's in the main stream music category. The wonderful thing about metal is that most of us are here for the music and not the money.
9. What's next for My Hollow?
The summer of 2022 is looking rather promising for us as we are playing the "Loud as Hell festival", at the end of July. We are touring there with our Bros in "Tortured Saint". The festival is booked and we are currently planning the tour around that. We're beyond pumped to be on the bill with such great Canadian bands. It feels like it's been forever since we've played in front of a crowd so that may be a little weird, but I am looking forward to it.
We also have a backlog of songs that are now in the pre-pro stages that we've already started working on. We're hoping to be able to follow this release up with another one next year possibly. We definitely have a lot of work to do this year but it will be nice to get back out there and have some fun.
10. Any shoutouts?
We would definitely like to thank Tyler from Monolithic Productions who mixed and mastered the EP. He is an easy-going/very professional dude who always does a great job. Jennifer Lillian white: She put so much time and effort into making the storyline and puppets for our video "Vultures" as well as an amazing job on the artwork for the EP. My wife Jessica, even after three kids she still allows me too pursue my dreams. Even though it can be hard at times.