Our Dying World talks about a shift in their sound on their upcoming record, being in the Battle for Wacken and much more.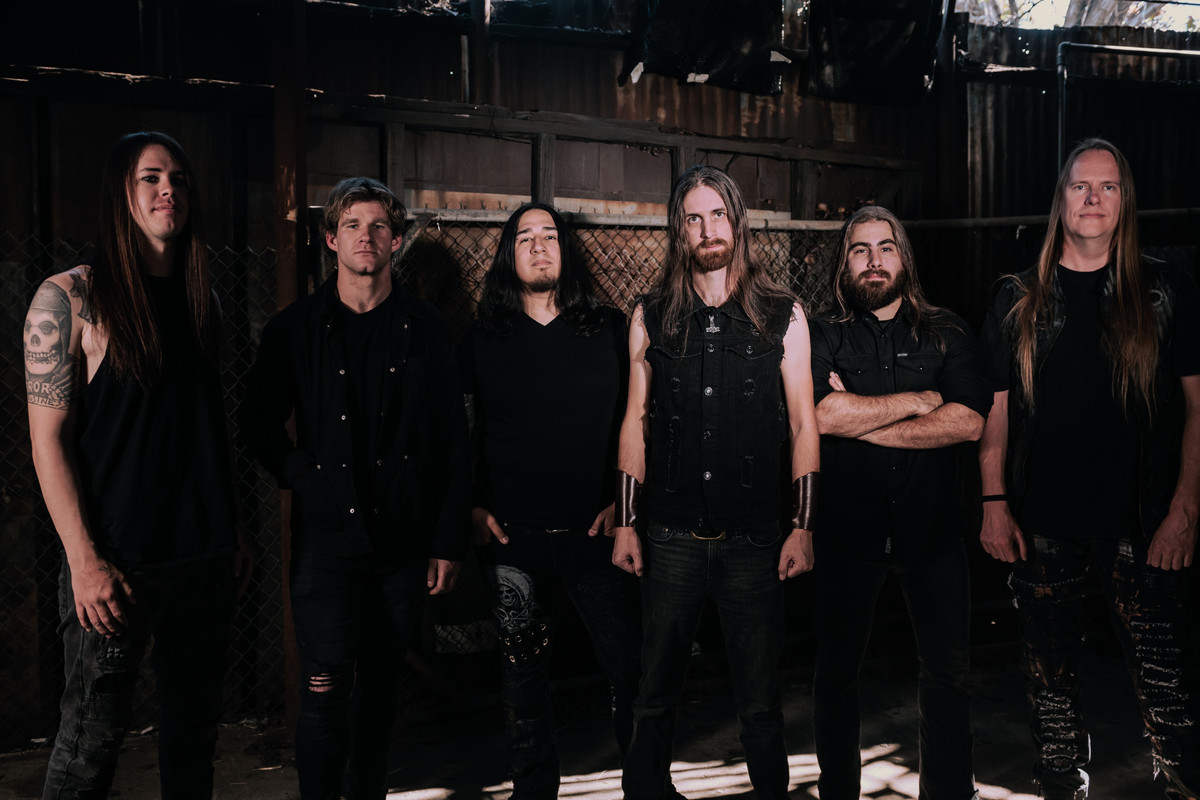 www.facebook.com/ourdyingworldofficial
From: California
Sounds like: Death Metal
1. How did you get started with music and how did you develop your sound? Who thought of the name "Our Dying World" and is there any meaning behind it?
I (Tom) got started in choir when I was in high school. Music seemed to be a really comfortable natural talent and I found myself feeling like I could be pretty good at it. I liked the harmonies and picked up vocal cadence pretty naturally and spent a lot of time experimenting with harmonies with friends and we enjoyed it a lot. I think it was an escape from life and as I got older, I found myself wanting to explore heavier music and play the drums. I started guitar when I was 13 but drums I picked up really quickly and was definitely stoked about it more than guitar. Our Dying World was conceived after a bunch of musical disappointments and I decided to try my hand at actually writing the music for a change. I wasn't really vibing with a lot of what was being brought to the table in jams and trying to find band members so it was a kind of "If you want it right, you gotta do it yourself" situation. I had a lot of anger pent up from a bunch of life events and I think it started to translate really well in Expedition. The songs sound pretty pissed off and at the time, that's what I was feeling. The band name was derived from a general distaste of the human race, which in the last few years since its creation, has just basically told me that everything I wanted to write about in my own life and the effect of humanity on our world has been essentially correct. We're killing ourselves mentally, spiritually, and physically. I'm just here to observe, document, and watch the shit show unfold. I tried to make a project that not only draws active awareness to the life we're all providing for ourselves, but also one that writes some stellar music in the process.
2. What do you want people to take away from your music?
I think the only thing I really want people to take from the music is the detail and effort we all went through to make this the best metal album we could at the time. We're not looking for any kind of profound realizations or life changing scenarios from the album. We just want to start giving the metal scene a really kickass album to rock out to. Most of us in the band are very simple people; we want to go out, play loud, and have fun. There's not really any politics associated with what we do. All we promote is to be good people and listen to dope music. There isn't anything else we'd ask for people to take from us than that.
3. How would you describe your sound to the average listener?
Our sound drastically evolved from Expedition to our upcoming record, which will be announced shortly. Without giving too much away, our full length album has taken us from a metalcore/death metal vibe to symphonic death metal. I think all of us would be pretty comfortable putting the band in that genre. Graham Southern joining the band was the most beneficial leap we've made with our sound. His additions to the songs took them from level 6 to 15. What you heard on Expedition is going to probably be rendered obsolete when you hear these new songs. It was a fantastic start but the difference between the two is pretty massive.
4. Who are three bands you'd like to tour with?
Wintersun, Lamb Of God, and if they were still around, Children of Bodom (RIP Alexi). I think we'd fit in with those bands exceptionally well and they all seem to be a lot of fun on the road.
5. How has Covid affected what you do as a band?
Luckily it seems that over here in California, things are back in full swing again as long as everyone plays it safe. It definitely affected our ability to play for a while but at the time, I (Tom) was getting the band back together after a hiatus. I got sober just before the pandemic and I wasn't really able to focus on anything but keeping a drink out of my hands. As time went on, I found myself wanting to start the band again and we got to writing. It was actually nice being able to write without having the pressure of a label or shows or anything; admittedly the first few months were hard just staying inside but once we found the vibe, the songs came together amazingly and what you'll hear on the full length is what we were able to produce out of a really dark time in human history.
6. What's your take on the current state of Death Metal?
It's fantastic. I see bands emerging all over here in SoCal and the shows are active. Metal fans were some of the first to gather when we were off the quarantine and the local scene just exploded. We even ended up picking up a few of the shows and brushing off the dust. I love the passion and energy of the metal scenes all over. Death metal is growing wings and expanding as a genre and we're seeing some amazing bands come out of experimentation with what people are creating. Don't ever stop that shit.
7. What's the current music scene like locally there in California?
It's pretty good over here! We've been in the midst of a massive battle for a spot at Wacken and those shows get hefty. They're some of the biggest local shows around right now. The touring circuits are always a good time and brilliant turnouts. Lots of open jams on the sunset strip and at some well known bars. LA definitely does its part to keep the scene alive and well. Whisky A Go Go always has some good shows with bigger acts going on. It's definitely a good time and there are always options. It's rare when there's just ONE place to go for the weekend and rock out. That makes it a little bittersweet but gives everyone an option.
8. What's your take on the royalties that streaming services pay out to artists?
I'm usually very cautious on opinionated questions like this because what I think means jack in the grand scheme of things. That being said, I think streaming services are robbing artists blind, but they do that because we allow them to. Spotify made 10 billion dollars in 2021 and they said that they pride themselves on giving back a billion dollars to the artists. That's 10% to literally every artist who just gets hosted by Spotify. They host a platform and the content is provided by others and somehow Spotify keeps 90%. That's not cool to me. Spotify could justify maybe 25% but their entire business is made of other's content. I think that's pretty vile. But again, my opinion is just another set of words in a sea of madness. I don't expect any change to come from what I say. The world of music needs to act on it.
9. What's next for Our Dying World?
As mentioned before, we're in the middle of the Battle For Wacken, which is a massive international battle of the bands that brings local bands from all over the country to compete at the Viper Room in Hollywood for a chance to duke it out with local bands from all over the world at Wacken. We were fortunate enough to take first place in both our rounds, landing us in the National Finals, which are being hosted on May 7th. We're extremely excited, but the nerves are hitting a little hard too. We didn't actually think we'd make it this far and the competition is pretty stiff. Shortly after that, we'll be announcing the new record, which we're really pleased about. Being in the Battles has put things on hold in a pretty massive way so we've got a lot to unveil once it's over. We're looking to start playing the local slots on touring packages and have a few festivals coming up before the end of the year! Until then, wish us luck at making it to Wacken and you'll be hearing from us soon!
10. Any shoutouts?
We'd like to thank our friends, fans, families, and all the support we've gotten from our hometowns and across the world! We love you all! Can't wait to see you on the road!