Terra Umbra talks about their Death Metal/Grind sound, the current state of Death Metal and much more.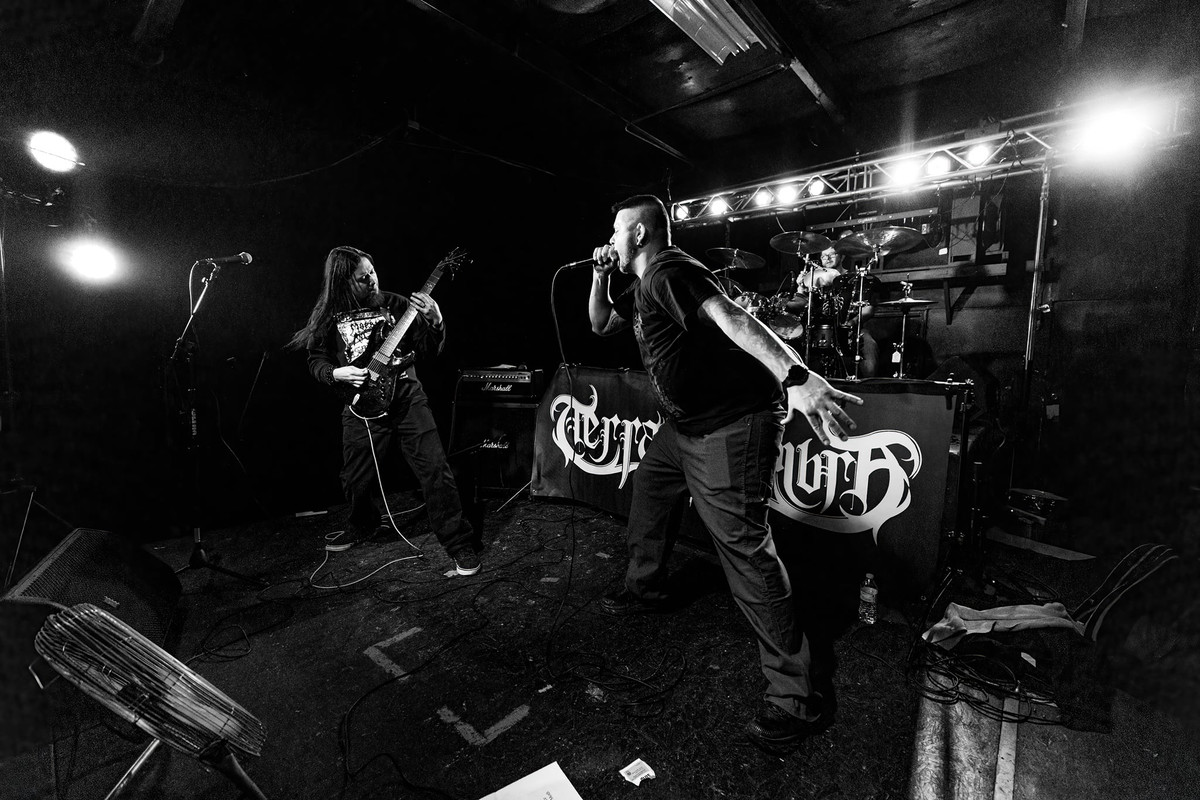 www.facebook.com/terraumbraohio
From: Ohio
Sounds like: Death Metal
1. How did you get started with music and how did you develop your sound? Who thought of the name "Terra Umbra" and is there any meaning behind it?
Tyler: Well like a lot of metalheads, Metallica was my gateway band. I picked up a bass at 13 and moved onto guitar much later.
Josh: I started playing in a band with guys from work in my early 20s and never stopped.
Mason: My father is a musician and got me started on drums at an early age.
As soon as we all got a feel for one another, our goal was to write some straightforward death metal with some old school grind influence. Our sound is continually developing and evolving.
The name Terra Umbra was thought up by Tyler(guitarist). We were originally called Terraform, but later needed to alter our name to establish our own identity. Unfortunately there are too many projects that share the name Terraform. Terra Umbra means World in Shadow/World of Darkness, and fits our lyrical content perfectly.
2. What do you want people to take away from your music?
We just want like minded death metal fans to listen and enjoy it. That's pretty much it.
3. How would you describe your sound to the average listener?
We would describe our sound as the combination of old school death metal and grind.
4. Who are three bands you'd like to tour with?
Anaal Nathakh, Dying Fetus and Napalm Death.
5. How has Covid affected what you do as a band?
Kept us from practicing together for a long time. However it presented the opportunity for us to focus and work on new material individually.
6. What's your take on the current state of Metal?
Death Metal is more defined and complex as ever. This genre and every subgenre of death metal are completely killing it right now! There are an overwhelming number of bands who are just totally next level!
7. What's the current music scene like locally there in Ohio?
Very active and well, especially with covid restrictions easing and shows returning.
8. What's your take on the royalties that streaming services pay out to artists?
For self releasing bands, it is nice that every penny earned is for you. There's a lot of potential for artists with pay per stream. On the subject of underground bands, we have accepted the inevitable poverty that comes with the genre haha!!!
9. What's next for Terra Umbra?
Currently writing and will be working towards a full release early next year. We are also booking shows for spring and summer.
10. Any shoutouts?
To all the local homies and bands we've jammed with thus far! Demon by Design, Extinction Agenda, Four Foot Rope, Amun, Dissected, Mutilatred, Krymzon, A Scarred Existence, Ill Will, Destruction Status, Omnus. Looking forward to more shows, and sorry if we forgot anyone lol!