Carnareum talks about their Gothenburg influenced Metal sound, the Sweden scene and much more.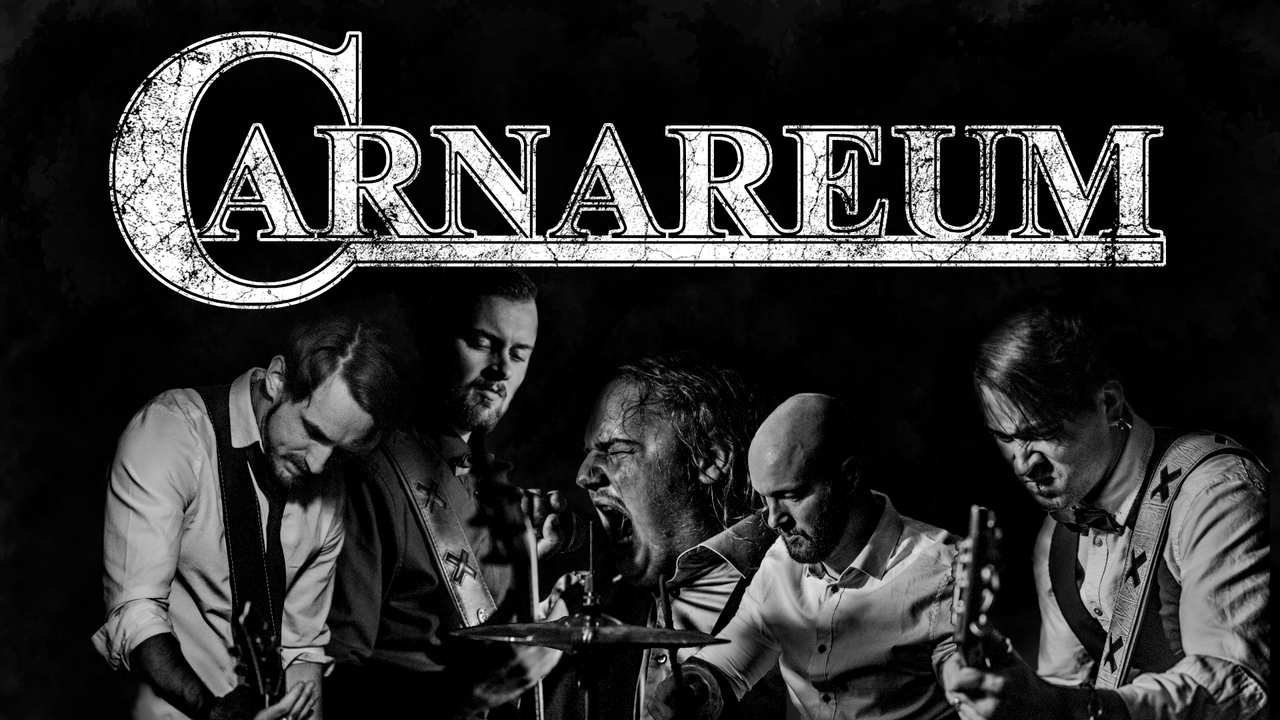 www.facebook.com/Carnareum
Sounds like: Death Metal
From: Sweden
1. How did you get started with music and how did you develop your sound? Who thought of the name "Carnareum" and is there any meaning behind it?
All of us comes from a background where metal always was present and became a major part of our lives. Eventually we started playing instruments and discovered we had a knack for it. One day searching the music forums we discovered each other, formed a band, and haven't looked back ever since. We all agreed we wanted to play a kind of heavy metal you can both headbang and go nuts over but also that you could sing a long to.
The name "Carnareum" comes from our earliest days when our, at the time, guitarist brought a stack of Magic the Gathering cards and started name dropping random cards. Eventually, he drew a card called "Cry of the Carnarium", and we we're like, "hey, that sounds cool! Let's adopt that name into something even cooler!" To boot, the card's flavor-text matched our thoughts on the band's philosophy: If your ears bleed, it's a party.
2. What do you want people to take away from your music?
Our songs are mostly about personal issues such as social and mental issues; the struggles of everyday life that - we feel - most people experience, and our songs are our way of dealing with it. We hope that with every time one hears one of our songs, they build strength in knowing that they're not alone.
3. How would you describe your sound to the average listener?
We would describe our sound as a modern, head-banging friendly, Gothenburgean heavy metal with the natural suave that comes from being born in Stockholm.
4. Who are three bands you'd like to tour with?
Tough question! With all our members having such a broad taste in music within the metal spectrum, we'll try and think of three bands that we all enjoy. A Swedish invasion tour with Avatar would be a dream come true. Gojira is an amazing act live, and the crowd is always insane, so that would be cool. If we're only picking three bands to tour with then the last band would be Lamb of God, not only because they're one of the greatest within metal, but also because it's a major influence within the band and our writing.
5. How has Covid affected what you do?
Well, here in Sweden, one of the few things that got affected was the bars/live venues, so the ability to perform live was basically non-existing. So, we abided the music-performing restrictions and used our time to instead work on our second album "Ikaros". During this time, we were also fortunate enough to discover our amazing drummer Alex - the last piece of the Carnareum puzzle.
6. What's your take on the current state of Death Metal?
Death Metal for us is a scene that is always changing. And with so many amazing bands to discover and enjoy (and that number is always rising), Death Metal remains constantly relevant, keeps itself fresh and reinvents itself. We are young enough to have missed the era where you swapped cassettes and CDs with each other in order to discover new music and we now find ourselves in a world where you can find an endless supply of metal on platforms such as Spotify. In this we feel that we've missed the era where you were limited to what you could discover. An effect of this is that it is harder as a band to stand out of the crowd but as a part of the audience the scene has never been more vibrant.
7. What's the current music scene like locally there in Sweden?
Well, there's a whole lot of bands, but very few venues to play at. So, the competition is though. And as a smaller band, there's slim pickings when it comes to venues. Also, the city isn't the best at supporting the small-to-medium bands since many of the venues where these kinds of bands can play at are getting shut down.
8. What's your take on the royalties that streaming services pay out to artists?
Regarding the situation how music gets digested and streamed today, and how not that many people are willing to support a band by buying their music, we appreciate that we as a smaller, newer band can make some money from our work through streaming royalties. At this stage of our career, we are just happy to make any kind of money from the music we love to make.
9. What's next for Carnareum?
We are currently focusing on live shows. There are a few gigs lined up for the summer, for instance a show at a festival here in Stockholm who celebrates their inaugural year. We are also looking to find gig outside our hometown and spread our name nationwide. We are also hard at work in the process of writing some new songs for our next release.
10. Any shoutouts?
Yes! We would like to take this opportunity and thank our loyal and ever supporting fanbase, always front row, giving us the adrenaline that gives our shows that extra, old-school boost.
We would also like to give a huge shout out to Klubb Fredagsmangel - a local venue that gives us, and many other bands the opportunity to perform there. If you ever want to have good time in Stockholm, this is the place to be!
And a huge thank you to Richard Sjunnesson, for his great advice, mentoring and friendship. It's invaluable to have someone with all the knowledge and experience and be willing to share his expertise with us.
We would like to thank Simon Närbo, who our bassist and singer Kristian grew up with. He has helped us produce both our albums and displayed an awful lot of patience throughout our recording sessions. He has been there for Kristian and Carnareum musically over and over.