Dark Rising talks about their start in music, completing their first album and much more.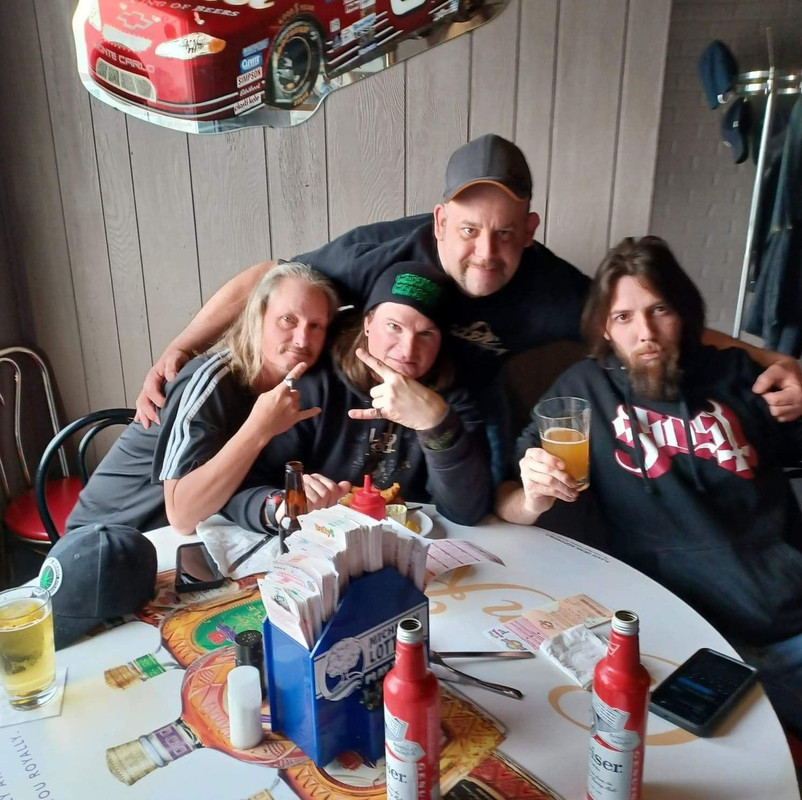 www.facebook.com/darkrisingofficial
Sounds like: Rock
From: Michigan
1. How did you get started with music and how did you develop your sound? Who thought of the name "Dark Rising" and is there any meaning behind it?
Alex: I started singing at a young age in choir, plays, karaoke and bands that played covers but I always wanted to be a frontman for an original band. I'm still trying to find my sound. My influences are Layne Staley, Geoff Tate and King Diamond. It was Fred and Alex that came up with the name before Gary joined the band we were a four piece kicking ideas around. We had another guitar player at the time. We wanted Darkened Horizons but through research, we found out the name was taken. They started naming other names that were similiar and Dark Rising was Born.
Gary: My dad is a guitarist born into spent my entire life in search of the perfect tone.
Fred: I began playing music when I was 11. I had just began middle school, the year before we were allowed to choose from a list of two electives. At the time I never played an instrument before, so it was not one of my choices. I was put in band anyway and had zero of any of it. So of course I was dumped into the percussion section. The rest is history. My personal sound is a bit of a blend Classic Rock. Over the years, I've taken many of these different sounds and incorporated this and that kinda here and there.
James: I started playing guitar when I was 9 yrs old for four years. When I was 13, I got introduced to the bass and from then on I've always been a bass player. I developed my sound by learning from bass players like Geddy Lee, Geezer Butler, Rudy Szaro and Steve Harris.
2. What do you want people to take away from your music?
What we want people to take away from our music is passion, emotion and dedication that we pour into every song.
3. How would you describe your sound to the average listener?
It depends on the song because every song has its own identity and each song has a different sound.
4. Who are three bands you'd like to tour with?
Alex: Avenged Sevenfold, Five Finger Death Punch, and Ghost.
Fred: Avenged Sevenfold, Alice Cooper, and Stone Sour.
Gary: Black Label Society, Avenged Sevenfold, and Five Finger Death Punch.
James: Five Finger Death Punch, Avenged Sevenfold and Testament.
5. How has Covid affected what you do?
It hasn't. We started when Covid was at its peak which allowed us time to get things figured out.
6. What's your take on the current state of Rock?
The Rock scene has been shrinking over the years. Other genres have been more relevant however we have seen some progress in Rock. It certainly isn't dead!
7. What's the current music scene like locally there in Michigan?
Things are starting to get back to normal after the pandemic. Local bars and clubs are starting to have live music again.
8. What's your take on the royalties that streaming services pay out to artists?
None of us have experienced that part of those streaming platforms but we've heard that for each song played holds much monetary value. We still believe that album sales, merchandise and promoting would be more profitable.
9. What's next for Dark Rising?
We're in the process of writing to complete our first album. Then we'd like to hit the road to play those songs and promote our music.
10. Any shoutouts?
Want to give a shout out to Nick and Jamie Qualls, our hype man Brandon Trupiano Aka as Pyro who recently passed away. All our other supporters and Michigan bands that we've had the pleasure of playing with in such a short time.