Nowhere but Down talks about having their nostalgic yet modern sound, upcoming plans and much more.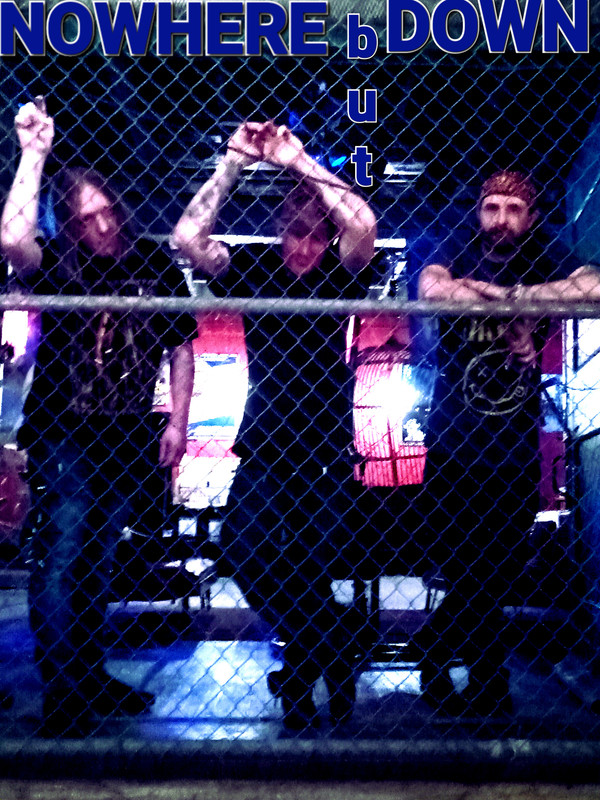 www.facebook.com/profile.php?id=100086099421687
Sounds like: Hardcore/Grunge
From: Missouri
1. How did you get started with music and how did you develop your sound? Who thought of the name "Nowhere but Down" and is there any meaning behind it?
Jaysin has been playing for 30 years. "The first time I heard the Violent Femmes I knew I wanted to be a musician. After that, bands like Helmet, Nirvana, Therapy?, Ministry, the Melvins, and Quicksand influenced me." Myk has been playing for 28 years. "Music is something I've always been passionate about. Bands like Skinny Puppy, Nine Inch Nails, Nirvana, Alice in Chains, Tool and Ministry have influenced me, but also Pink Floyd, Black Sabbath, Led Zeppelin and The Beatles played a significant part in my influence." Dustyns senior year in high school he took vocal lessons and then he got a peak at the band room. "From there on I couldn't get enough. Developing techniques and style has been a long road." I guess you'd have to say that the spectrum is all over the place for all of us.
Jaysin came up with NOWHERE but DOWN. I always hear people say, " you can only go up from here!" And I thought to myself "that's wrong, you can also go down. We find that life is a series of struggles,therefore there is , NOWHERE but DOWN.
2. What do you want people to take away from your music?
A feeling of nostalgia. We are hoping to tap into that lost feeling from 90's grunge yet, bring something that the new generation can relate to.
3. How would you describe your sound to the average listener?
A hard-core/grunge sound that brings out the angst in any listener.
4. Who are three bands you'd like to tour with?
Helmet, Tool, and Psychostick.
5. How has Covid affected what you do?
It set us back playing live but we kept jamming and developing our sound.
6. What's your take on the current state of Hardcore/Grunge?
It's due for a comeback.
7. What's the current music scene like there in Missouri?
The music scene in St. Louis,mo is really starting to thrive again. There is a huge variety of genres as well.
8. What's your take on the royalties that streaming services pay out to artists?
Have yet to get any lol.
9. What's next for Nowhere but Down?
We plan on playing shows, making music and thriving with our steadily growing fan base.