Luna Falling talks about their melodic cinematic Metal sound, the current state of Metal and much more.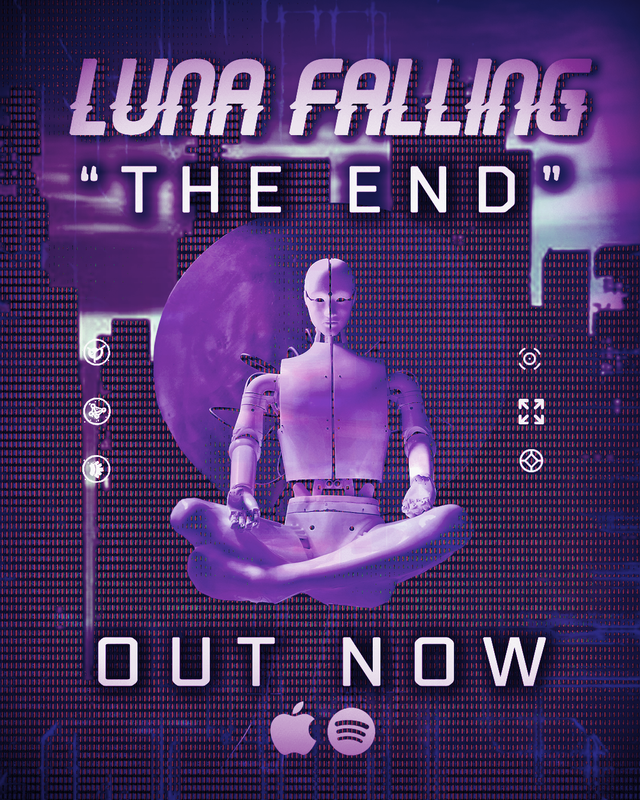 www.facebook.com/LunaFallingBand
Sounds like: Metal
From: Ohio
1. How did you get started with music and how did you develop your sound? Who thought of the name "Luna Falling" and is there any meaning behind it?
I grew up in a musical household with my father playing a lot of blues and some of the 80's/90's rock that was popular at the time. My sound has developed over time into what it is now by finding what worked for me when I play live and what musical styles I liked. Synth driven verses with heavy guitar choruses helped mold my style to what it is now. Luna Fallings name idea came from an Idea I had about telling a story from the perspective of Luna.Luna is an AI that has become self aware and is navigating all the new feelings that they are learning and ultimately causing her downward spiral, which is how we get Luna Falling.
2. What do you want people to take away from your music?
The take away from my music is I want it to allow people to open up about issues they may be experiencing, it is never too late to get help. Mental health has been a huge struggle for so many lately with so many feeling as though they can't get help or talk to someone how they feel without being ridiculed. I am hoping to change that one listener at a time.
3. How would you describe your sound to the average listener?
My music can be described as melodic cinematic metal with the occasional breakdown.
4. Who are three bands you'd like to tour with?
Bad Omens, Cold, and Lions at the Gate.
5. How has Covid affected what you do?
Covid allowed me to focus on my music and make it to where it is now.
6. What's your take on the current state of Metal?
Metal is growing and evolving with bands like Bad Omens and Dayseeker gaining traction and more listeners, they are appealing to listeners on a new larger scale.
7. What's the current music scene like there in Ohio?
To be honest the Columbus music scene is huge and full of talent with so many helpful bands that are willing to help out other artists. That being said there is also the darkside of the local scene that has local artists competing against each other and trying to blacklist groups that they feel are out producing them. My goal for Luna Falling is to not be a local band starting out. With the extra help of Cristian Machado of Lions at the Gate, previously ill Nino, I have been able to reach a much larger audience right out of the gate.
8. What's your take on the royalties that streaming services pay out to artists?
I think Streaming services are great in terms of reaching people. The Royalties they pay artists are complete trash. Unless you're getting promotion from insiders and have millions of streamers listening then there is no way to make any type of money on streaming.
9. What's next for Luna Falling?
World domination. The debut album is finished in terms of tracking all the instruments, I am working on tracking the rest of the vocals now. Also I will be auditioning soon for the rest of the touring live members. Little secret I will let you in on is that Luna Falling is just me with the help of my producers.
10. Any shoutouts?
I'd like to shoutout Cristian Machado from Lions at the Gate for helping get my feet wet in the industry.
I'd like to thank Unnus Latif at Black Moon Recording studios for helping me get to where I am now, without that dude I would not even be making music.
I'd like to shoutout Josh Dykes of FivebyFive and Umbra for always helping out on my music and giving me direction and for singing my harmonies like a mad man.
I'd also like to thank Will Carlson for producing a nobody like me and helping me mold my sound with "The End".