Image of Deceit talk about their start with music, upcoming plans and much more.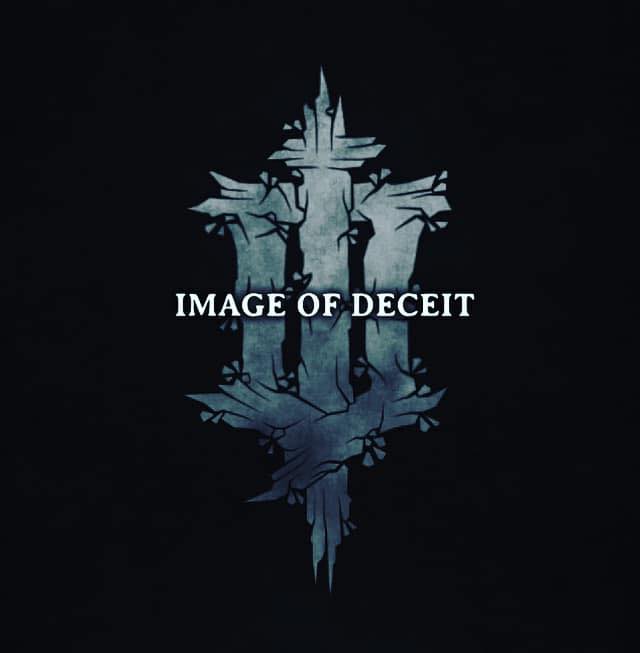 www.facebook.com/imageofdeceitband
From: Virginia
Sounds like: Industrial Metal
1. How did you get started with music and how did you develop your sound? Who thought of the name "Image of Deceit" and is there any meaning behind it?
In high school my best friend growing up and I wanted to start a band due to being influenced by Metallica. Originally, I was going to play guitar since my oldest brother is a guitar player and I could've learned from him. My best friend's father got him a guitar instead of a drum set so naturally I turned my desire towards getting a drum set instead. Metallica had just come out with Metallica S&M and I got my mom to buy it for me on VHS. Due to the camera angles, I was able to grasp a good understanding of what Lars Ulrich was playing and quickly became enamored by him. I was fortunate that the drum set my dad bought me came with a double bass pedal as I quickly built up my skills as a double bass player. My oldest brother was also a huge influence on me as I got to see his talent evolve while he played out a lot in local bands. That developed my desire to play on stages whether big or small. Eventually I started playing in local bands sharing various venues with a lot of talented musicians. Years had passed and my oldest brother came to me and wanted to start a band of our own that later became known as Novarium. We had a lot of success with Novarium and continued to develop our individual talents out of necessity and desire. My role in Novarium started changing a bit to where I started creating a skeleton of a song to share with everybody utilizing only a drum track. I quickly became anxious and motivated to finish the songs and was given the means to do so after being directed to a VST called RealEight. RealEight is a midi guitar VST that allows people like me to create guitar tracks without any real knowledge of being able to play the guitar. The final piece of the puzzle was being given guidance on how to scream! Image of Deceit was officially born!
The sound of Image of Deceit developed over the course of at least 2 years. I knew I wanted to be an industrial metal act but wasn't sure how I was going to accomplish it. If you listen to the evolution of the sound from Reprieve to Light The Fire Inside, you can tell I was trying to figure myself out. Light The Fire Inside is a great prelude of the sound associated with Image of Deceit going forward. I referenced influences from bands such as; Crossbreed, Static X, The Birthday Massacre, Fear Factory, Celldweller, and Blue Stahli. I basically took things from these acts that really stood out to me in their sound and put together my own sound that I would want to hear.
The name Image of Deceit I thought of because I get judged a lot by people and it's usually the wrong impression. My personality is usually reserved and quiet until I get to know you. Because of that, people tend to be quick to think they know who I am based off of what they see and not what they know. So the band name is really important to me!
2. What do you want people to take away from your music?
I want people to feel the energy and be able to leave their issues behind when they listen to it, or even as they listen to it. I talk about subject matter that is personal to me but is shared by many. I use a lot of metaphors in my lyrics so every song is open to interpretation and can hopefully mean something to everybody. My music is a therapeutic outlet for me, and I want to share that experience with everybody!
3. How would you describe your sound to the average listener?
I would say the simplest way to describe it is; heavy and rhythmic guitars, syncopated drum beats, melodic and rhythmic synths, and screaming vocals.
4. Who are three bands you'd like to tour with?
In a realistic sense? I would say Psyclon Nine, The Birthday Massacre, and Crossbreed.
5. How has Covid affected what you do?
Due to when I created Image of Deceit, Covid didn't really affect me at all in that sense.
6. What's your take on the current state of Industrial Metal?
I feel like Industrial Metal is making a comeback. It was very prominent in the late 90s early 2000s but slowly trickled off. A lot of the industrial metal acts I looked up to growing up seem to be coming back around.
7. What's the current music scene like there in Virginia?
Virginia has a decent music scene but is really full of local acts. The chance to play with well known acts mostly come from playing out in Maryland or Pennsylvania. The best place to play in Virginia and get to open for a well known band is in Lynchburg Va at a place called Phase 2. It's there that Novarium was able to open for Puddle of Mudd.
8. What's your take on the royalties that streaming services pay out to artists?
I personally think it's a joke. There's no way you can make a living off of that unless you are already a successful band. At that point, all of the streaming royalties are play money. I am happy to share my music for free as I am proud of the music I create and want to share it with anybody that wants to listen. But I don't think people who listen to music, but never create it, actually know what's involved in even a single song. We can spend hours, or even days, to make 1 song as "perfect" as possible and it get easily torn apart by people with no understanding of music creation. Makes it really hard sometimes and gives an unrealistic expectation of self worth.
9. What's next for Image of Deceit?
2023 is going to be a very busy year for Image of Deceit. The debut album Self Reflection will be released both in physical form and digitally, we plan to bring IOD to various stages near and far, and merch will be developed for purchase. So do be on the lookout for updates!
10. Any shoutouts?
I'd like to personally thank my oldest brother, Dean Michaels (Novarium), for being a major influence on me and my biggest supporter, Micah Consylman (Ex Bella Morte/Deeper Down Below) for his guidance and support with me becoming a vocalist and showing me RealEight Guitar VST, and Daniel Bradley for all of his help with playing the live guitar and bass for all IOD songs!