The Venom Assembly talks about their signature sound, the Pennsylvania music scene and much more.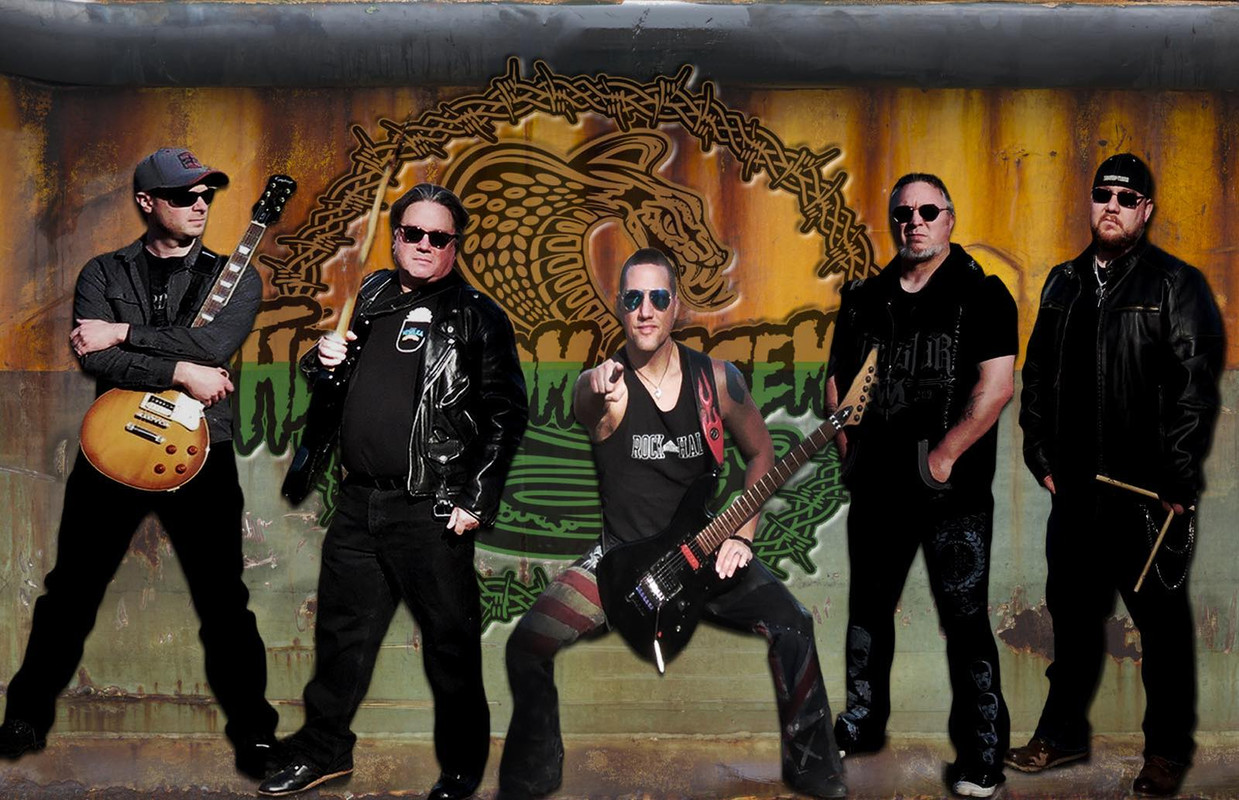 www.facebook.com/distantemperor
From: Pennsylvania
Sounds like: Hard Rock/Metal
1. How did you get started with music and how did you develop your sound? Who thought of the name "The Venom Assembly" and is there any meaning behind it?
Hailing from Northeastern PA, The Venom Assembly began as a pair of brothers who had tried their hands at almost every other musical venture except for one where they played together. They began their work in basements; a grassroots, DIY experiment in incredibly technical guitar, war drum percussion and melodic vocals. The duo, singer/songwriter Frank Rakaczewski and multi-instrumentalist and producer Martin Rakaczewski, first hit the scene with their first album, The Return of the Revengenator, a raucous blues and hard rock record that garnered them a cult following up the East Coast. After a gauntlet of shows and open mics, the band got back in the studio and put out a darker sophomore album with The Conquering Machine. Gone were the slow, drawl of the slide guitar and 12-bar blues; in their stead was a blood and sweat-soaked miasma of sound that contained everything from blistering guitar solos to fire-and-brimstone warning cries. Now, having signed with Little Rascal Records, the duo is now a full band as they work on their third album. Joining the Assembly are veteran bassist Johnny Fila and human-drum machine JT rounding out the band's hard-hitting sound into something like an anthem. John brings amazing song writing skills and killer bass chops JT adds an ability to add 3 part harmonies while pushing the boundaries in the rhythm section.
Our new tunes are a collaboration of these truly amazing musicians and all our collective influences. The ground shakes. The clouds gather. New music from the Venom Assembly is coming. God help us all.
2. What do you want people to take away from your music?
We want people to hear the passion we put int our craft. The amazing musicianship, song arrangements and sound of the band. We do all elements of writing, recording, mixing and mastering on our own. We take pride in that and hope our listeners enjoy what they hear. We want to be that fresh sound in a cluttered music scene. Many bands have the same sound and songs sound the same. We want to rock hard with a new sound and style!
3. How would you describe your sound to the average listener?
The Venom Assembly is a great mix of all the great elements of hard rock you love while not mimicking any one band. Melodic yet edgy vocals, virtuoso guitar playing, thundering bass, hardcore drums and amazingly complex yet simplistic song arrangements.
4. Who are three bands you'd like to tour with?
Metallica, Led Zeppelin, and Ozzy Osbourne.
5. How has Covid affected what you do?
Covid has pushed a lot more fans to an online music scene. Live music is coming back more which is great. Covid showed the value in controlling your own recording, mixing and mastering process. During Covid we were able to continue with original music recordings.
6. What's your take on the current state of Hard Rock/Metal?
The sound of mainstream rock sounds very similar. The drums sounds, synths, effects, ect... It's all too compressed, autotune over used and too perfect. Bands that stray outside of this formatt are trying to sound like another band. We are trying to bring all this together in a way that still fits a new sound sonically while creating something new and fresh. We have our influences but it doesn't come through in a way where we are trying to just fit in with new music/style or mimic a prior band.
7. What's the current music scene like there in Pennsylvania?
PA is starting to get traction with original music and people wanting to come out and see them play. We have some all orginal nights around the area that tailor to hard rock. We hope this continues and original bands keep growing in PA. It's a cool scene in PA!
8. What's your take on the royalties that streaming services pay out to artists?
That's a tough one! In one sense nowadays you can get your music to fans across the world with a few clicks of a button. On the other hand, making any money is virtually impossible. As much as we all love companies like Amazon, you sell your songs to their streaming service and make pennies when folks play the song. Between services like this and Youtube, you either have to choose between getting your music out there and making little money, or you try to make more money through paid services and limit your exposure.
We just want to impact as many people as possible with our music. The song's lyrics have meaning, the music has passion, if that means leveraging streaming services and making less money, so be it! VA loves their fans and wants to connect with as many people as possible!
9. What's next for The Venom Assembly?
We just started to take our recording act on the road and looking to book more live shows. We are finishing songs for a third album and really found a nitch for our new hard rock sound. VA is continuing to build our brand and look forward to finding new ways to get our music out there!
10. Any shoutouts?
Little Rascal Records - We have a digital distribution record deal. They have been great to work with!
John Bartoni - VA Stage manager and amazing sub octave vocals on several VA songs. A secret sauce to several songs and a great guy!
Lincon Labar - Our band photographer, back up gang vocals and media support. Lincon is a local music scene star!
Frank Rakaczewski - Frank had to step away as our lead singer for personal reasons. He was the reason we started the band and the heart and soul of the VA persona. Though we are creating new and amazing sounds with a new line up, Frank will forever be the true DNA The Venom Assembly was created from!