For Ruin talks about their core Metal sound, the current Metal scene and much more.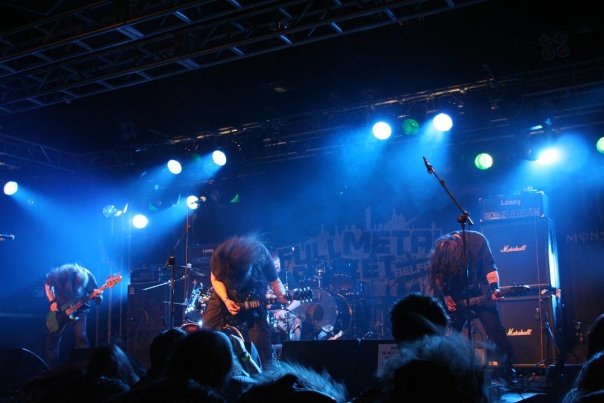 www.facebook.com/forruin
From: Ireland
Sounds like: Metal
1. How did you get started with music and how did you develop your sound? Who thought of the name "For Ruin" and is there any meaning behind it?
FR was started by me (John Murphy) with some early-written songs going back to the late 90's, but the first release from the band came out in 2003 (a split demo with another band I was part of). There's no real significance to the name to be honest – it was a suggestion from a friend of mine and I went with it! At that time it was just me, writing and performing all instruments and finding my feet – I was always interested in the recording process so that's really why many of the early recordings sound as they do – I was learning not only how to wrote & perform songs, but also how audio production worked – and at a time when the home recording world was changing so quickly with the early advent of digital recording. Having recorded 3 demos alone & lived abroad for a while, I returned home in late 2005 and put together he first lineups of the band before signing with an Irish label and releasing our debut album in 2007. It was always fast yet melodic death metal – melody being a really key focus for me always.
2. What do you want people to take away from your music?
To this day I remain obsessed with melodies & hooks and I think anyone who's followed our progress for the last 20 years will hear that. I just hope that listeners enjoy the songs as much as I and the band enjoyed creating and performing them. It's music, its fun, its my main hobby and I hope to keep doing it for a long time more!
3. How would you describe your sound to the average listener?
First and foremost – we're a metal band, always will be. But our sound is at the more aggressive end of the metal spectrum – with harsh vocals, and extremely strong melodies; its not noise metal for sure, there are heavier styles out there – but FR is about speed, aggression and melody.
4. Who are three bands you'd like to tour with?
This style of music will never be commercial so I would choose bands (past or present) that I would enjoy listening to night after night. We've been very lucky over the years to have played shows with big underground bands like Paradise Lost, Bolt Thrower, Rotting Christ, Vader, Napalm Death, Decapitated, Vader, Amon Amarth, Skyforger and others - but if I had to pick a few bands to tour with (some are no longer around) it would be Death, Dissection, Unanimated, Paradise Lost, Rotting Christ, The Cult, Mastodon, Morbid Angel…
5. How has Covid affected what you do?
Naturally covid prevented live shows during the lock-down periods we all endured – thankfully these have passed. FR played a number of shows back in 2017 (the most recent of which was with Rotting Christ) & took a break for a while afterwards as my primary career forces me to travel a lot. Around then I renovated an old barn on my property and converted it into an office and full rehearsal/recording studio…. Then covid hit and I decided to take on a few FR related projects to keep the momentum – I remixed the band's debut album "December" which always had a poor production due to my limited skills in that field in 2007, so that came out in 2021 as "December 2021" & sounds far superior. I also released a previously unreleased demo from 2011 during the covid era – but more importantly, I wrote, recorded and released two digital EP's "Elapse" and "Relapse" during covid and experimented a little with things like cleaner vocals styles for example on some tracks. These songs were then released with a couple of bonus tracks on a CD a little later to create the band's 4th album "Set in Stone"… so overall the covid period was quite active in terms of releases with 5 separate releases in that period. During that time I was also busy writing and recording with my doom metal band The Grief, and recording some demos for local bands which I really enjoy doing…
6. What's your take on the current state of Metal?
As you get a little older I can see people around me often tend to get stuck listening to the same stuff they did 20 years ago, and we're all guilty of that to an extent – but I always try to listen to new bands, even if they are treading a familiar sounding path. I see lots of bands these days doing interesting takes on a sound that I love well and I support them – like many people I really refreshed my physical music collection during covid! Here in Ireland now the frequency and quality of gigs coming to us these days is really high – maybe too many are coming ha! I know many bands are playing catch up since they lost 3 years – but im very optimistic about metal these days, particularly in my part of the underground.
7. What's the current music scene like there in Ireland?
I can't speak for other genres really (but like everywhere we are swamped with terrible pop music for the most part with zero artistic talent) – but in our corner of the musical spectrum, there are tons of great metal bands here, a great market for touring bands, maybe insufficient venues in some cities but for the most part, its better now than it has been for quite a few years.
8. What's your take on the royalties that streaming services pay out to artists?
In our genre, royalties are really not relevant, they are so insignificant really. Its not something I worry about. Im lucky personally in that music is my hobby – an expensive one at that. If you're playing extreme metal for the money then that's a bad career choice. Like every other musician I would dli keto be paid fairly for our art – and today that is impossible it seems.
9. What's next for For Ruin?
We have just started rehearing again for the first time since Covid so that's exciting – we have a home-town gig in February with a number of the bigger Irish metal bands in the underground so we are preparing for that – we will play a few of the songs that we released during covid for the first time live so that's always challenging and fun. Our goal is to write and record a new EP or album then during the year & to play as many shows as possible later in 2024!
10. Any shoutouts?
We'd like to shout out to the Cork scene and all of the (many) musicians we have played with over the years! Either in each other's bands or sharing the stage. Would also like to thank the fans, venues & promoters around Ireland who help to keep what is a niche scene here alive and kicking. Special mention to Marc O'Grady (who is a wizard with graphix) for designing all the amazing art layouts for the band, as well as playing music with several of us over the years. Particular shout out to my partners in crime in The Grief & Corr Mhona.