Corr Mhóna talks about their eclectic mix of Metal, upcoming plans and much more.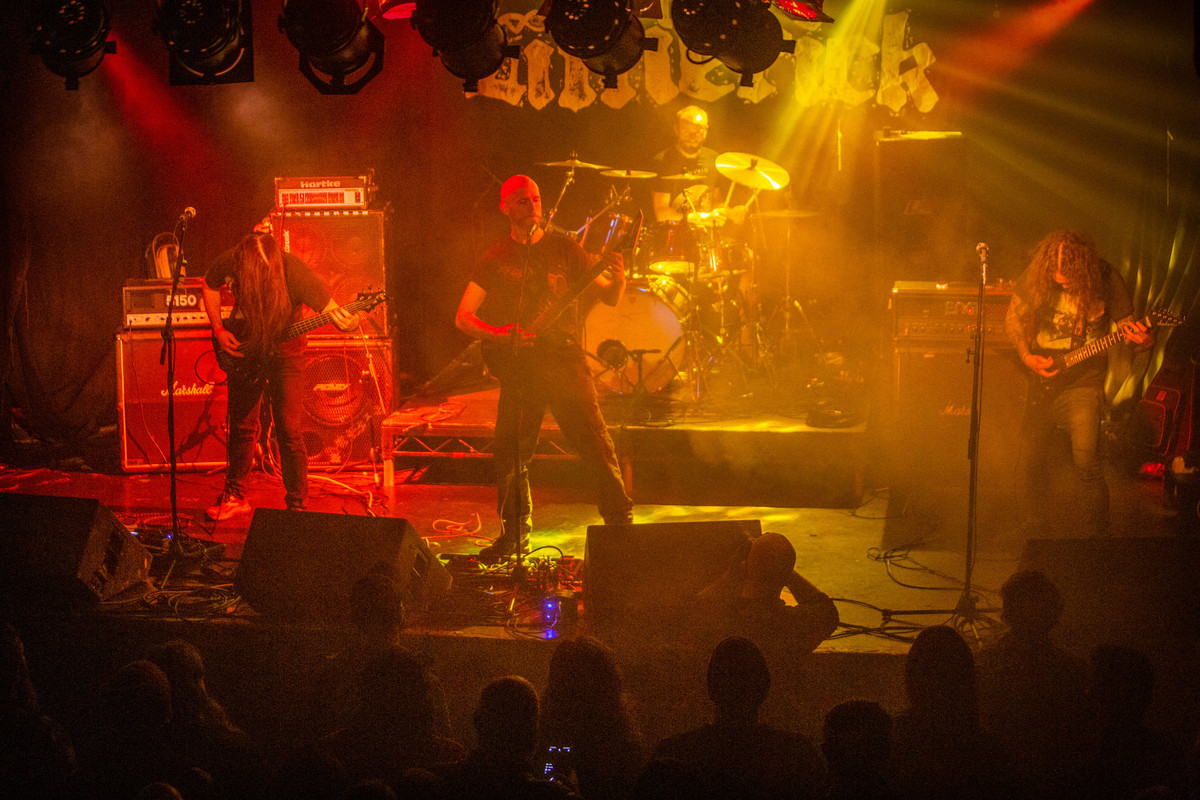 www.facebook.com/corrmhona
From: Ireland
Sounds like: Metal
1. How did you get started with music and how did you develop your sound? Who thought of the name "Corr Mhóna" and is there any meaning behind it?
We are Corr Mhóna from West Cork, Ireland. We have been going since 2009, when two sets of brothers (the Farrows and the Quinns) decided to get together and form a band after years of playing and going to gigs. We like to combine all our skills and influences in the band, so we write riffs and sing in different styles depending on the mood of the song. Our lyrics are entirely in the Irish language (Gaeilge) and we write about natural and environmental themes, reflecting our current reality, heritage, and mythology.
The name Corr Mhóna is one of a few different names for a heron in the Irish Language. When forming the band we wanted to choose an Irish name and herons are a symbolic animal in our native region of West Cork. A 'Corr' is a generic word for heron or wading bird and 'Mhóna' means 'of the bog'.
2. What do you want people to take away from your music?
Well, enjoyment first and foremost! Ideally we'd like people to experience the same emotions/states that we would from listening to excellent music; a sense of excitement and energy, effortlessly getting lost in the flow of the music. It would be especially rewarding if listeners appreciated the pacing and transitions across our individual songs and albums as a whole - a lot of thought goes into the composition of our releases!
3. How would you describe your sound to the average listener?
Is the average listener a metal fan? Haha. I'll presume they are! Generally speaking, our music is a mix of Black, Death and Doom heavy riffs combined with clean passages and more experimental elements. We use a variety of moods and styles, with choral sections, instrumentals, and a mixture of vocals. We always try to explore new vocal arrangements, with 3 of us combining in different ways to create harmonies and discords. The songs and albums have an overarching mood and feel and we use the peaks and troughs of the music to tell the story. All of our lyrics are sung in the Irish language which is a Celtic language spoken in Ireland; Irish lends itself well to both clean and heavy passages, and we feel it adds a lot to the overall sound.
4. Who are three bands you'd like to tour with?
Always a tough question! I'd presume each of us would have so many preferences here, but the most impactful I think would be bands that share styles or influences. Enslaved of Norway are an obvious choice (despite the amount of Father Ted jokes hah), as they were a strong influence for our experimental and blackened side. For Doom connections, Ahab from Germany come out on top for embodying the early 90s Doom in current times! Finally, Philadelphia's Horrendous recently released an amazing and proggy death metal album, listening to them while touring would never get old!
5. How has Covid affected what you do?
It's definitely made us appreciate gigging and concerts in general even more now! It also highlighted the importance of online collaboration. When recording a new release we have always completed as much as we can at home, to then polish up in the studio… but since being in isolation the emphasis is more on developing the song-writing process online. Sharing ideas, recording independently, and then meeting in person only for the finishing touches has and will help us to continue the band for years to come (especially while some of us are on different continents hah!)
6. What's your take on the current state of Metal?
It's hard to speak to this point without knowing the scene worldwide, but we've definitely seen a steady stream of new content being released from the bands we follow. Also there has been pretty consistent touring in Ireland and mainland Europe in recent times. It's possible Covid kickstarted a lot of minds and hearts, now that we can go to gigs again!
7. What's the current music scene like there in Ireland?
The music scene in general has always been strong here, perhaps it's a romantic notion but we can be an artistic bunch when we put our minds to it! The metal scene has actually improved in recent years, due to promoters like Bad Reputation in Limerick and content creators like The Metal Cell Podcast consistently supporting the scene with publicity and content. Attendance and frequency of gigs seem to be up from pre-Covid times as well, and there are more and more band names we don't recognise showing up which has to be a good thing!
8. What's your take on the royalties that streaming services pay out to artists?
The current state of the music industry and struggles of artist endeavor are a bit depressing to be honest. There has never been so little store kept in valuing music and the effort it takes to create it, be that metal or any other non-pop genre. The advent of streaming services was inevitable, but it is another nail in the coffin really. Everything needs to be available to everyone at all times, and therefore everything loses its value. The royalties paid out are non-existent unless you are a genuinely big band and even then I hear they aren't great. The only way bands make money back these days is from gigs and merch.
9. What's next for Corr Mhóna?
We have a few things in the pipeline currently. With regards merchandise, we will be announcing a tape deal in the near future and also have some new t-shirts on the way (finally!) We also hope to start recording again in the new year as we had material left over from the last album which we never used. This will be the starting point for the next release.
10. Any shoutouts?
We would like to thank everyone who has supported us over the last 14 (!) years! All of the people who come out to our gigs and support our music, some of whom are from as far afield as South America or Eastern Europe. We have a close knit scene here in Cork and many of us play in the same bands or help each other out, so míle buíochas to Procession of Spectres, The Grief, Soothsayer, For Ruin, Bodydrinkers and everyone in the Irish scene, including The Irish Metal Archive, Bad Reputation, The Metal Cell Podcast, Petrophile Promotions. Agus ar deireadh, míle buíochas as ucht do ár gcuid agus ár gcairde!