Opposition Out talks about their new music, the North Dakota music scene and much more.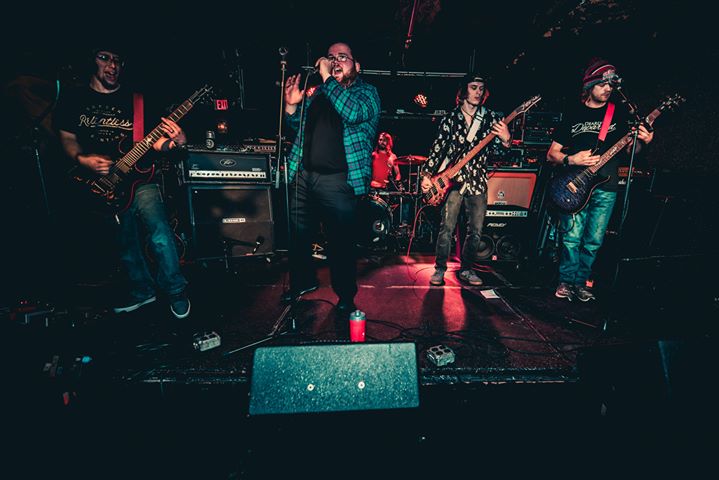 www.facebook.com/oppositionoutofficial
From: Minot, North Dakota
Sounds like: Metal
1. What's new with Opposition Out?
Well, there's quite a bit that's new actually. Firstly, we got a new bassist, Eddie Joe, and he made his debut show with us at our show here in Fargo, ND on March 1st. Great addition! The local hockey team, The Minot Minotauros, use our song "End of Me" to skate out onto the ice for their home games, which is pretty cool! We also moved down from a 6-piece act to a 5-piece after losing our 2nd vocalist, Cody. Currently fronted just by our boy, Steven! Steven also just recently shared the stage with Breaking Benjamin vocalist/guitarist Ben Burnley to help him sing their song "Breath", that video is on our Facebook page and YouTube if you wanna check it out! Lastly, we have our first set of shows booked in Minnesota starting in June and July at the newly built, Tak Music Venue, in Dilworth.
2. What's the word on new music?
We are constantly trying to come up with new ideas for our music and I'm happy to say we officially go back to the studio at the end of April to start working on our 2nd EP release. Lots of heavier jams on there to start the pit and plenty of choruses that will make you sing along. Expect the new EP to come out late 2019.
3. What are some highlights within the past year that you guys had?
There's been quite a few highlights this past year. One of them being we finally had a chance to play our local bar, The Original, which is most known around here for bringing acts like Pop Evil, Nonpoint, 10 Years, Mushroomhead etc. We played our show with national/international metal act, Ghost Bath and local Bismarck band, Sequences. Another highlight would be adding Eddie to the band. He has seen so many of our shows as a fan and was thrilled when we offered him the spot. We also played our first show in Fargo, ND at their local venue, The Aquarium. They have also brought bigger acts such as Volumes, Born of Osiris, The Black Dahlia Murder etc. Our show there was played with some great up and coming bands as well; Dearly Departed, Wildview, and Strange Co.
4. If someone listens to just one of your tracks, which one would it be and why?
Well for us that would be a 2 part answer. If we would be talking about our new music we would have to say listen to "Exposing The Victim". Its a song that has quickly become a crowd favorite and we find it as a good closer to our sets most times. The energy and vibe of it is real fast and will get you jumping with everyone else in the crowd. For our older stuff, we would say go listen to "Close Your Eyes" as its probably one of the heaviest tracks on that EP, but we also feel it was put together quite well.
5. What would you like to change about your current local music scene?
We love our local music scene, statewide and local to Minot. There is so much hidden talent up here that we believe everyone should be trying to listen to or go see. It would be nice to see some more metal acts come out of Minot though! All in all, great scene, tons of support from not just local musicians but also just the local people in general. All of us local bands statewide try our hardest to promote each other!
6. What are you currently listening to?
There is quite a few bands that we have been liking lately. Marcus has really been getting into Our Last Night's music. Kyle is into two metal bands called Invisions and While She Sleeps, and him and Evan both like Fit For A King, Emmure, and Fire From The Gods. Steven has been listening to the band Royal Tusk lately and Eddie is into alot of classic Hendrix, Pink Floyd, and Tool.
7. If you could play one place, anywhere in the world, where would it be and why?
If we could play one place in the world I think it would have to be Download Fest in the UK. That festival is notorious for bringing all of the big rock and metal acts to their 120,000+ people concerts. Locally to the U.S. though would have to be the new Sonic Temple Fest, previously known as Rock on The Range, in Columbus, Ohio. That festival has had acts favorited by all members of this band over their years. Evan and Kyle actually attended the 2016 Rock on The Range and kept telling the rest of the band how great it would be to play that show. Our close friends in Righteous Vendetta have played that festival.
8. Do you have any pre-show rituals? If so, what are they?
As far as pre-show rituals Evan usually gathers the whole band about 20 minutes before our set and we all go take a tequila shot to loosen the muscles up, we get each other hyped up and ready for the stage, and then we go do what we do!
9. What's next for Opposition Out?
After this EP we will focus on more heavy booking and marketing to branch further than what we have previously done. We want to start getting out of state more and playing shows in the bigger cities and all other places in between! We will keep writing music as we always do, but as far as the next musical project we hope to do our first official full album of 10+ songs. We also hope to record our first music video this summer! Make sure to track us on BandsInTown and you will be in the first group of people to know where we are going to be. The band is also down to return to a 6-piece act of dual-vocalists, if the right person shows up. Hope to see you guys out there this year!