Scarlet Demore talks about their start with music, the Chicago music scene and much more.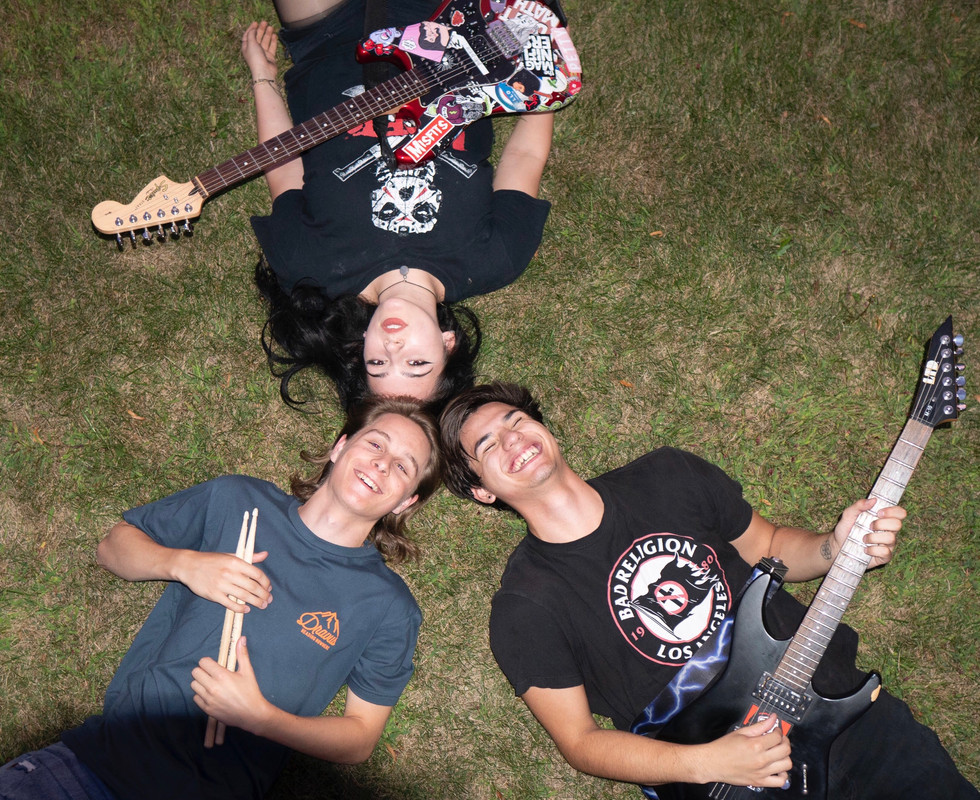 www.facebook.com/scarletdemoreband
From: Chicago, IL
Sounds like: Rock
1. How did you get started with music and how did you develop your sound? Who thought of the name "Scarlet Demore" and is there any meaning behind it?
Cat: Growing up I was always singing and putting myself in small school plays and voice lessons. As I grew up I had this urge to be able to create the kind of music I was listening to, and I started writing alternate parts in my head to songs that I knew I personally wanted to hear. Around sophomore year I met Alex, and we wrote a lot of music together and a lot of it was bad, but we kept going and learned a lot from each other of what we wanted out of a song and not just what we can do. It's always changing and evolving, and it's a really freaky beautiful thing to watch. As far as the name--there's nothing much to it. To us, Scarlet Demore is just a name but it's also this "thing" that we all strive to be...take it as an alter ego I guess.
Alex: I started my music career just noodling around with chord progressions in my room with Cat sophomore year in high school. At the time it was nothing serious. There was also no filter; anything that could be a song, became a song, and it was very directionless. When we had a few songs and covers together, we decided to find a drummer and make a band. That band was called Just Noise, and that was a complete beta/trial run of how to write a song for me and Cat. Now that we've figured out what it takes to write, we've started to write in a direction that sounds more like the bands we actually listen to. From FIDLAR to Surf Curse, Metallica to Cherry Glazerr, we are writing music that we'd want to listen to.
Ashton: I grew up playing classical piano, but I ended up transitioning to drums. I had a mentor that changed my world, teaching me all different styles and rhythms. We incorporate all of our different influences to create our unique sound that combines hardcore rock blended with the modern age.
2. What do you want people to take away from your music?
Cat: Alex and I have always talked about that question, and we have just always turned into ourselves and asked ourselves, What do we love about music, and what does it do for us and how can we replicate that? I want people to feel something. I don't care what it is, but I want to provoke emotions in people whether it's good or bad. I also really hope that my music brings people together because to me it's one of the most beautiful things about music. Going to local shows and seeing such diverse crowds of people coming together for the sake of music is incredible to me, and because of that I found some pretty great people, and I want to do whatever I can to give that experience to someone.
Alex: Emotion. If you feel emotion of any kind towards any medium of art, then that art is doing its job. Regardless if those emotions are negative or hard to deal with, if you're feeling something, I'm doing my job.
Ashton: Alex smashed it, If I can make someone feel a certain way then I am fulfilled. Music has helped me through the toughest of times, and if I can help someone else in that way then that's the dream.
3. How would you describe your sound to the average listener?
Cat: Oh boy...I feel like it's just us picking various elements from so many artists to just at the end of the day mash it into something insane until we like it.
Alex: Imagine FIDLAR and Weezer had a baby… well at least for a song like "Way Down We Go." Our new stuff on the other hand, that's a surprise.
Ashton: No Doubt vocals meets rap grooves and huge crowd chanting choruses.
4. Who are three bands you'd like to tour with?
Cat: Cherry Glazerr, The Distillers, and Remo Drive.
Alex: Remo Drive, The Distillers, and FIDLAR.
Ashton: The Chainsmokers, Covet, and The Contortionist.
5. What are your three desert island albums that you'd never get tired of listening to?
Cat: "Coral Fang" by The Distillers, "Nimrod" by Green Day, and "Greatest Hits" by Remo Drive.
Alex: "hoodratscumbags" by Beach Goons, "Coral Fang" by The Distillers, and "Whatever People Say I am, That's what I'm not" by Arctic Monkeys.
Ashton: "Clairvoyant" - The Contortionist, "Under Pressure" - Logic, and "The Sufferer and the Witness" - Rise Against.
6. What's your take on the current state of Rock?
Cat: I don't know because whenever I tell myself it's dying, a band drops an album and revives the genre. I also think it's an ever-changing genre that's been influencing other genres which has been interesting to watch. So I don't think it's necessarily dying; it's very much still kicking. I just think it's just being reinvented.
Alex: While it isn't thriving as much as Pop or Rap, it definitely isn't a dead genre. I do think certain characteristics of rock (more on the metal side) are dying though. For example, songs over 4 minutes. That has been completely killed by the short attention span mind set of trap. I also noticed that audiences are leaning away from fully distorted guitars and leaning towards a more indie/beach overdriven tone like Remo Drive and Beach Bunny.
Ashton: I think rock is merging to incorporate all genres. I never want to say we are one specific genre because our music incorporates so many different styles and is always changing and growing as we are.
7. What's the current music scene like there in Illinois both locally and statewide?
Cat: Difficult. People need to support each other!!!! From playing shows with other bands through, there is a prevalent punk scene in the city that's small but super tight! We need to keep encouraging young people in bands and give them space to share their art.
Alex: Personally I think that nothing exists in Illinois outside of Chicago and its suburbs. It's just corn. Locally as far as my suburb of Des Plaines goes, I don't see that many people (at least under the age of 35) who listen to anything outside of pop and rap, but in the city it's really easy to find rock fans.
Ashton: Cities are where it's at! Cramming as many people as you can into tiny venues makes for the most intimate shows especially when everyone knows you music, singing every lyric.
8. What's your take on legal/illegal music downloading?
Cat: You're broke, I'm broke, I get it. You do what you gotta do to have your music. I'd never want someone to not be able to listen to music because they couldn't afford it.
Alex: I'd never want to be without music. If you're not in a place where you can afford any sort of streaming service, then do what you got to do. If you CAN afford to support the artists you listen to, then I recommend you do. They'd appreciate that.
Ashton: It's part of the industry and musicians are generally pretty broke so it makes sense that pirating music has become a staple in the industry.
9. What's next for Scarlet Demore?
Cat: We've been writing a lot and really trying to find our sound, and it's been incredible. I can't wait to get in the studio and play shows as soon as possible! I just want people to hear it so bad.
Alex: The music the Scarlet Demore has released already is kind of just the better end of our old band "Just Noise". The music we are currently writing is more of what Scarlet Demore is supposed to sound like. We've got an EPs worth of material, and a single coming soon, so stay tuned for that!
Ashton: We have been writing a lot, as well as planning some crazy shows...
10. Any shoutouts?
Cat: Shoutout to all the friends I've made being in bands and playing shows and watching them grow and evolve as better musicians. They've pushed me to do more and write better. A lot of the things I've learned in songwriting and in being a front woman is mostly from watching my friends do what they do. I'm incredibly inspired by them. That stuff makes my heart happy.
Alex: Shoutout to my boys Authentic Pines. I've watched them grow tremendously since the first time we played together at our local open mic in Palatine. From a complete lineup change and genre shift, this band continues to make music that makes me proud to say I know the guys behind it.
Ashton: Shoutout to Earl Talbot for being my mentor and my mom for getting me into music.