Junexa talks about their Post Hardcore/Metalcore sound, the New York music scene and much more.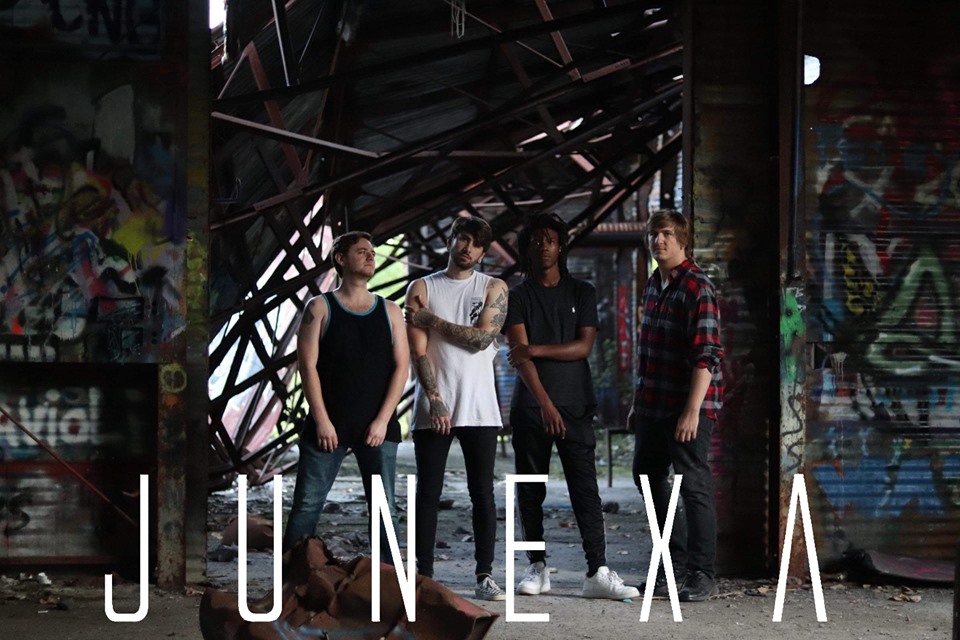 www.facebook.com/junexaband
From: Syracuse, NY
Sounds like: Post Hardcore/Metalcore
1. How did you get started with music and how did you develop your sound? Who thought of the name "Junexa" and is there any meaning behind it?
We all got started in different ways. For our guitarist Tykeese, He got started by playing guitar hero. He got really good at the game and wanted to see how it converted to playing guitar in real life. The rest was history. Our drummer Joshua started playing drums when he was younger because his dad was a musician though not a drummer inspired Josh to want to play. Josh was always intrigued by music and found a love for Metal early in the game. Our bassist Chris wanted to learn how to play music he liked to listen too. He always took interest in bass and really found a passion for it from influences like Rush, Dream Theater and Metallica. As for our vocalist Noah and his brother Alec (who plays guitar in our band) they seemed to find interest in similar ways. They were very big into Metal at a young age listening to bands like Linkin Park, Metallica and later A Day to Remember. The brothers started going to different concerts and were very fascinated in the theatrics of all the bands live. Alec started playing guitar and taking lessons/ learning songs he loved to listen to. Noah started playing guitar but later ended up finding a passion in vocals. Our guitarist Alec came up with the name "Junexa" in 2015. It was a made-up name to abbreviate the term "Juxta Position" which means "The effect of two objects or people appearing to be in the same place at the same time in a contrasting way'. We really liked the way "Junexa" Sounded and decided to roll with the name.
2. What do you want people to take away from your music?
As a band we really aspire in helping people have a platform to find a sense of belonging. To feel they have a place though it can seem like the world has beaten them down. We show a lot of emotion in our music and a lot of that comes from our personal struggles. It's like a taboo where everyone has their issues, but no one likes to open up. We would like to break that barrier an offer a place in our music where they can interpret the song in their own way.
3. How would you describe your sound to the average listener?
We would defiantly say that our music has used a lot of different genres as influences and that we have blended aspects of Hardcore/Post-Hardcore into Metalcore. The songs have a lot of ambience and technicality to them but also really heavy riffs and breakdowns.
4. Who are three bands you'd like to tour with?
As a band we definitely have some high hopes. If we had to pick three bands we would like to go on tour with those bands would be Currents, Architects and The Contortionist.
5. What are your three desert island albums that you'd never get tired of listening to?
"The Sound of Perseverance" by Death, "Singularity" by Northlane, and "The Hollow" by Memphis May Fire.
6. What's your take on the current state of Post Hardcore?
I wouldn't consider us to be Post Hardcore but our take on Post Hardcore as a Metal subgenre would be that Metal has always fluctuated in popularity. Between 2016 and 2018 we definitely saw a downslope in Metal community however since 2018 it has been growing rapidly making its way back into the charts and we've seen an increase in Metal tours and shows globally. So, we would say that people most certainly have a spot for Metal in their hearts that can simply not be outgrown.
7. What's the current music scene like there in New York both locally and state wide?
So we would say locally the music scene in Syracuse was hurting for a few years but recently we have seen so many new bands form and play. We have watched a huge turn around in Syracuse that has brought new venues and bigger acts to the area. Statewide has always seemed to strive because there are quite a number of bigger cities that have always keep the music strong in New York. Even though we had a tough time for a few years I can say that Syracuse and New York have had some of the strongest, most loyal Fans to Hardcore, Metalcore and other heavier sounding genres. That love never left.
8. What's your take on legal/illegal music downloading?
As far as illegal download goes, If you really loved a band's music you should buy their songs. That is after all how musicians are able to keep making the music you long for. As far as Junexa goes we encourage our people to illegally download it if they cannot afford to buy it. We care more about getting our product to more people than we do making money off of it.
9. What's next for Junexa?
Next on the list for Junexa is recording the rest of our EP. We just recorded our first single "Counterfeit" that is set to release in the near future. However we feel like we have just gotten started and will continue our work ethic towards this band until we physically cannot play our instruments.
10. Any shoutouts?
We would like to mention our friends in After Dark Presents. They're a local promoter for Syracuse and have given us some major opportunities to play with some amazing headliners. They are our go-to guys for upstate NY shows. Everyone on their team are so dedicated to their jobs and really care about the music and local acts.