Bloodmores talks about their Thrash Metal sound, the England music scene and much more.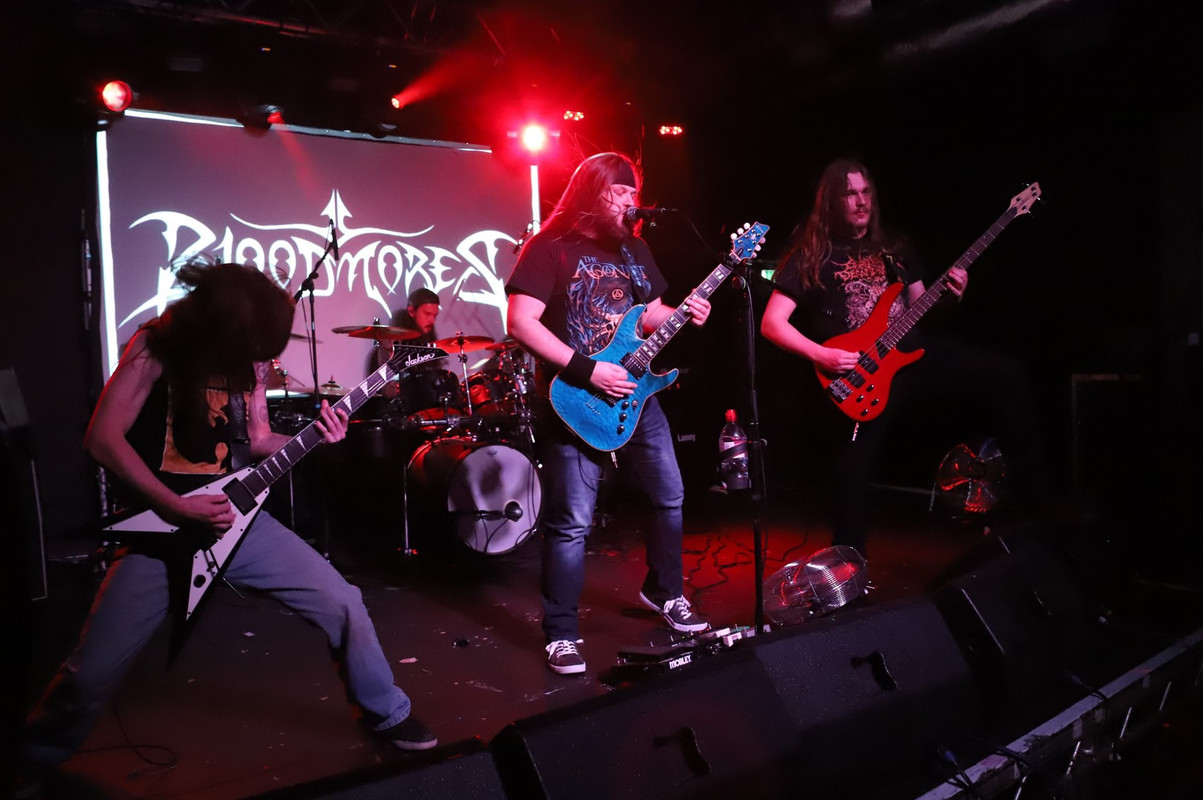 www.facebook.com/bloodmores
From: England, UK
Sounds like: Thrash Metal
1. How did you get started with music, and how did you develop your sound? Who thought of the name "Bloodmores" and is there any meaning behind it?
I (Alex) was introduced to Richard by a mutual friend, that knew I was looking for a second guitarist, for a metal project, and I feel like we clicked almost instantly. I knew that I wanted to write fast and heavy music, and Richard just felt like the perfect guitarist to work with on this, and so we started working on tracks for our first album, The Seeds Of Seasons, pretty much straight away.
Not longer after I met him, Richard introduced me to Connor, who then joined us on bass, and the 3 of us worked on the tracks for our first album together, but didn't meet Chris until we'd already written the full album. Chris joined us on drums towards the end of 2018, and we released our first album, with our full line up, on February 1st 2019.
I came up with the name "Bloodmores" which is based on the word "mores" which is used to describe a characteristic, or trait, of a society, or community, and so the word Bloodmores is supposed to be like a way of describing a sadistic, or self-destructive, trait of a society.
2. What do you want people to take away from your music?
I just hope that people enjoy what we're doing, and the songs that we've written, but it's also cool when people talk to me about my lyrics. I based all the lyrics for our first album on various issues with the world around us, ranging from the environment, and the way that we treat the world, to matters of prejudice, and the way that we treat other people, and a number of listeners have taken the time to read through my lyrics, and have spoken to me about them at some of our shows, which is awesome, and I'm glad that people are enjoying our music enough to sort of analyse it, and look for the messages behind the songs.
3. How would you describe your sound to the average listener?
Somewhere between Thrash and Melodic Death Metal.
4. Who are three bands that you'd like to tour with?
Alex: Hypocrisy, The Agonist, and either of Ola Englund's bands (The Haunted and Feared).
Richard: Sylosis, Kreator, and Trivium.
Connor: DevilDriver, The Black Dahlia Murder, and Cattle Decapitation.
Chris: Korn, Ozzy Osbourne, and Mötley Crüe.
5. What are your three desert island albums, that you'd never get tired of listening to?
Alex: "Imaginaerum" – Nightwish, "Eye Of Providence" – The Agonist and "Children Of The Void" – Karkaos.
Richard: "Exhibit B: The Human Condition" – Exodus, "The Obsidian Conspiracy" – Nevermore and "Demons" – Bloodshot Dawn.
Connor: "DevilDriver" – DevilDriver, "Nightbringers" – The Black Dahlia Murder and "The Anthropocene Extinction" – Cattle Decapitation.
Chris: "Ashes Of The Wake" – Lamb Of God, "Greatest Hits of Michael Jackson", and "Metal Works" – Judas Priest.
6. What's your take on the current state of Thrash Metal?
Thrash seems like it's going pretty strong, from heavy weight bands like Testament and Death Angel releasing some awesome recent material, to smaller bands, keeping the local scene alive and kicking.
7. What's the current music scene like in England, both locally and country wide?
There's a huge metal scene in Manchester (about an hour's drives away from where we all live) we've played various venues there a bunch of times, and it's always a great night. Country-wide, our music scene is pretty great too. We have a bunch of big festivals, like Bloodstock and Download, that always draw huge crowds, as well as an enormous number of smaller festivals, and weekender events. It feels like every city, or large enough town, has there own local festival going on once or twice a year, so there's plenty of places to play.
8. What's your take on legal/illegal music downloading?
Downloading/streaming makes it easier for the audience to access your music, which is obviously pivotal in being a successful artist, but it also takes a lot away, in terms of making any money, for the artist, which is why I see so many bands focussing more on T-shirt and merch sales, to generate their income. I feel like there's a lot of, I guess, purists in the metal scene, that prefer to buy CDs to listen to, instead of streaming, cause they feel like by doing so, they're helping to support that bands that they like. None of us in the band use Spotify, for example, and I personally prefer to go through YouTube checking out people's music videos, when I'm searching for new music.
9. What's next for Bloodmores?
We're always working on new music, and we're currently aiming to be back in the studio, recording some new tracks, within the next few months.
10. Any shoutouts?
Thanks to everyone that's been to one of our shows so far, and everyone that's bought an album, or some merch, from us, especially those in other countries. It's awesome to see our music being enjoyed around the world.