Scarlet Desire talks about their unique Symphonic Metal sound, the music scene in Finland and much more.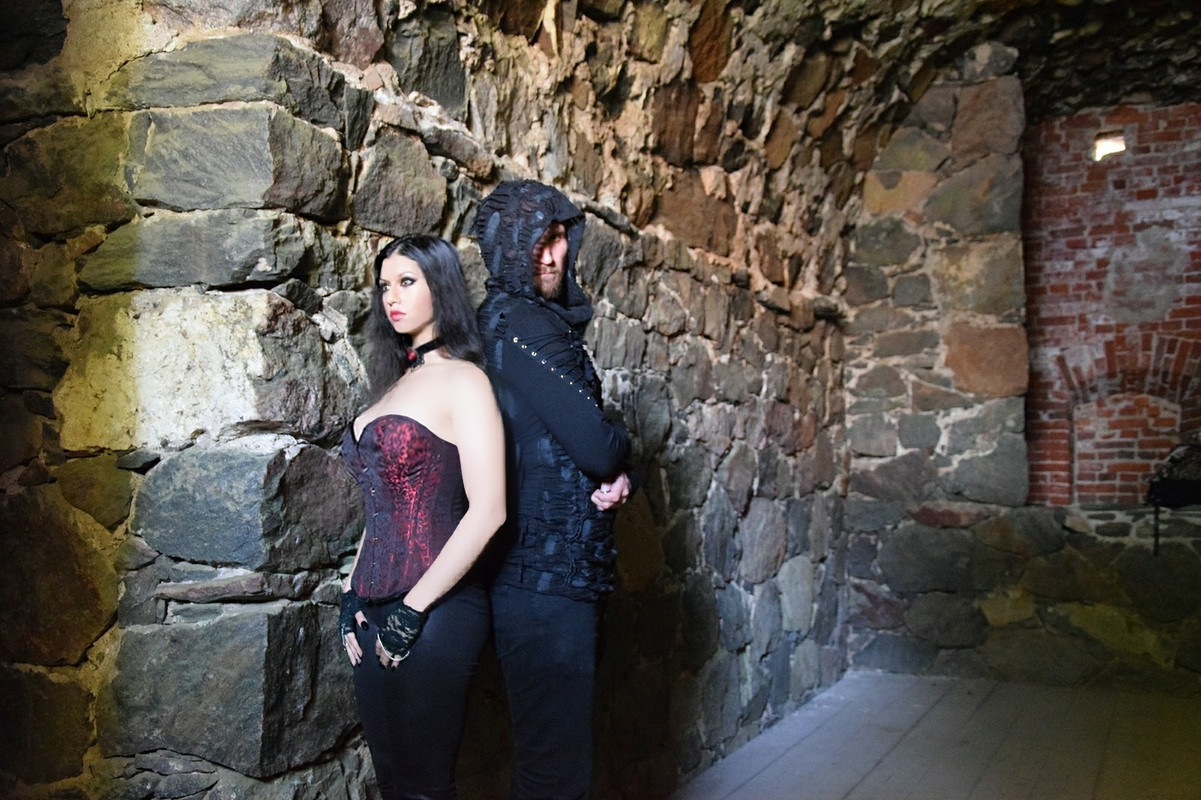 www.facebook.com/scarletdesiremusic
From: Finland/Greece
Sounds like: Symphonic Metal
1. How did you get started with music and how did you develop your sound? Who thought of the name "Scarlet Desire" and is there any meaning behind it?
Esa: I started to play guitar when I was about 12. Later I also learned drums, keyboards and bass and I played in many local metal bands with different instruments. Later I played keyboards on couple albums which also had a recording contract. Then in 2011 I started to develop, study and learn to do things more and more professional. All that studying is still going on, but now I feel like I'm ready to do music in a great quality and sound. We both like gothic romantic and orchestral symphonic metal, so our sound just developed from those influences. Also recording instruments at the legendary Astia Studio with an amazing sound engineer Anssi Kippo in Finland helped to develop unique sound.
Danae: Our music praises the significance of love and internal power, courage and determination. The inextinguishable desire to achieve your goal is the only path to success. Nobody else is going to fight for your happiness if you don't. It's more than a right. It's a responsibility for every human being. Face your fear, don't bury it. Your weapon to fight it is your love for what you want to conquer. Your lance in the battlefield of life is your own and personal SCARLET DESIRE.
I got inspired to use the colour Scarlet in our band name from the song A Dream of Scarlet Nights by one of my favourite bands "Siebenburgen". The song contains one of the most passionate and evocative pieces of dark literature encountered in metal music today and describes to a great extent the overall aesthetic of SD. Scarlet is also a royal colour and that serves a purpose too: we should be treating ourselves and desires with respect, give them the #1 place in our lives, without let anyone else lead them instead of us.
2. What do you want people to take away from your music?
Esa: I believe that our music has a lot of feelings and emotions and people feel it too. I would like listeners to feel hope and inspiration and in general have a good feeling listening our music.
3. How would you describe your sound to the average listener?
Esa: I would say that it's powerful, orchestral, epic and gothic metal music with opera and growl vocals. Sound is dark and mysterious and melodies are beautiful.
4. Who are three bands you'd like to tour with?
Esa: Nightwish, Epica or Sirenia would be a dream come true!
5. How has Covid affected what you do as a band?
Esa: We couldn't work together in the same studio with Danae last year at all, so Danae had to record vocals in Greece in another studio, and of course it was more difficult than doing it together. Also everything else we have been doing for our new song had to be done over the internet.
6. What's your take on the current state of Symphonic Metal?
Esa: I think some of the biggest bands in the genre are becoming old and might already be past their best times, and some have broken up etc. But I have seen a huge amount of female-fronted (symphonic) metal bands come from all around the world these last years and I think the genre is doing great. So I'm hoping that maybe we can soon find some legendary bands grow from all of these bands that there are.
7. What's the current music scene like there in Finland/Greece?
Esa: Music scene in Finland has always been really good, especially in metal music. We have more metal bands per capita than in any other country in the world! But now because of pandemic concerts and festivals have stopped. So bands have not been so active I think. But I think many have taken this opportunity to write a lot of new material and we will see a big wave of concerts and new albums soon after the pandemic. The music industry is not doing great, however. I hope many companies will survive through this time, otherwise it will be hard to come back to normal later if many companies that used to organize concerts and event have went bankrupt.
8. What's your take on the royalties that streaming services pay out to artists?
Esa: Well, looking at the facts and numbers, of course royalties are very low. We got about 8500 streams on Spotify during the 2020, and it translated only to a very low amount of money compared to the costs to finish the song. I mean it's not even anywhere close. And same seems to happen with our second single. Hopefully our new merchandise store would create some revenue to help cover the costs for all this. So of course it's unfortunate and difficult but we are working all the time to get more playlist placements etc.
9. What's next for Scarlet Desire?
Esa: We started to work on the next songs. Hopefully it won't take so long as this previous song, and we could release more songs than one next. Other than that, we are working a lot on advertising and marketing now since we have 2 great singles out.
10. Any shoutouts?
Esa: We would like to thank everyone who helped us to finish these first 2 songs in this way, it has been a great journey so far! We also got compliments from Plamen Dimov, who has been considered the "father" of the band Nightwish. He worked with Tuomas Holopainen and Tarja Turunen in the 90s when Nightwish was beginning to make albums. Also thanks to all fans, radio stations and blogs who supported us so far!