Desert Raiders talk about their unique Metal sound, the Portugal music scene and much more.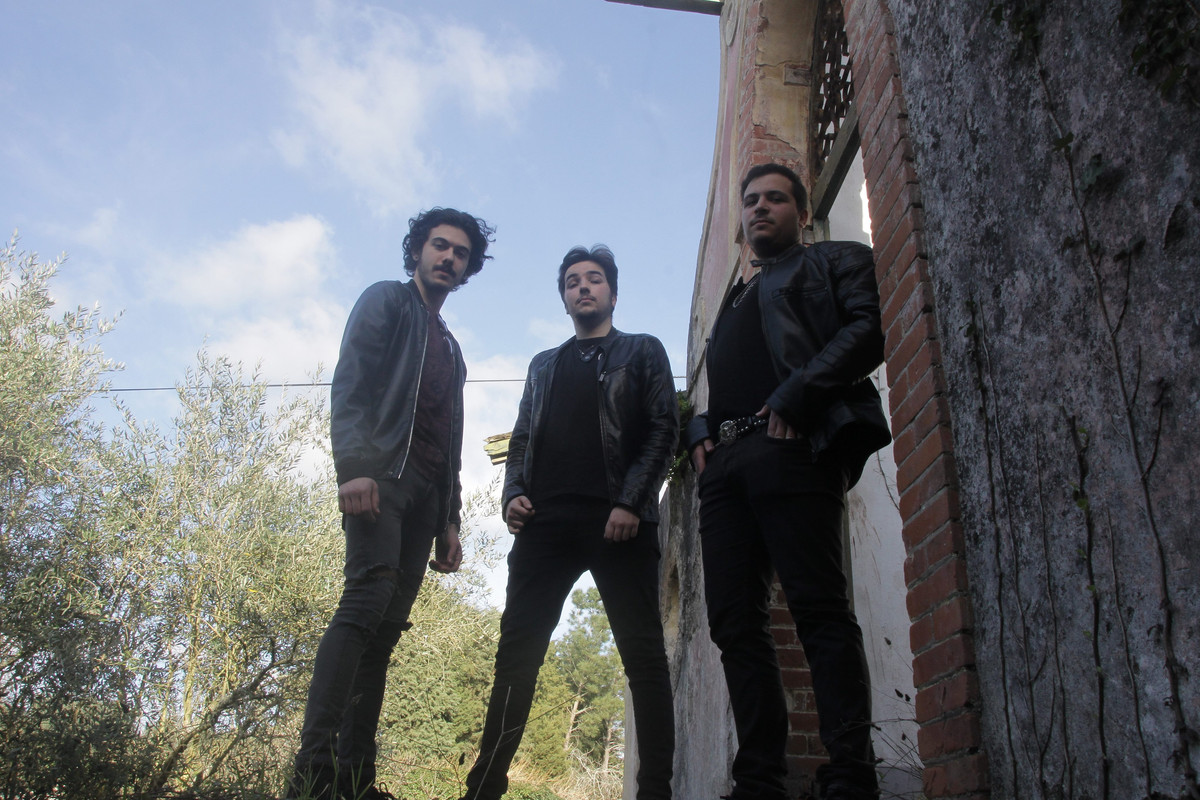 www.facebook.com/desertraidersband
From: Portugal
Sounds like: Metal
1. How did you get started with music and how did you develop your sound? Who thought of the name "Desert Raiders" and is there any meaning behind it?
Henrique is the most instructed from the three of us, he has a musical upbringing, his parents are musicians, and he went to the conservatory for years where he pick-up the drums, learned musical theory and a lot of other musical related things, music has always been a part of his life since he was a baby. Daniel B. started by being forced to play the guitar by his father, soon he fell in love with the instrument and he then enrolled in a folklore group to play the guitar. His uncle had a rock band which made Daniel B. even more interested in music and wanting to be in a band, then when he joined forces with Henrique, who he met through mutual friends, he started singing out of necessity. Daniel D. started by playing guitar for fun and when he met Henrique, through a friend, he was invited to a rehearsal as a bassist, something he didn't have nor knew how to play. He got one and started playing, then the band was finally complete. Our sound developed by the juncture of the different musical inspirations of the three of us, the blues and classical rock of Daniel B., the jazz and prog vibes of Henrique and the stoner, nu metal vibes of Daniel D. made the basis of the sound.
The name Desert Raiders was an idea by Daniel B. who at the time was playing the game Rage, a post-apocalyptic Mad Max like videogame. There's no big meaning around it besides sounding cool.
2. What do you want people to take away from your music?
We want mostly to give people a good time. We like to tell stories and we want our music to tell a story, we want people to use our music to escape from reality and experience different worlds...one song might not be a full story, but if you connect a bunch of our songs, a story will appear. Expect us to dabble in some deeper philosophical stuff during our discographic career but we will keep the story telling present has that is one of our objectives.
3. How would you describe your sound to the average listener?
Our sound is a mix of a lot of things, our sound is mostly a mix of prog metal, stoner metal, and nu metal but there's a lot of blues and jazz vibes on our sound. Lyrically we are all inspired by science fiction and post-apocalyptic media, we do like to touch on some other topics like philosophy, psychology, politics and religion usually by creating stories and worlds inspired by those themes. This is the reason why we gave the name of wasteland metal to our sound; we grabbed parts from our favorite genres and blended them together with a post-apocalyptic theme. Giving a name to our sound gives us freedom to keep innovating and changing our sound at will without rubbing some feathers.
4. Who are three bands you'd like to tour with?
That's a hard question…for our decision we are going to choose bands whose fan base would probably be interested in our sound. So…Mastodon, Tool and Breaking Benjamin.
5. How has Covid affected what you do as a band?
Covid has been a mixed bag for us…The pandemic made live shows completely impossible, and the restrictions have been a huge roadblock for us, we haven't been able to go to the studio much which has slowed down our current plans and made rehearsal impossible at times, but not everything has been bad, the pandemic gave us more time to perfect our ideas and it gave us new ones that we have been working on. It has helped us evolve as musicians, and as humans.
6. What's your take on the current state of Metal?
That's a hard question… Metal is getting more and more relevant because of the current world state and the pandemic gave a lot of ideas for music, which has resulted in some amazing albums both from established artist has from newcomers to the scene. On the other hand, Metal is a genre that needs live events, and with covid, that hasn't been possible. Metal is in a very good place but when live shows come back it will be even better, for everyone.
7. What's the current music scene like there in Portugal?
The music scene in Portugal at the moment is dead…covid killed live shows, there's barely any support to culture in general in the country. The only way artists can get revenue is by publishing new music. Besides that, it's impossible to make any type of money, there's no government support and every single venue and bar is closed…it's a really dicey situation. People who do any type of art fulltime are worried with how they are going to pay their bills…things are bad.
8. What's your take on the royalties that streaming services pay out to artists?
Well, it should be higher…It's getting better, and as more streaming services start popping up the better it will become. One of the worst offenders, it's Spotify, it's one of largest music streaming services and the amount they pay to artists is very small…YouTube is even worse, considering they are the biggest streaming service in the WORLD, the royalties the artists get are pretty ridiculous. The revenue from streaming services right now can't be the main revenue from music, it's not a big enough amount to make a life of, they are just a plus. Music on streaming services is more for getting fans than getting money per say, merch and concerts will stay the main money maker for a while.
9. What's next for Desert Raiders?
Our main objective is to keep on launching more music, we would like to launch our first album by the end of the year, we will see if that will be possible or not. We want to get back on stage as soon as possible and starting touring again. Expect news soon.
10. Any shoutouts?
We want to shoutout Luis Bastos aka LustSoul, he is such an amazing person to work with, we recorded our single on his studio and he mastered our songs as well. He is a great artist too if you like soul music check him out. We want to shoutout our families and friends as well, for all the massive love and support that they have been given us, and we would like to shoutout you, From The Depths Entertainment, for seeing potential in us and giving us a hand to help us grow.