Elektrik Reign talks about their formation, the current state of Rock music and much more.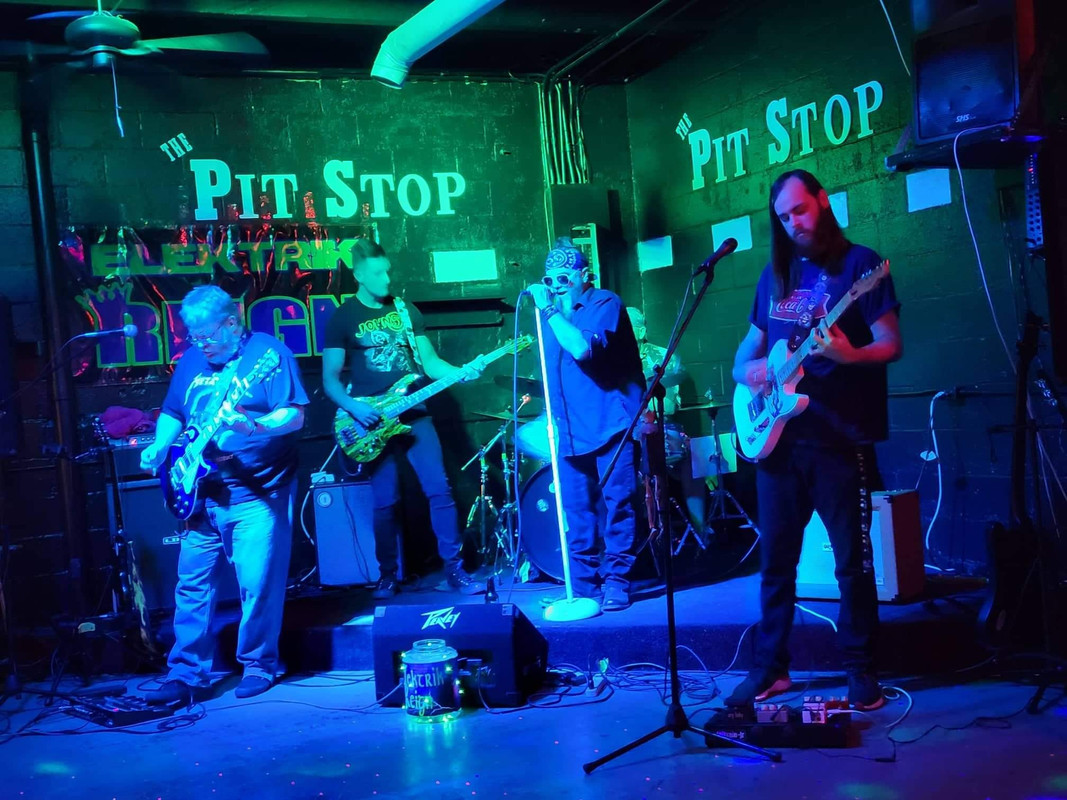 www.facebook.com/ReignElektrik
From: Kentucky
Sounds like: Rock
1. How did you get started with music and how did you develop your sound? Who thought of the name "Elektrik Reign" and is there any meaning behind it?
Interesting enough, Phillip, Andre and Michael all knew each other already through the education system as Andre and Michael were former students of Phillip's in school. After attending a Judas Priest concert together shortly before Covid-19 hit the scene, Phillip and Andre started jamming together and it quickly became apparent that there was some serious musical chemistry going on and that other people with the same musical passion were needed. Michael and Alan were brought in the musical mix shortly thereafter and it was quickly obvious that something special was brewing. Phillip already had loads of musical ideas available from a previous band he fronted, so it didn't take long to build a quickly growing catalog of great original songs. Keith was brought in to audition and was totally blown away by what he heard and immediately filled the final piece of the puzzle.
The band name needed to be made of words that didn't normally go together, but could have multiple meanings and rolled off the tongue easily. After an extensive search, the original name Electric Reign was liked by all, but when Alan suggested changing the "c"s to "k"s, eerily similar to Motley Crue adding umlauts to their name, everybody knew they had a keeper in Elektrik Reign.There's a storm coming. Prepare for Reign. ELEKTRIK REIGN.
2. What do you want people to take away from your music?
That great original music is what really matters. Elektrik Reign prides itself on making songs that are original and have passion behind them. You don't have to follow a certain trend or style of music to be happy or successful. Just like all bands, Elektrik Reign draws inspiration from their favorite musical influences, but you have to follow your own path when creating music that matters. One of Elektrik Reign's greatest strengths is that all of their band members have very different musical backgrounds and that is what helps make their music stand out. The ability to put egos aside and work together is the secret ingredient to making great music.
3. How would you describe your sound to the average listener?
Elektrik Reign is like taking a high-energy band from the 70's and fusing it with elements of blues, funk, prog and metal. Your ears undergo a sonic assault as you are treated to thundering chunks of riffage, ever-changing drum styles, tasteful sonic solos, multiple tempo changes, beautiful background guitar harmonies and tasty, soulful vocals song after song after song. It sounds like nothing else out there in the musical universe.
4. Who are three bands you'd like to tour with?
That's a very difficult question to answer as a lot of the bands that have influenced Elektrik Reign's members are no longer playing, but there's no doubt that Elektrik Reign would be completely happy and comfortable opening for the Red Hot Chili Peppers, Tesla or Judas Priest. All three of these bands embody the passion and commitment to musical originality that Elektrik Reign values so much.
5. How has Covid affected what you do as a band?
The Covid-19 pandemic has been oddly helpful in Elektrik Reign's development so far. Not having to worry about doing public shows while everything was shut down allowed them an abundance of practice time to work on the music, so when the public venues finally started to re-open, they possessed a 30+ song catalog of songs to choose from for playing at live venues. Elektrik Reign is a band completely comfortable at handling a venue by themselves as well as splitting a bill with other artists.
6. What's your take on the current state of Rock?
Rock is as strong as it's ever been. The sheer amount of talented artists and bands that are out there trying to bring exceptional music to the masses are amazing. You can find immensely talented local bands in cities and towns just about anywhere in the United States, not to mention world-wide. While rock and roll has lost a lot of names and bands in recent years, their legacy lives on in the spirit and dedication of the next generation of bands picking up the rock and roll banner. The names may change, but the spirit of rock will always live on. It's an exciting time to be a rock and roll band!
7. What's the current music scene like locally there in Kentucky?
Kentucky is a hotbed of musical talent just waiting to explode. There are numerous bands that have energy, passion and a great sound. Like all bands, the only way to build your own brand is through performing live shows and to put the music out on social media so people can hear it. Not being particularly close to a large major market city like Louisville makes it more difficult, but it's a challenge that is gladly accepted. Elektrik Reign is currently available on most digital platforms and has multiple shows ready to go, so they are ready to get back to work bringing serious rock and roll to 2022 and beyond!
8. What's your take on the royalties that streaming services pay out to artists?
Most people would argue that there's not enough money paid to artists by streaming services, but that's just one facet of the building process. If you expect to build a rock and roll band that lasts solely through social media, you're missing the point. People respond to the music best when it's right in their faces. Playing live is and always will be the best way to spread your musical message. People want to make a connection to a band and seeing your favorite band live provides a deep and lasting connection that you just can't buy online. Imagine taking away all the stories that we tell each other about the show that you saw at a certain place in a certain year when you were a certain age. Rock and roll is about the total experience of hearing AND seeing and feeling the music down to your bones. Making money is necessary, but making the music and delivering it live is what it's all about. That is exactly what Elektrik Reign does best. Come catch the Reign. ELEKTRIK REIGN.
9. What's next for Elektrik Reign?
Elektrik Reign has already released 2 four song demos - Demolition and Elektrikution, both of which are available on all digital platforms including YouTube. They are scheduled to go into the studio in late March to do a 3rd four song demo, after which the plan is to remix and remaster all the tracks for a full album length LP. In the meantime, Elektrik Reign is busy gearing up for the upcoming 2022 live show concert trail and are currently at work putting together even more new material for all their fans..
10. Any shoutouts?
Elektrik Reign wants to thank all the music fans that have listened to our music or have been lucky enough to catch us live at a show. We love playing live and we are always ready to throw down, whether it's for 1 person or a hundred people. You are the reason we do what we do. If you want to hear some of the best original rock and roll music you're ever going to hear, bear witness to the storm that's brewing. ELEKTRIK REIGN…