Verdegree talk about their sound development, the Boston music scene and much more.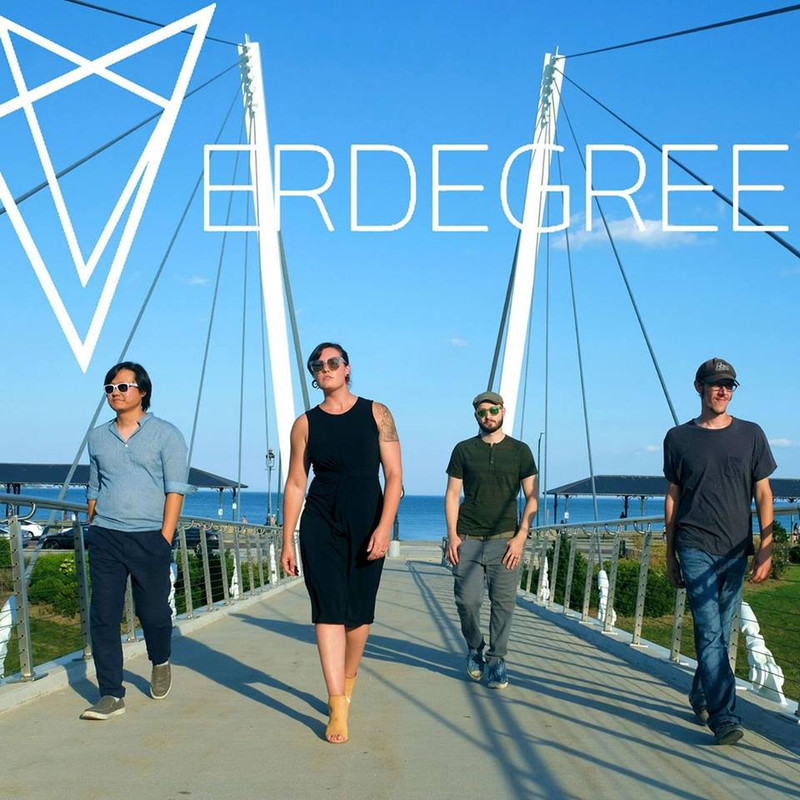 www.facebook.com/verdegree
From: Boston, MA
Sounds like: Rock
1. How did you get started with music and how did you develop your sound? Who thought of the name "Verdegree" and is there any meaning behind it?
After studying Upright bass performance in college, I (Elisabeth) started out playing as a sub and session musician on electric and upright bass. I ended up entering and winning a songwriting contest for a studio in Boston... and got the rare and exciting opportunity to record a 6-song EP at Plaid Dog Recording. I had a collection of songs written from years past and decided to follow my dream as a songwriter and record this EP.
After the release of the EP, I realized very quickly that I loved performing MY OWN music and quickly assembled a band to tour the EP songs. Over the course of the next year, the band Verdegree was formed (complete with a name change from "Blue&Green" to Verdegree... the name "verdegree" stemming from the word "verdigris"...meaning the blue/green color that appears on oxidized copper.). Marc (guitarist) thought of the name... and I changed the spelling to reflect our dynamic and unconventional way of musicing. Our sound has come a long way from singer-songwriter to innovative, unique, and uncommon. We pride ourselves in our ear-catching sound. We're never satisfied with staying in the lines of one genre.
I think our sound really developed from the blend of musicians who are currently in the band and their separate musical backgrounds.Jungo, our drummer studied new orleans jazz, Shawn (guitar), Marc (guitar), and myself (bass/vocals) actually all studied bass in college.. so that's an interesting dynamic there...haha.
2. What do you want people to take away from your music?
"I've never heard something like that before... and I want to hear more."
3. How would you describe your sound to the average listener?
Strongly melodic with a dark but warm essence.
4. Who are three bands you'd like to tour with?
Oh man... there are too many.
5. What are your three desert island albums that you'd never get tired of listening to?
1) Minus the Bear: Omni
2) The Wood Brothers: (any and every album)
3) The Dear Hunter: The Lake South and the River North (Act I)
6. What's your take on the current state of Indie Rock?
I think I like where it is heading. Almost like the 80's and 90's are coming back to haunt and reinvent.
7. What's the current music scene like there in Massachusetts both locally and state wide?
The Boston music scene is diverse and interesting. There is a wide range of experiences you can get as a performer and a listener. I've found that musicians are generally super driven in Boston and there are certain venues that illuminate one genre over another. As a band, its your job to find a venue that gels with your band and you can mutually support each other. I think Boston is really good about knowing their audience in each club and forming partnerships with the bands that support their vision.
8. What's your take on legal/illegal music downloading?
I always support other artists and I hope people will do that for us. I'm not going to yell at anyone, but seriously: Musicians put blood, sweat, tears, AND a lot of money into their music, production, recording, booking etc. Spend the $1 and show people you appreciate their work.
9. What's next for Verdegree?
We're recording a single in November! (at the Bridge Sound and Stage studio in Cambridge)
10. Any shoutouts?
Thanks to Stencil Magazine for helping us promote our upcoming single...Thanks to The Bridge Sound and Stage for recording our single... and thanks to Plaid Dog Recording for pushing me (and us) out of the nest and starting the musical journey that is Verdegree.