La Need Machine (Pop/Rock) - Washington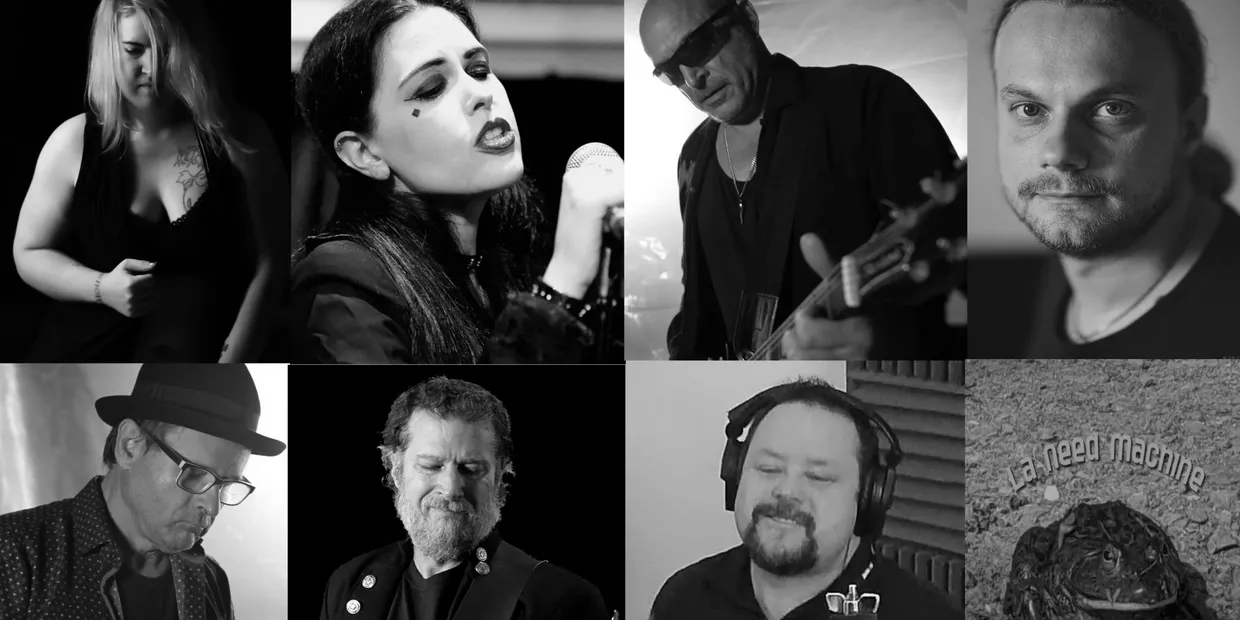 La Need Machine grew up in the Seattle area and developed a unique but classic Northwest sound and ethic. We rock hard and we work hard, and we have a good time doing it!
La Need Machine has decided to donate proceeds from our videos and streams to charities that help people in our community and around the world. Charities we are currently supporting with our music and videos are:
The Trevor Project
National Alliance on Mental Illness (NAMI)
Mary's Place Emergency Family Shelters
American Nurses Foundation
Tetiaroa Society (Marlon Brando's non-profit)
Childhaven
La Need Machine have been influenced and inspired by musicians and bands from a diverse spectrum of genres and eras. We are inspired by bands that have aimed to make a statement and make a difference in the world like the Clash and U2. We are influenced by the Seattle sound, original rock and roll artists like Eddie Cochran and Chuck Berry, 60s and 70s rock bands like The Who and Led Zeppelin, seminal punk bands like Generation X, and punk and roll bands including Social Distortion. This leads to a mash-up sound that one reviewer called a fusion between the Sex Pistols and Led Zeppelin. We'll take that as a compliment!
La Need Machine live to play live music! With music clubs reopening and the Covid situation improving, La Need Machine are ready to get back in front of audiences.
"Carly's Revenge" EP Review
"The Things I'd Do" cranks right in builds a nice tempo right away. The riffs and melodies are on point and have a bit of Fuzz Rock to them. The track is extremely catchy along with its excellent guitar solo and helps build that solid foundation as an opener. "I've Had Enough" picks up the pace even further and brings with it a touch of The Ramones with its riffs. The vocals keep up with the frantic pace perfectly throughout its shorter two and a half minute runtime. The track overall has that high energy that the live crowd will eat up. "Motorstrollin'" takes the old school Rock sound and runs with it. The pure Rock instrumentation is in the forefront on the track and it's full speed ahead. "La Need Machine" has a nice steady Rock flow to it as it glides along a Modern Rock path. The chorus soars with extreme confidence and melody and shines bright with its delivery. "The Right Side" wraps up the EP nicely with its solid Rock core. The track is a true gem of a closer as it summarizes everything that the band has to offer in a nice tight polished package.
Verdict:
La Need Machine let their Rock flair loose with their newest EP.
-Interview- (2/2/22)
1. How did you get started with music and how did you develop your sound? Who thought of the name "La Need Machine" and is there any meaning behind it?
It's what happens when you grow up in Seattle – you play music! We've always had such a cool music scene, such an incredible history of music, and it's really egalitarian. You could hang out in the local clubs and rub elbows with all these great bands like Foo Fighters. The ethos is such that everyone is encouraged to form their own bands. So, we did. We've been influenced by a wide variety of music, from original rock and roll like Chuck Berry, to 60s and 70s bands like the Animals and Led Zeppelin, to UK and American punk like the Clash and X, to grunge and post-punk. And, of course, we've been influenced by the "Seattle" sounds. I say "sounds" because, yes, Seattle has always had some of the heaviest bands around. I think that comes from a lot of overcast skies. Think bands like The Sonics, Jimi Hendrix, Heart, Nirvana, Foo Fighters, Pearl Jam, Sleater-Kinney.
But Seattle also has an amazing array of more indie, pop, and neo-folk bands, such as The Ventures, The Fastbacks, The Presidents of the United States, Death Cab for Cutie, Modest Mouse, and Fleet Foxes. The other great thing about living in Seattle, is every international touring band comes through, and particularly West Coast bands like Social Distortion and Rancid. So, we got to hear and see a lot of great bands from around the world live.
It was really a band thing. La Need Machine the name represents greed, avarice, deceit. Since our band is dedicated to raising money for important social and societal causes—the opposite of greed--we thought it was a great counterpoint name for what we are about. Plus, we think it sounds cool!
2. What do you want people to take away from your music?
First, of course, we want people to rock. After that, we want them to hear our message that everyone can make a contribution to positive change. We know we are just a rock and roll band, but we are currently dedicating the money we make from our videos and streaming to charitable causes, including: Mary's Place Emergency Family Shelters; The Trevor Project; National Alliance on Mental Illness; the Tetiaroa Society; American Nurses Association; and Childhaven. Last month, we gave a check for $1,278 to Mary's Place to help homeless women and children. We will be giving checks to the other charities as the year goes on.
3. How would you describe your sound to the average listener?
We have the heavy sound you'd expect from a Seattle band. But we also have some more indie sounding stuff. At heart, we see ourselves as a rock and roll band. We have been told we sound like a mix between Led Zeppelin and the Sex Pistols. We'll take that.
4. Who are three bands you'd like to tour with?
The Struts – not only because they're a kick-ass band, but because it seems like it would be really fun to hang out with Luke Spiller!
Foo Fighters – not only because they're a kick-ass band, but it would be fun to tour with a super successful Seattle band.
Social Distortion – simple: They are legendary!
5. How has Covid affected what you do as a band?
Like for everyone else, it has killed our opportunities to play live shows. So, we just keep putting out music and videos and wait for Covid to settle down. At least when we do get back to playing live, we'll have a better set list!
6. What's your take on the current state of Rock?
We don't think it's ever been better. There are so many great new rock and roll bands to go with the Legacy bands that continue to put out great new music and great live shows.
7. What's the current music scene like locally there in Washington?
The music scene is starting to recover from Covid. The clubs are starting to have shows, and touring bands are coming through. The question of whether there are great local bands is never a question – there always are. Have you listened to Thunderpussy??!!
8. What's your take on the royalties that streaming services pay out to artists?
The streaming services are a double-edged sword. They definitely allow new bands to get their music in front of many people that otherwise would not hear them. But it's really hard to make a living off streaming services unless you're a big band and get millions of streams.
9. What's next for La Need Machine?
We've brought on an additional member who is an absolutely incredible singer. She, Dawn, is really going to knock the socks off people. We're working on our next EP to be titled "Carly's Return." Get out of the Covid fog and get back to playing live shows!
10. Any shoutouts?
Yes, we'd like to make a shout out to our video producer, Ryan Vergara, from Phantom Zone Films. Ryan does an absolutely amazing job with our videos. You can check him out at:
www.phantomzonefilms.com