Saving Seles (Pop Punk) - Oklahoma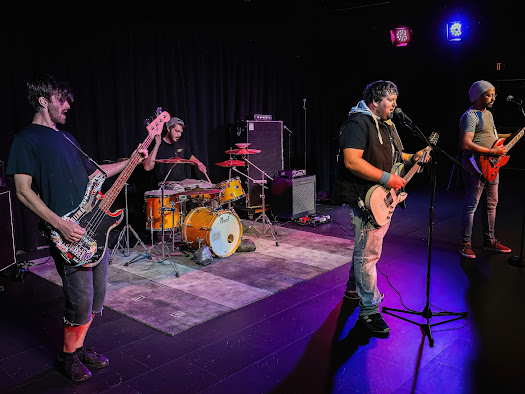 Saving Seles is a 4-piece Usa Pop Punk, Emo, Screamo, Rock band from Seminole, Oklahoma. The band formed in 2020 from a collection of super nerdy, sticker lovers, who met in the most random ways and who all just couldn't get enough Alkaline Trio, Silverstein, New Found Glory, . Their unique brand of entertainment fuses Happy Melodies, with metalcore undertones and hard hitting riffs and lyrics to match with energy from start to finish and song titles that you'll never understand that will make you want to bounce like it's the 00's again!.
-Interview- (11/15/23)
1. How did you get started with music and how did you develop your sound? Who thought of the name "Saving Seles" and is there any meaning behind it?
Brandon: Saving Seles was formed amid the pandemic. This is a band we started because our music always had pop punk vibes and felt unrefined so we finally let the pop punk naturally take it's own shape. We are all gamers to some extent and the name was actually inspired but a village in an old RPG from the PS1 days.
Matt: I grew up watching people in my family play some sort of music my whole life so I picked up anything I could at an early age and taught myself how to play, As for the name of the band, it comes from a video game, we just thought it sounded cool.
Chris: I started with piano at a young age, stuck with it for a while but wasn't for me. Eventually moved onto guitar in my teens and never looked back. My sound is still developing but mostly came from Post Hardcore and Metalcore genres. The name "Saving Seles" is a reference to a town in a game called Legend of Dragoon for the PS1. The irony being it's a town you have no chance of saving.
Devin: I've always been driven towards music, for as long as I can remember. Especially when it came to bass, and when someone put one in my hand. That was it.. Saving Seles was the final result of a complete transformation from the band we once were.
2. What do you want people to take away from your music?
Brandon: That no one is alone in life if we have music and that being yourself is more important than being who someone wants you to be.
Matt: Hopefully positivity, I want it to be able to help and maybe inspire listeners to pick them selves up cause everyone's more than capable in their own way.
Chris: I believe people really enjoy how diverse and catchy our songs are. Most of the time I hear things like oh the vocals are on point and hey those lyrics are catchy!
Devin: I want people to be able to let it out when they hear our songs. I want us to make people move, I want us to make them scream!
3. How would you describe your sound to the average listener?
Brandon: Music about being yourself and loving yourself even though we all go through hardships in life we can overcome anything. Genre wise I'd say Pop Punk nostalgia from the 00s era with a Metalcore twist.
Matt: Pop Punk with a slight Metalcore influence.
Chris: I would say we sound like a Pop Punk/Rock band. If you like the sounds of early to mid 2000's music we are right up your alley.
Devin: Fast paced Pop Punk, Emo, Rock band. That might make you cry.
4. Who are three bands you'd like to tour with?
Brandon: Alkaline Trio, Hawthorne Heights, and Armor For Sleep.
Matt: Alesana, Silverstein and Hawthorne Heights, I feel like those would be a good fit for the genre.
Chris: I would be down to tour with people like Silverstein, Settle Your Scores, and The Devil Wears Prada.
Devin: Story of the Year, Underoath, and A Day to Remember.
5. How has Covid affected what you do?
Brandon: As a band we were stuck at home with no shows to play and if you did play a show you got shamed for it. It was a depressing time but we really just relied on one another to get through it. I dont think they realize how much they helped me personally get through it just by consistently hanging out at practice. It has also been hard to get people to get out and come to shows again but I think things are slowly returning to normal.
Matt: Became very lazy for a good minute there cause nothing was going on, getting back into it has helped a lot though!
Chris: It essentially changed what we did. During COVID we had no shows and had just had our vocalist quit so we had to fine tune being a 4 piece band. I feel it honestly changed us for the better all around.
Devin: I hadn't been in a band in over a decade. And the band never had a reliable bassist. I literally joined the band in early 2020, at the peak of the pandemic. So we weren't able to do much, but I was grateful for what ever I could get. It changed us all individually and as a band. New name, New genre, New line up, New us.
6. What's your take on the current state of Pop Punk?
Brandon: It seems that Pop Punk is on the rise again but to be honest if you've followed great Pop Punk bands consistently it never really went away. I do wish it was more like the Pop Punk we grew up with and less featuring Rap artists and stuff to try to appeal to the "it" crowd. That's not what Punk is about lol.
Matt: I see it currently rising back up the charts little by little so I'd say it's fairly okay!
Chris: This may not be a popular opinion, but I feel music as a whole has just gotten a bit stagnant. It feels like old bands I used to listen to have taken the easy way out to crank out albums and newer ones are just following suit as it is what seems to work for the big dogs.
Devin: Obviously it wasn't a phase.
7. What's the current music scene like there in Oklahoma?
Brandon: The Pop Punk/Rock/Alt scene is great! This has been the most welcome I've ever felt in our state playing music. I've been in Metal bands in the past and it was always a pissing contest where as now we all work together and help elevate one another.
Matt: It's small in some aspects, I definitely would like to branch out to see new music scenes when the chance is given.
Chris: I would say Oklahoma is a very diverse place as far as the music scene goes. For a southern state like ours you would think Country music would dominate the scene, but fortunately that is not the case. We have all the genres and many who do it well.
Devin: In the past it felt very toxic. Everyone was in it for themselves. But a decade later. It's the exact opposite. People working together and supporting one another for the sake of the music. It's a beautiful thing!
8. What's your take on the royalties that streaming services pay out to artists?
Brandon: Music is no longer a career for most musicians unfortunately and it's because of the convenience of streaming media. Livable wages off of streams is kind of a pipedream.
Matt: Not enough, artists work really hard for they are trying to accomplish and barely get anything back, at this point, if you're in a band, it better be for a passion and not the money because even huge bands in today's world still don't make enough to make ends meet.
Chris: I unfortunately am still new to this side of the scene so I have no strong opinions on how this works.
Devin: Spotify tries to pretend to be for the artist. Meanwhile they file lawsuits that do the opposite.. There have always been those who make money off the talents of others. But with the way technology and creativity have evolved. Artists have more control than ever. Which I think will continue to shift things in our favor over time.
9. What's next for Saving Seles?
Brandon: Release our EP then finish up writing more material and hopefully take it on the road!
Matt: Hopefully looking forward to some touring and branching out and meeting new people and playing new places.
Chris: We will be looking to hit the studio hard and release a few new tracks, eventually leading to an EP, not to mention getting some delicious merch together for our growing fanbase!
Devin: We have our second single that will be dropping soon! Then it's back to the studio. And releasing some merch!
10. Any shoutouts?
Brandon: Thank you to my family and friends that have all stood by me.
Matt: My dudes in Fragmented Tranquility and Oceans Above, those guys are really dope!
Chris : To my wife and kids, for supporting me every step of the way!
Devin: I want to thank the other 3 members of my band, for giving a has been a second chance.