Now Its Dark (Rock) - Illinois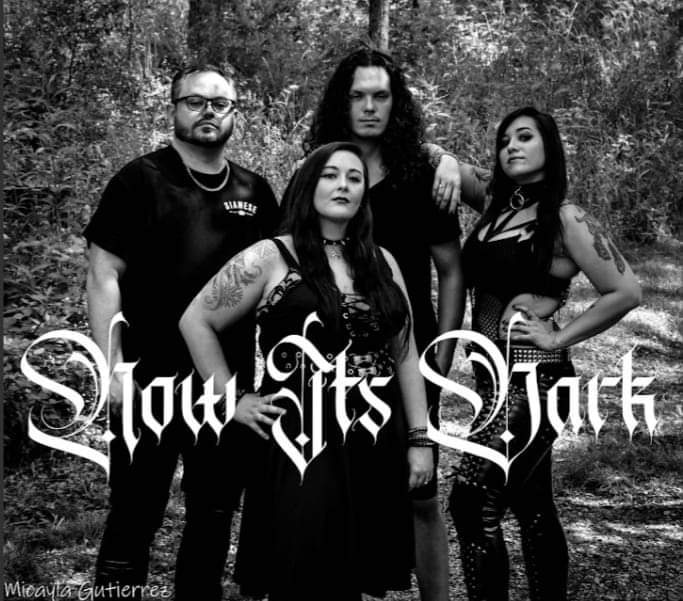 Instagram Page
Hailing from Chicago, Illinois, Now Its Dark brings a solid rock sound with influences of Three Days Grace and Papa Roach paired with a raw sincerity to making music, it's no wonder this band has made it to the stage with bands like Icon For Hire before ever releasing an album. Now Its Dark plans to bless music fans with their first full length album, created with the help of a Grammy nominated guitarist, in October 2023 which is certain to become a fast favorite to music fans of all ages.
Members:
Frost Tayla - Lead Vocals and Bass (Album)
Chris Bryant - Guitar
Micayla Marie - Bass (Live)
Zachariah Menich (Drums)
"Stability" Single Review
The track begins right away with a Hard Rock crunch that sets the brooding tone. The soaring melodic vocals kick in and the track amps up a few notches in its intensity. The dynamic range of the vocals are top notch as the riffs swirl around to create a melting pot of heavy melody. The pacing methodically brings everything together perfectly as it's easily accessible for listeners to sing along to. With their "Notes of Agony" album set to be released on October 20 (pre-save
here
), this track sets a fiery standard for what's to come soon.
Now Its Dark builds even higher hype for their upcoming album with their blistering new single.
-Interview- (9/9/23)
1. How did you get started with music and how did you develop your sound? Who thought of the name "Now Its Dark" and is there any meaning behind it?
All of us have been in the scene for a decade or more. Music has always been an outlet for all of us. So initially the album started out as Frost and Zachariah hiring a grammy award nominated guitarist, David Wolak, to help write and record riffs while they looked for the perfect band members. Frost wanted something super catchy and modern, while Zachariah wanted something heavy that stayed closer to the roots of rock and roll and punk. Over the course of a few years they wrote and recorded many songs.David's riffs helping to marry the two sounds into the perfect mix.
The name Now Its Dark actually comes from the movie Blue Velvet. It is Zachariah's favorite movie to show someone when he first meets them. One night him, Frost, Micayla, and a few other friends were sitting around watching it while drinking, etc. The line 'Now Its Dark' is said several times throughout the movie and in our influenced state it became a running joke between us all. When it came time to name the band we jokingly said Now Its Dark and it stuck.
2. What do you want people to take away from your music?
All of the lyrics have meaningful messages behind them. That being said, we'd like everyone to take away whatever they would like. We want them to apply it to their own experiences. The best art means different things to different people.
3. How would you describe your sound to the average listener?
Catchy punk-ier style vocals with modern riffs and groovier drums.
4. Who are three bands you'd like to tour with?
Evanescence, Three Days Grace, and Sick Puppies.
5. How has Covid affected what you do?
Its made it a little more difficult to find shows. Venues have been much more particular with shows, leaning heavy on cover band shows. Theyre very worried about losing more money after struggling so much during the pandemic.
6. What's your take on the current state of Rock?
I think we need a lot more big Hard Rock/Metal bands. Bands at the level of like a Paramore, Taylor Swift, etc. Bring it back to the mainstream.
7. What's the current music scene like there in Illinois?
It depends on the area and the genre. For us Rockford, the suburbs, and just over the border of Wisconsin is where its at. The city does have a good underground scene, but we have not broken into that yet. We hope to change that soon.
8. What's your take on the royalties that streaming services pay out to artists?
This really needs to be remedied. We love streaming as much as everyone else, but the artists having to fight so hard to barely see a dime is not okay.
9. What's next for Now Its Dark?
Our debut album, Notes Of Agony, comes out October 20th. We are having a release party on the same day in Rockford at Screw City Tavern. We plan on playing a handful of shows during the winter and start writing the next album. Possibly looking at doing a small tour or a few weekend out of state runs next year.
10. Any shoutouts?
Want to give some shoutouts to The Cake Lady Podcast, Rick Soeprasetyo and the entire Rockford rock/metal scene, all our band buddies, and our friends and families for supporting us!