Agents of Strange (Punk Rock) - Australia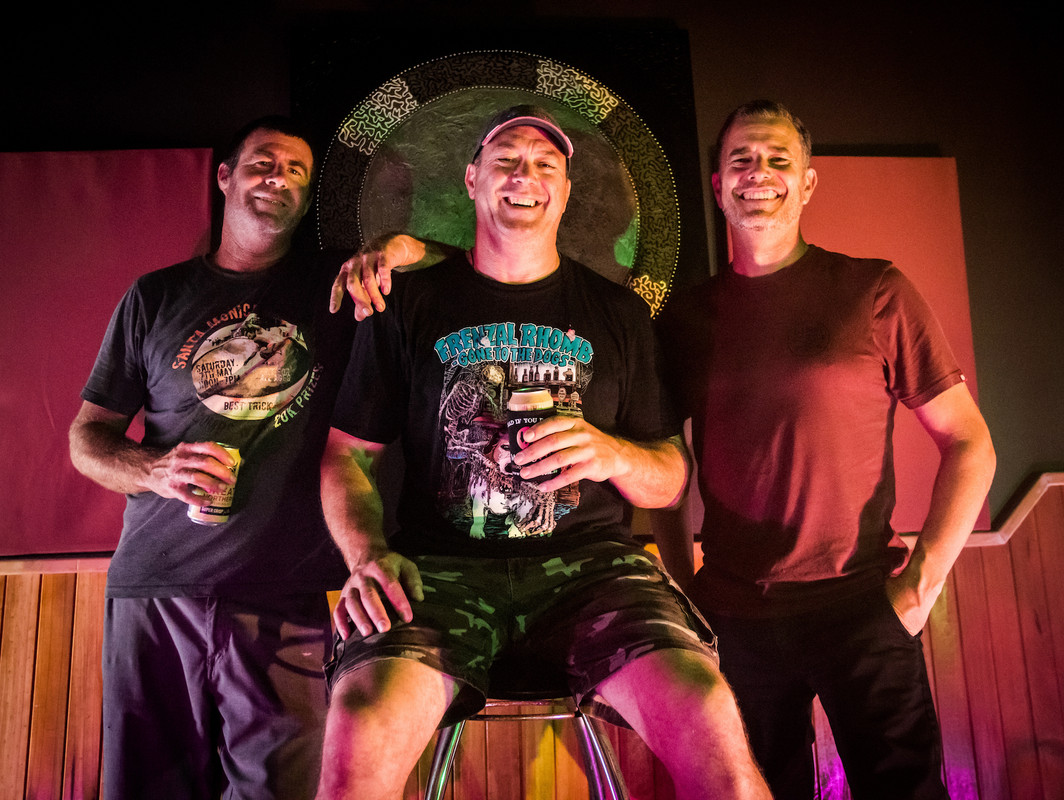 Agents of Strange, is a punk rock three-piece from Queensland, Australia. Drawing inspiration from legendary bands like Bad Religion, The Hard-Ons, Pennywise, Rancid, Dead Kennedys, Social Distortion and Motorhead, they've crafted a sonic identity that pays homage to their influences while carving out their own distinct path.
The band's roots run deep, as they unite members from two punk bands that left an indelible mark on Queensland's musical landscape in the 90's: Blister and John's Not Mad. These bands once shared stages with national and international icons such as Pennywise, Frenzal Rhomb, The Living End, Rancid, ALL, The Porkers, and Nancy Vandal. It was a time of intense energy and creative camaraderie, with the punk ethos resonating strongly in their lives and music.
Blister, having achieved the pinnacle of their success by gracing stages at festivals like Big Day Out and Vans Warped, and touring with revered international acts like Millencolin, No Fun at All, Agent Orange, Unwritten Law, and Blink 182, left their mark which has influenced many punk bands that followed. Simultaneously, John's Not Mad cultivated a dedicated following across South-East Queensland and Northern New South Wales, cementing their reputation as a driving force in the Gold Coast punk scene.
The story of Agents of Strange took a surprising turn in 2017 when Blister staged a reunion by announcing their '20 Years of Nothing' anniversary gigs in Brisbane. The two-night event sold out and not only marked a momentous occasion for Blister but also served as the spark that ignited a new journey. Guitarist and lead vocalist Pete Small, joined forces with bassist Jimmy Aspin to prepare for the reunion shows, as the other members of Blister now live in Melbourne. John's Not Mad also reunited temporarily for the shows and the reunion reignited their creative chemistry, and together they embarked on a new musical venture.
The evolution continued with the addition of powerhouse drummer Tim Ellis, known for his prowess in the New Zealand South Island's thrash metal scene. After a period of experimenting with different line-up configurations, the trio's synergy solidified, and they embraced their identity as the gritty three-piece, Agents of Strange.
The band's debut EP, Beer Crimes, released on July 31st 2021, and available on all streaming services, is a raw and unapologetic testament to their punk rock spirit. The EP features electrifying singles like "Monday Morning," "AC/GC," and "Drinking by Myself," each offering a thrashtastic sonic journey.
Agents of Strange's music embodies their commitment to punk rock, camaraderie, and embracing life's paradoxes. Their songs delve into the complexities of daily life, exploring the highs and lows, the camaraderie and the chaos. The band members approach these themes with a philosophical outlook, informed by their personal experiences.
In their own words, "live long and have fun" is the mantra. Agents of Strange continue to channel their passion for punk rock, the thrill of performing, and the bonds of friendship into a musical journey that is both compelling and evocative. As their music reverberates, they invite audiences to join them in their pursuit of unbridled, unapologetic enjoyment of life's strangeness.
-Interview- (8/21/23)
1. How did you get started with music and how did you develop your sound? Who thought of the name "Agents of Strange" and is there any meaning behind it?
Me and Pete have played in a few bands over the last couple of decades here on the Gold Coast. Sometimes in the same band or sharing stages in different ones. I was in a three-piece skate punk band called Blister and Pete was in a four-piece hardcore punk band called John's Not Mad. We shared some stages and backyard parties. Tim played in thrash metal bands in NZ before moving over here to OZ, but answered the call about four years back to play some punk rock with us when we were kicking off with the Agents of Strange. Initially as a four-piece, but eventually the dirty little three piece is what stuck. So he brings a mighty back beat to our sound.
Agents of Strange is a play on words with that corporate expression about 'agents of change', but, we're not change agents, we're strange agents, the weird dn noisy neighbours you wish would go away. We're not political, but we like to question and laugh at some of the dumb shit that goes on around us.
2. What do you want people to take away from your music?
We love making music and hanging out with friends. Pete is always coming up with new riffs and lyrics, and I bring my song ideas too. So the rule is you bring it, you sing it. We send stuff through to each other and everyone adds their piece, their style and their influences to the mix which gets blended up and spat out as the Agents sound.
3. How would you describe your sound to the average listener?
I'd say, if you like the Dead Kennedys and Bad Religion, you'd probably like our sound too… We play a fun brand of punk rock that is high on energy, rhythm and melody. It's a fast, solid sound without too many noodly guitars parts and vocal gymnastics. We're into punk, ska, reggae, metal, rockabilly, you name it, so our influences are many and that just add to the mix.
4. Who are three bands you'd like to tour with?
I think we'd like to answer this one separately because we have different ideas on this, so for me it would be Pennywise, Descendants or Millencolin. Pete said Bad Religion, Dead Kennedys or the Celibate Rifles and Tim said Amyl and the Sniffers, Slayer or Corrosion of Conformity.
5. How has Covid affected what you do?
It has heavily impacted the live music industry here in Australia and many venues have closed or are on the brink of closure, which sucks. There's loads of bands around but not many venues. On the other hand it kind of helped us get our sound together as our work circumstances changed and we got to focus more on the band.
6. What's your take on the current state of Punk Rock?
I think punk rock is an endlessly exciting genre. Bands come and go. Some seem to last forever like Bad Religion and NoFX. It's just not so popular anymore, which is fine by us. If you know 3 or 4 chords, you're good to go and eventually you get good at it.
7. What's the current music scene like there in Australia?
It's making a good comeback. There's a lot of great music about and international bands are hitting our shores again, which is awesome. So we're keen to get on some bigger shows with touring bands and get in front of some new crowds.
8. What's your take on the royalties that streaming services pay out to artists?
That's a hard one. The house always wins, I guess. For DIY bands like us, we pay money to work with good people to record, mix and master, then we pay a service to stream it on all the other streaming services and we earn a few cents when 1000 people listen to it. It's clear the percentages are not in our favour, but we do it anyway.
9. What's next for Agents of Strange?
We have a new Album coming out in September called Sink Or Swim. It's seven kick arse tracks, in my humble opinion, to get you psyched for a party, a surf or a skate.. We worked with two local legends in Benny D Williams, on the recording and mixing and Paul Blakey, who did the mastering, and we could not be happier with the result. It's an eclectic mix of melodic punk rock that is positive and energetic and a step up in quality on all levels from the first Beer Crimes EP we released a year ago. So we are gearing up to launch in September through October.
10. Any shoutouts?
Hell yeah! There's some rad bands that we rate highly and would like to thank for giving us a break like Persons Unknown, Kombi Killers, and Used Goods. They're all worth a listen or checking out live for the Gold Coast and Brisbane crew. A couple of local venues deserve a mention too, as we've got Vinnies Dive Bar, MO's Desert Clubhouse and King Lear's Throne to thank for giving us a place to play live and win over new friends. Thanks also to family and friends for their support.