Plague Beast (Trap Metal) - Texas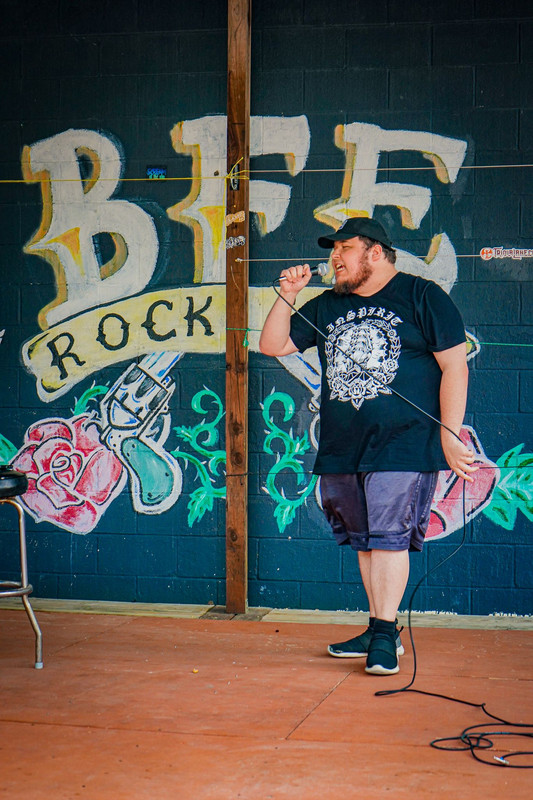 Plague Beast is a solo Trap/Trap Metal artist from Houston, TX. For fans of Notion, Undead Ronin, Scythe Gang 666 and Ace Shadows. Centered around in your face lyrics and speaker destroying bass. Plague Beast is a project born out of anger and honesty, built as an outlet to vent frustration with fake people in my personal life and the music scene.
-Interview- (5/21/23)
1. How did you get started with music and how did you develop your sound? Who thought of the name "Plague Beast" and is there any meaning behind it?
I got started with music when I was 9, there was a Christian music video channel called JCTV where I would watch artists like Lecrae, Manafest, Trip Lee, and other hip hop artists during the day, while bands like The Devil Wears Prada, For Today, and Demon Hunter played late at night. Due to the influence hip hop had on me at a young age I started writing rap music at 9, and was even lucky enough to perform in front of hundreds of people at the summer camp of the church I attended. I don't make christian rap now. My current style has been formed by hours of listening to Mike Shinoda (Linkin Park) EL-P (Run The Jewels, EL-P) and Notions.
I came up with the name. The deeper meaning of the name is that I'm a symptom ( as we all are ) of what society has become. I came up with it during the early days of COVID. I am a Beast of Plague. My lyrics now are very harsh and so is my attitude toward people I don't respect. I also believe that respect is earned, not freely given. A lot of people don't like that. The surface answer is that the name sounds really cool.
2. What do you want people to take away from your music?
It depends on the person. I want the average listener to take away creative lyricism, and hard hitting beats. I want my enemies to know what songs or lyrics are about them. I want the fans I already have to stay immersed in the songs I create, and keep my lyrics in their heads.
3. How would you describe your sound to the average listener?
In your face, nerdy, creative, hard hitting. I make a lot of songs about anime and video games mixed in with my real life experiences, and trap/nu metal sounds.
4. Who are three bands you'd like to tour with?
I've done local dates of tours and one off shows with these guys but I'd love to go on the road with Dropout Kings, and my brothers in Notions. Very kind, good, talented people in every interaction I've had with them. A band I haven't had the pleasure of performing with yet but I think tour would be bonkers with is a band called Silly Goose from Atlanta. The music is great, I love the way they handle things. The band sets up in parking lots of major venues and plays as people are leaving shows up until the cops come. They're great.
5. How has Covid affected what you do?
When COVID started I began writing more, I wasn't really doing anything with music other than selling merch for bands in the early days after live shows started coming back. Since I've actually been playing shows (2022 to present) I'd say it hasn't affected me at all.
6. What's your take on the current state of Trap Metal?
Trap metal/nu metal/Rap rock/rapcore/whatever other genre you want to mix with rap or hip hop is flourishing. Dropout Kings just released an incredible Trap Metal album (Riot Music) Silly Goose is getting to play major festivals just by showing up in their parking lot and setting up to play. People like them enough that they get offered to play on actual stages. I just opened for Ouija Macc a couple weeks ago who is a Juggalo artist, and his fan base welcomed me with open arms. Bands like Notions and Fox Lake are touring with metalcore artists and bringing more hip hop into that scene. Unity-TX just finished a tour with Silverstein a few months ago (which is unbelievably huge, congrats to them) and the local scene in Houston is growing as well. Artists like Trippy Goblin, SickNickSix, SearchForSavior, (along with myself and others) rap at showcases at least once a month at different houston venues and now we're branching out to Galveston and potentially doing some out of state shows as well.
7. What's the current music scene like there in Texas?
Flourishing. I used to play in a math rock band and sell merch for them before that. It felt like the only bands coming out of Houston were math rock or dad rock. Now we have pop punk, trap metal, math rock, metalcore, hardcore, deathcore, shoegaze, etc. Everything.
8. What's your take on the royalties that streaming services pay out to artists?
It's not enough. It takes hours of work to write, record, create beats, write leads, etc. And then more time to mix and master or more money to mix and master. You have to put so much in to get good quality music, and the payout is honestly abysmal in comparison to the money and time that artists put in.
9. What's next for Plague Beast?
Shows and new music! I'll be going on a mini tour in June. The "Go Fund Yourself Tour" June 8th in Houston and June 10th in DFW. This Sunday I play at Mob Bar in Galveston. And in the mean time I'm writing for my next release. I wrote everything for "You Know My Name" around Christmas time last year, so I'm ready to create something new.
10. Any shoutouts?
Of course! Shout out Trap Metal Arsenal magazine/Illumignarly Records. Notions, Dropout Kings, the bands I sell merch for As The City Sleeps and Caravel, my friends Ryan Tobin, Cain Collins, Tony Cotf, Marcos Castro, any other Facebook top fans and people who share my posts every single day, Trippy Goblin and my local trap metal crew, my beautiful wife Katy, and our daughter Vanna.