Blood Sigil Rune (Progressive Metal) - Michigan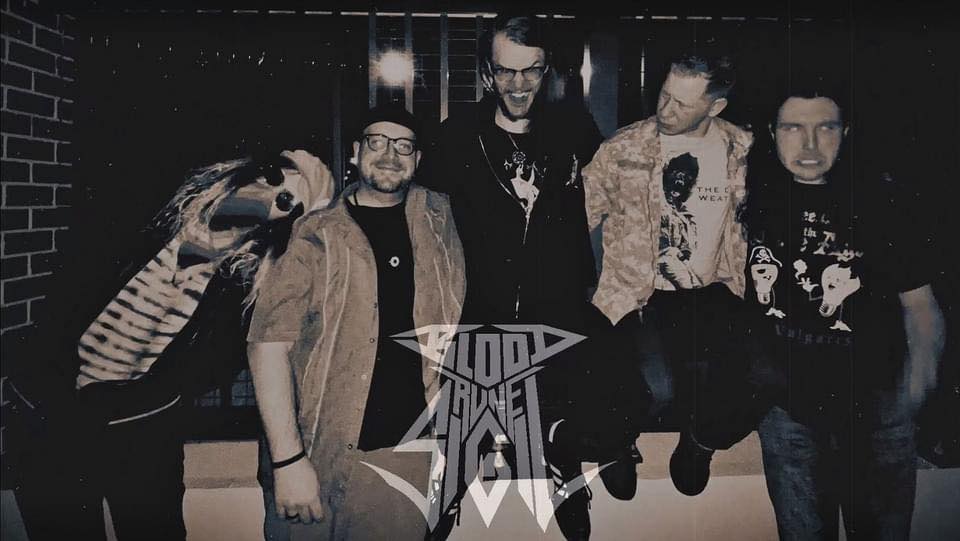 -Interview- (5/16/23)
1. How did you get started with music and how did you develop your sound? Who thought of the name "Blood Rune Sigil" and is there any meaning behind it?
Grant LeDee (bass), Dan Yuel (drums), and Dustin Schuman (djembe) had worked together in a few projects together over the years. We ended up warming up with an improvised psychedelic jam each time we got together, and decided to start a new project built with live jams at the core, along with the prog riffs we had started to write. We found a guitar player (Tim Kennedy), who introduced doomy Black Sabbath-type tones to the mix, and the sound of the band was established. Now that we've added a keyboard to the mix (Alexander the Long), we've got a pretty gnarly tone as a unit.
We leaned into a dark norse aesthetic for the EP and each of us designed personal runes for the band. Grant came up with Rune Sigil, meaning a ritual about our personal connection to the band. Dan added Blood so the name would match the heaviness of the music.
2. What do you want people to take away from your music?
Lyrically, most of our music is about finding healthy ways to deal with trauma. We hope listeners can resonate with the music and can use it as a tool to help get through difficult times, like we do.
3. How would you describe your sound to the average listener?
We feature a wildly emotional tone package and a thunderous presentation of drums. Sonically we're somewhere in the middle of Black Sabbath, Grand Funk Railroad, and Tool. We produce studio albums, live jams, and noise tracks (inspired by Tool and Pink Floyd).
4. Who are three bands you'd like to tour with?
Russian Circles, Mastodon, and Lamb of God.
5. How has Covid affected what you do?
Covid ended up causing a bunch of bands to split up, leaving a bunch of dedicated musicians without projects, and no stages to play on. Each of us continued making music through Covid, but the drive to get back on stage definitely helped push us forward when we got started.
6. What's your take on the current state of Progressive Metal?
Prog Metal is in a cool place right now. It's awesome that bands like Tool, Gojira, Meshuggah, etc. are tearing it up in front of huge crowds, and Djent as a genre continues to grow.
7. What's the current music scene like there in Michigan?
There is a LOT of talent in Detroit. A bunch of our friends in local bands have been releasing new music this year, and blowing us all away with quality and musicianship.
8. What's your take on the royalties that streaming services pay out to artists?
We try not to get too political on this one. Surely we'd accept more money for our music for any reason, but we're thankful to have platforms to share our music around the globe.
9. What's next for Blood Rune Sigil?
Our guitar player Tim left the band in January, and we continued playing shows featuring local guitar players Tristan Russano (of Forge the Sun) and Daniel Decker (of A Day at the Station), keyboard wizard Alexander the Long, and vocalist Ally Rose (of Forge the Sun, and Sharp Lives). Tristan and Alexander have become full members of Blood Rune Sigil, while Daniel Decker and Ally Rose are featured in the current wave of new music. We've continued to play out live with Ally while working to develop new music.
We are in the process of releasing 3 live jams with the new lineup, and new producer. "Facing Demons (Requiem)" and "Omnium Infinitum / For We Are Many" are already out, and "Stormbreaker" is set to release on May 26. The first single for our upcoming album is set to release on June 23. The track is called "Fever Dreams" and features Daniel Decker of A Day at the Station on guitar, and Ally Rose of Forge the Sun and Sharp Lives on vocals. We're in the process of recording an upcoming album likely to be released in November.
10. Any shoutouts?
Our producer for the new wave of music Paul Grace Smith is phenomenal. He works out of Burning Ear Studios in Warren, MI and is one of the best in the area. Paul has really taken to the challenge of recording and mixing our music, both for live jams and structured songs. We can't sing his praises enough, and his career playing guitar is also incredible!
Also, we can't miss shouting out our friends in a few local bands who are killing it right now! Definitely don't miss "Lily Bones", "Last Call in Jonestown", "Forge the Sun", "A Day at the Station", or "Theandric"!