Another Days Demons (Post Hardcore/Metal) - Arizona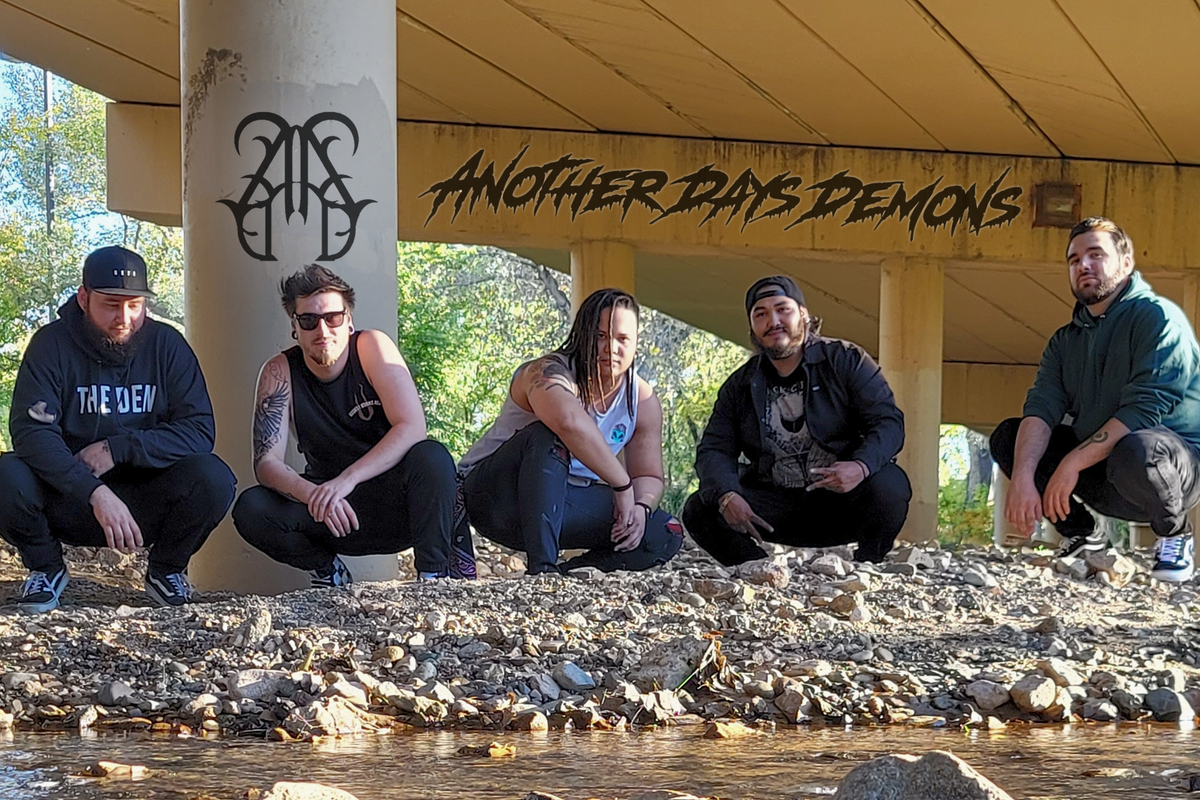 We are a Five- Piece Post-Hardcore Metal Band From Phoenix, Arizona. We started as a Four-Piece band back in 2019 and went through several roster changes. Early 2020 we had formed the current roster and began to write music. In 2021, we released two singles "Let The Wolves Run Free" and "Stranger Things". In the Summer Of 2021 we began playing shows, our first show was for a skateboarding competition and that was the moment we decided we wanted to do this for the rest of our lives.
"Let the Wolves Run Free" Single Review
The track begins with a storm atmosphere before slowly creeping in with some upbeat riffage as it drives right into the first verse. The mix of melodic and aggressive vocals harkens back to early A Day To Remember and their mix of styles. The guitar work is super stellar around the two minute mark. The bridge of the track creates chaos as it bursts into a massive breakdown that gives way to the chorus to wrap things up with a tight bow.
Verdict:
Another Days Demons let loose with their heavy, melodic single.
-Interview- (6/13/22)
1. How did you get started with music and how did you develop your sound? Who thought of the name "Another Days Demons" and is there any meaning behind it?
Keegan and Kent started the band to do something with music and make the dream a lifestyle one way or another. Kent had been in local bands before and understood the Arizona music scene and was committed to making a life out of music. Keegan had a large dream and a lot of ambition and spent most of his teenage years oriented on the goal of being a frontman and vocalist no matter what it took and those two things together were the initial starting points to what brought us all together as a band. After a short period of time, Keegan invited Michael and Braden over to look into what they were doing because they needed a guitarist for the project they were trying to create. Michael, Braden and Keegan were friends for many years prior and had grown up playing and listening to music together and sharing ideals but life took us in different directions before the start of the band. Michael and Braden went to the practice room that Kent and Keegan were playing at and that was the start of our journey. From there we continued to meet until we decided on the full establishment of our band and moved to a better practice space to better ourselves as a group and become more organized. The starting point was Band Oasis in Mesa, AZ. From there we moved to Premier Studios in Phoenix, AZ where we became more focused and decided on our band name, Another Days Demons. At Premier studios after a night of practice, we stood outside smoking a couple cigars and were trying to decide on a band name between all of us. We spitballed a bunch of names between us, the original name of the band being Call Of The Void, which is the name Keegan came up with and what stuck for the band from the start up until this conversation. Michael then suggested the name Another Days Demons, with the meaning of, "no matter what happens to you during your day, no matter what happened in your past, and no matter what your thoughts or fears are for your future, the bottom line for you is that you need to wake up the next day no matter the circumstance and face whatever demon comes to greet you. Your demons can be your fears you need to face, your ambitions you need to conquer, or anything else that can be holding you back from what you can do in your life to make it worthwhile. From something as small as a simple dilemma or struggle, to something detrimental. Focus on your goals and what you want for your life and don't let your demons hold you back." That name stuck for the band from that night on. Shortly after all of this Carter joined the band as our rhythm guitarist making the band we are today
2. What do you want people to take away from your music?
Keegan: What I want people to take from our music is that we all experience life's ups and downs but follow your dreams and follow your heart because you're not alone and someone out there has experienced the same thing as you. I want to inspire hope for our fans that even when you're faced with your demons they can be conquered.
Kent: I want people to see that it's always possible to continue to move forward, no matter what sort of diversity you may face. I know that we really put our all into this, and speaking for myself, I really do put my emotions and life into this and want people to see that it's possible to work hard at something you love and make it a reality. After that, I also want people to be able to relate to the music we create and that it lets them know it isn't a lonely road and that there are people who are feeling the same way, whether it be the highs or the lows of life.
Carter: I would like people to have a positive release in the moment of listening to our material, whether they're working out, needing a road jam, or whatever. something that they can headbang to and go "hell yeah" while they treat that steering wheel as a drum set and feel like they let everything they needed out by the end of the song.
Michael: I want to leave behind a legacy and leave music for people to listen to long after we're gone. I want our thoughts and struggles to be put into our music for people to relate to, whether that be to just get through their day, enjoy the moment they're in, or to drive inspiration to follow their dreams as well. I would like to inspire as many people as I can to break out of the monotony of society and chase something that makes their life worthwhile.
3. How would you describe your sound to the average listener?
We consider ourselves to be Post-Hardcore melodic metal. We try not to stick to one specific sound but have a general purpose/direction to our music.
4. Who are three bands you'd like to tour with?
Secrets, Thy Art Is Murder and August Burns Red.
5. How has Covid affected what you do?
Many venues in Arizona are struggling to have live music, and one of the more prominent local metal venues, Club Red, is permanently closed. We began our journey right before the start of Covid, which set us back tremendously when it comes to trying to play shows and get our name out. We continued to stay motivated and decided to use the time that everything was at a standstill for live events to work on our sound and be prepared to hit the ground running when things opened back up, even with the set back of the Bassist giving the Drummer Covid.
6. What's your take on the current state of Alternative Metal?
Alternative Metal is too general a term for us to have a specific opinion on it. It isn't very genre specific, but in a sense we feel that live music is slowly revitalizing and is at a good point for new bands to take off and set a new generation of musicians.
7. What's the current music scene like locally there in Arizona?
Covid has changed a lot of things drastically in the music scene here. It's hard to establish yourself due to how unorganized promoters and venues are currently. Almost every show we play has multiple lineup changes before the show happens and many shows have been canceled due to either too many changes in the lineup, miscommunication between promoters and venues, or bands not being able to fit the bill due to ticket sale expectations or too many changes like set time fluctuation. One example of that is we were supposed to headline a show but bands dropped out and joined and things were changed so much that we ended up being set to open the show and weren't notified until maybe a day or 2 before the show.
8. What's your take on the royalties that streaming services pay out to artists?
It's very sporadic starting out. It seems that there is a tipping point that we will need to reach before we receive anything more than recognition through streaming. The income isn't there in any sense and we feel it will not be there anytime soon until we establish ourselves to a larger audience.
9. What's next for Another Days Demons?
We have 2 songs released currently and are releasing a third within the next few weeks. We have completed an album's worth of material and plan on having our first album released before the end of the year. We are also connecting with many other local bands for shows and for projects together. Big moves are on the way!
10. Any shoutouts?
Shoutout to Band Dad and Scuba Steve.