Dark Ocean Circle (Heavy Rock) - Sweden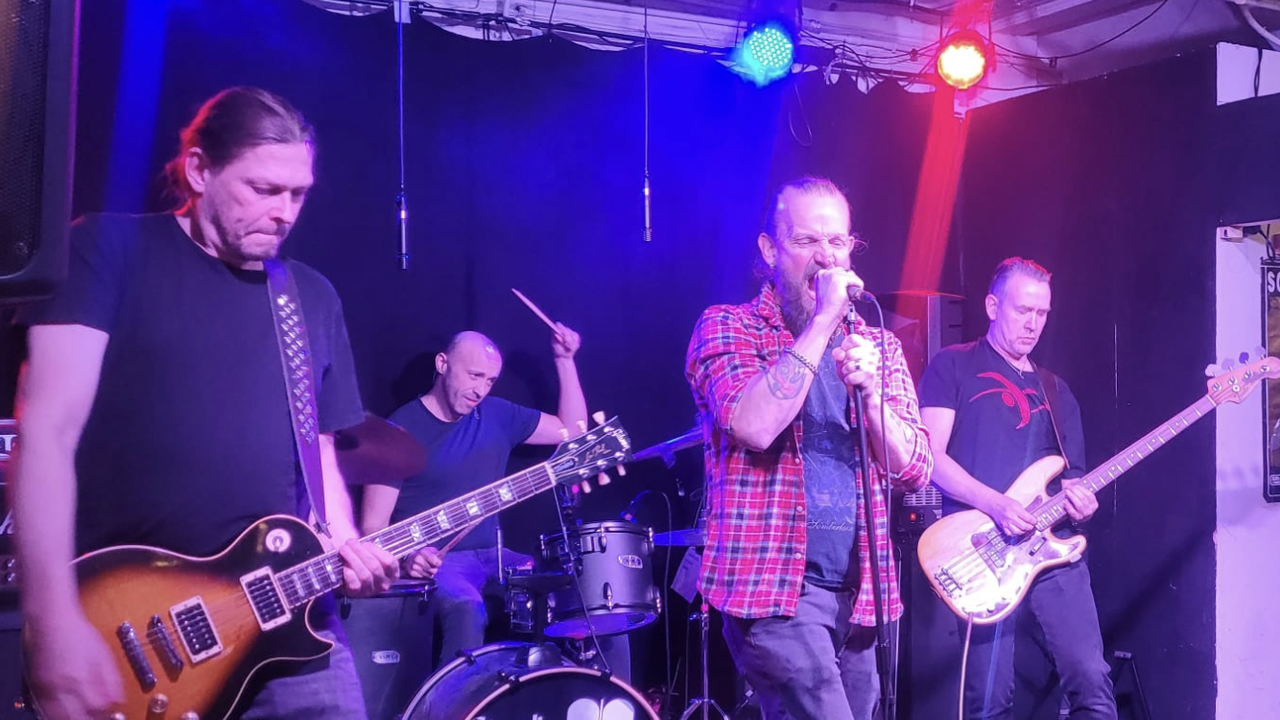 Dark Ocean Circle is a four-piece band from Stockholm, Sweden. We play music in the heavier genres such as stoner, doom, heavyrock and psychedelic rock. We like to float a bit between genres and not get stuck in just one. We just released our debut album and it moves from punky stoner to doom and 70´s hardrock to heavy rock. Our influencers are broad from a musical perspective. Seventies guitar-driven blues and hard rock are fundamental, but also progressive and psychedelic bands from that time and beyond. Later on we all got some dose of Metal, Hardcore, Grunge, Doom, Trash and Death. This is then boiled down to our version of heavier rock with melodies and playfulness. Fuzzrock!
Autumn 2020 Dark Ocean Circle was formed. 3 members (Johan, Janne, Tee) from a hardrock cover band called Marshmallows had been without a permanent drummer for a while and wanted to do something new. I think all of us needed a change. We decided to start a band that should play more heavier stuff in the directions of Stoner, Grunge and Doom. We found the drummer Lionel Cayla and he was a perfect match. A rythmic drumplayer with progressive ideas and multiple influences to set his own touch on the songs.
Spring 2021 we released our first single "Oceans of Blood", a song that at first start out with a vibe of 70´s and moves more and more into a metal song and it has a fantastic solo with a oriental touch. Autumn 2021 the EP Bottom of the ocean was released and it contain more heavier and doomy Battlesnake, mystical Bottom of the ocean and the Three stroke song Setting sun. In April 2023 single number 2 is released, "Forever and a million". Dusty stoner meets city punk! The raspy vocal will run you over supported by the pumping bass, crashing drums and a guitar with both nerve and power. An intense song. Like having a night out with Fu Manchu, Ramones and Foo Fighers.
Also the self titled album releseas in April and is out on streamingservices and CD and the Vinyl will be in stock end of summer 2023. We have started doing some shows in Stockholm, Sweden now and we have been selected to play at Fuzzfest #4 in Stockholm November 2023. The biggest Fuzzevent in the Nordics arranged by Truckfighters/Fuzzorama Records.
-Interview- (5/9/23)
1. How did you get started with music and how did you develop your sound? Who thought of the name "Dark Ocean Circle" and is there any meaning behind it?
I started out at age of 11 and most of us started early in the teens. Our sound today is based on lightly fuzzed guitar, rhythmic bass and drum with some kind of flow. Bluesy or in any other way.
Dark Ocean Circle came up as some kind of mystical and cold lonely environment, where we also could play around with the UFO theme we have on the covers as we have very limited knowledge what´s happening in these large oceans.
2. What do you want people to take away from your music?
That we are music lovers and want to give some heavy songs with quality and that it should not sound the same song after song,
3. How would you describe your sound to the average listener?
That we do a Heavy Rock with roots in Blues and Rhytmics.
4. Who are three bands you'd like to tour with?
Some of the big Swedish Stoner bands such as Greenleaf, Truckfighters and Skraeckodlan.
5. How has Covid affected what you do?
Covid was part of the start for Dark Ocean Circle and a ventilation getting together in a dark basement and play so Dark Ocean Circle was the positive energy during Covid.
6. What's your take on the current state of Hard Rock?
The bands, the listeners and the festivals are there but the listeners must be more open to the small clubs and shows and not wait for the next farewell tour by Kiss or Judas Priest. There are so much more out there.
7. What's the current music scene like there in Sweden?
Sweden have so many bands and good bands. Per Capita Sweden are producing more hardrock/metal bands then any other country. Problem is there are so few small venues and reallt tough to get people there.
8. What's your take on the royalties that streaming services pay out to artists?
It is what it is and easy to complain on the payout but record companies could have jumped on the train with streaming actors but they just tried stopping it. Question is, do we want to go back to Record Label days? More freedom today but less money.
9. What's next for Dark Ocean Circle?
Its been a hectical 2023 with the album release so some relaxed vacation mood is needed in the swedish summer but we have three live shows in the pipe.
1. FUZZ evening in May at our favorite venue in Stockholm. Gamla Enskede Bryggeri.
2. Gravefest, an outdoor festival in Stockholm. Very well organised and a mixture of Hard Rock/Metal bands.
3. Fuzzfest #4
10. Any shoutouts?
Yes the Fuzzfest#4 that is held by Truckfighters/ Fuzzorama Records. We were selected even before our album was released so its a huge privilige to play there among many great bands. Just a few bands are still revealed but one of them is Valley of the sun from USA.